In this article, we are looking at the best whole house water filters and how to choose the right one. How does a whole house water filter ensure the water you use every day is as clean and safe as possible?
Whole house water filtration systems are installed at the point where water enters your home and essentially filter every drop of water used inside. These "point-of-entry" systems are more complex than "point of use" filters since they install directly into your plumbing, instead of onto your faucet or under your kitchen sink.
The number of whole house water filters on the market is vast, and their quality and price vary wildly. So we've done the homework for you! This roundup of the Best Whole House Water Filters will help you identify exactly what filter system you need, where to find it, and which brand or product will work best in your home.
Our Top Picks: Best Whole House Water Filters
Short on time? Check out the top picks:
1. iSpring WGB32B Water Filtration System
The best whole house water filter system overall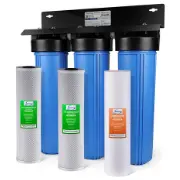 Brand: iSpring / Stages: 3 / Filters: Sediment & Carbon / Capacity: 100,000 Gallons / Filter Life: 1-year Price: 💰💰
The iSpring WGB32B 3-Stage Whole House Water Filtration System is our pick for the best overall water filter because it meets every criteria we looked for and more. It features stellar total filtration, plus easy installation and maintenance. It is also extremely highly rated, and iSpring is well-known for their responsive customer service. We also liked that even with such an impressive performance, the WGB32B doesn't waste space on unnecessary bells or whistles — it provides robust and thorough filtration at an affordable price point.
As for actual results? Reviewers were thrilled with improvements to their water quality, citing: better appearance, taste, smell, and a noticeable absence of chlorine, rust, scale, and discoloration. Many found dramatic improvements in the overall cleanliness of their dishes and laundry. Some noted healthier hair or lack of skin ailments. Others even reported their houseplants were healthier, or their cooking water noticeably improved.
Reviewers Like
Vastly enhanced water quality that was better looking and tasting.
Most were impressed with the ease of maintenance, filter changes, and some remarked on the filtration unit's longevity.
Even those who experienced a faulty part or an installation hiccup praised iSpring's customer service. Most were very impressed with the company's immediate and friendly assistance.
Reviewers Dislike
A few reviewers lamented that the unit had plastic threads instead of metal.
While the unit is comparatively easy to install, it still often took a great deal of time, and some reviewers recommended calling a pro.
2. Aquasana Whole House Water Filter System
The best green whole house water filtration system
Brand: Aquasana / Stages: 3 / Filters: Sediment & Carbon / Capacity: 1,000,000 Gallons / Filter Life: 10-year Price: 💰💰💰
If you're installing a whole house water filter, you're already helping the environment. You'll be doing away with the huge carbon footprint and wasteful packaging that comes with consuming bottled water. There are also other potential environmental benefits to be had with a whole house water filter.
For instance, our pick for the best eco-friendly water filter, the Aquasana whole house "Rhino," does not demineralize water or flush excessive amounts of sodium back into the community water system. It also filters 97% of chlorine, 99.9% of viruses and bacteria, and reduces harmful contaminants like lead, mercury, herbicides, pesticides, and VOCs. Depending on the number of people in households and rate of use, the primary filter should last about 1,000,000 gallons. This is equal to roughly 10 years. (Pre- and post-filters still need to be changed approximately every 2-6 months.)
This filter system also offers a great deal of flexibility. Aquasana gives options to buy just a basic unit, or to add water softening features, a well water upgrade, or UV purification. It is worth noting that reviews for this particular water filter unit were more mixed than others on our list.
Reviewers Like
Elimination of scaling and sediment buildup on fixtures and appliances.
Most report dramatic improvement in the taste and smell of their water.
People were attracted to the longevity of the unit and the 10-year limited warranty.
Reviewers Dislike
Some experienced leaking or breakage and found that the more filtration elements added to the system, the less reliable it became overall.
Some have noted confusing installation instructions, experienced disappointing customer service from Aquasana, or received incomplete orders at delivery.
3. DuPont WFPF13003B Water Filter
The best whole house water filter on a budget
Brand: DuPont / Stages: 1 / Filters: Universal / Capacity: 15,000 Gallons / Filter Life: 2-month Price: 💰
You don't want to scrimp where your health is at stake, so use caution when choosing an inexpensive water filtration option. And if you're on a tight budget, testing your water is especially important, since you don't want to spend more than is necessary.
If you have city water and your preliminary test shows harmless sediments affecting the taste or smell of your water, or if you are primarily concerned with filtering your water to lengthen the life of your appliances – congratulations! You can likely get away with a basic and very inexpensive whole house filter. Consider our budget option: the DuPont Universal Whole House 15,000-Gallon Water Filtration System.
The DuPont unit is very inexpensive, easy to install, and flexible — you can add layers of filtration, or even use multiple units. But be aware that a simple budget water filter means sacrificing capacity (in gallons), and a need to change the filter more frequently — approximately every two months.
Reviewers Like
Reviewers loved the price point of the DuPont unit
Combines beautifully with other water filters for maximum effect
It's easy to find, easy to use, and easy to replace (which you might need to do, as it's just not as sturdy as a more extensive filtration system).
Reviewers Dislike
Leakage and durability can be an issue with the DuPont model.
Some reviewers complained about flimsier plastic connections and a negative impact on water pressure.
4. iSpring WGB32BM Water Filtration System
The best whole house water filter for well water
Brand: iSpring / Stages: 3 / Filters: Sediment, Carbon, Iron & Manganese / Capacity: 50-100,000 Gallons / Filter Life: 1-year / Price: 💰💰💰
If your water comes from a well, your iron or VOC levels are more likely to be high. It's essential to choose a filter system that is targeted and thorough in removing any dangerous contaminants.
Our pick for the best well water filter, the iSpring WGB32BM, does just that. It is specially designed to filter well water, but it's also an excellent overall choice. It removes rust, sentiment, sand and dirt with a pre-filter, chlorine and VOCs with a carbon filter, and finally, uses a third stage filter to remove the iron and manganese often present in wells. This system is a reliable choice for easy installation, great-tasting water, and peace of mind that your well water is clean and safe.
Reviewers Like
Reviewers love iSpring's customer service and have found the company unusually responsive and helpful.
Users overwhelmingly report great-tasting water and noticeable reductions in metallic taste and sulfuric smell.
iSpring is a trusted brand and offers great overall filtration; those with well water report this model is uniquely suited to their needs and superior to the competition.
Reviewers Dislike
Some noted the unit was bigger or heavier than expected
2 of the 3 stages have a filter life of 100,000 gallons, but the 3rd stage (which filters heavy metals like manganese and iron) requires replacement twice as frequently
5. 3M Aqua-Pure Whole House AP904 Water Filter
The best in-line whole house water filter
Brand: 3M / Stages: 1 / Filters: Sediment & Carbon / Capacity: 100,000 Gallons / Filter Life: 1-year / Price: 💰💰
Sometimes homeowners are looking for a less overwhelming option. In-line filter units are more streamlined, easier to install yourself, and simpler to maintain. They also take up less space and are less expensive. One drawback: in-line units don't filter quite as thoroughly as more extensive systems. So if you need to eliminate something more worrying, you'll want to consult one of our other recommendations.
However, if you're primarily concerned with reducing scale and sediment, or removing chlorine, the 3M Aqua-Pure will do a fantastic job. Often whole house water filters can be difficult to change, involving drip pans, specialized tools, or sometimes even a giant, watery mess — not so with this unit.
Reviewers Like
Many note their water's "crystal clear" appearance.
dramatic improvement in the taste and smell of water.
Reviewers note its solid construction and ease of installation.
Reviewers Dislike
This unit is not ideal for well water or hard water.
Those living in areas with high sediment content say this unit clogs more frequently and requires more frequent filter replacement or an extra pre-filter.
6. Apec Reverse Osmosis Drinking Water Filter System
The best whole house water filter to remove fluoride and chlorine
Brand: Apec / Stages: 5 / Filters: Reverse Osmosis / Capacity: 35,000 Gallons / Filter Life: 1-year / Price: 💰💰
You should see great results with a simple carbon filter system if you need to remove just chlorine from your water. However, carbon filters do not affect fluoride, so if you'd like to remove both, the situation gets a bit trickier. The best way to remove fluoride from water is with a reverse osmosis system.
There are several reasons whole-house reverse osmosis fluoride removal isn't practical. For this category, we recommend an under-the-sink drinking water system.
This "point of use" system will also remove chlorine. Still, if you're interested in removing the chlorine from your entire home water supply (not just your drinking water), you should consider installing a whole-house carbon filter — like one of our budget filter picks, or an in-line whole house water filter.
Apec, the manufacturer of the Reverse Osmosis Drinking Water Filter System offers an affordable reverse osmosis option, which even works in homes with lower water pressure. This unit provides up to 35,000 gallons of bottled-quality drinking water by removing chlorine, taste, odors, and up to 99% of contaminants found in tap water, including fluoride.
Reviewers Like
Many remarked upon top-notch customer service from Apec.
Homeowners with well water and city water alike were impressed with its filtration abilities and value.
Customers trust the Apec brand, and consider this unit to be a flagship product. Most are very pleased with easy installation, the force of water flow, and taste and clarity of the filtered water.
Reviewers Dislike
Since it has five separate filters, more filter replacement is necessary.
As it is sizable, reviewers suggest measuring the space beneath your sink to make sure the system will fit.
7. Express Water Heavy Metal Whole House Water Filter
The best whole house water filter for lead removal
Brand: Express Water / Stages: 3 / Filters: Sediment, KDF, Carbon / Capacity: 100,000 Gallons / Filter Life: 1-year / Price: 💰💰💰
There is no safe level of lead, and any exposure is especially harmful to children. If you think there's a chance that it's in your water, test right away. (Many states or local health departments offer free test kits.)
If you have lead in your water, don't panic — some quality filter systems can effectively remove this contaminant immediately.
Our pick in this category, the Express Water Heavy Metal Whole House Water Filter, removes lead which is a crucial feature.
Additionally, it also removes:
chlorine and chloramine
iron
rust
pesticides
herbicides
industrial solvents
pharmaceuticals
mercury
sand
and much more! The unit offers a simple design, easy maintenance, and no drop in water pressure.
It's worth noting that because of its extensive filtering capability, this model is pretty big. It will require more space.
Reviewers Like
Durable, rugged construction.
Reviews mentioned the relative ease of installation, and the company's excellent customer service.
Many reviewers were particularly impressed with this filter's ability to remove iron, rust, unpleasant smells, and bad tastes in their water supply.
Reviewers Dislike
Some users had trouble with occasional leaking
A few reviewers thought the price of the unit was slightly steep.
What to Look for in a Whole House Water Filtration System
Before we talk about what to look for in a whole house filtration system, we have one critical piece of advice: test your water.
Don't throw a dart. Know what you're dealing with to get exactly what you need, rather than playing a guessing game. Otherwise, you could buy an expensive product that's overkill for your situation, or even worse, an inadequate system that leaves harmful contaminants in your water.
Testing your water helps you choose the right filter system for your home, potentially saves you hundreds of dollars, and makes shopping so much easier.
Product Features to Consider
With that out of the way, let's check out the specifications to keep in mind as you choose a whole house water filtration system for your home.
NSF certification. When choosing a filtration system, check that it is certified by the National Sanitation Foundation (NSF), or another third-party lab, to ensure your unit removes all contaminants.
Efficiency and flow rates. Both of these are critical for eco-consciousness and overall effectiveness. We've only included filter systems that will have little impact on water pressure.
Maximum filter life. Make sure your unit accommodates the best whole house water filter cartridges that strike a balance between your household's water consumption and a filter's longevity.
Ease of installation. If you're a skilled-DIY-type, you can install basic whole house filters yourself. Other systems require more complicated installation, which should be left to the pros. We've tried to pick a mix of water filter systems across that spectrum.
Accessibility. You can spend thousands of dollars on high-end, specialized whole house filtration systems, but we chose units that are easy to buy through popular sites and stores, find parts for, service, and maintain.
Keep these attributes in mind as you shop, and you'll be well on your way to cleaner, healthier water in no time! You've got this.
Our Process
For this guide on whole house water filters, our team spent 8 hours researching the most popular models from over 20 brands and manufacturers big and small. We then read about a hundred user reviews (both positive and negative) to discover what shoppers thought about each filter. After comparing this data, we narrowed our list down to the top 7 water filter systems on the market. You can count on this research to guide you to a mindful purchasing decision.
If you enjoyed this read, sign up for our newsletter below and get special online shopping deals delivered straight to your inbox.
---
Further Reading