Carrying around diapers never looked so good. In this review feature, we check out some of the best diaper bags for active parents. Some are simply handle carry bags and others are designed like backpacks. You may have thought you were done with backpacks after high school or college, but it just so happens that they make one of the most useful pieces of baby gear for new parents.
All About Diaper Bags
From ages 0 to around 3 the diaper changing cycle will be a big part of the daily routine. If you're attempting to maintain some semblance of your social life it means you're going to have to change many a dirty diaper "in the field" so to speak.
Not only do totes and backpack diaper bags provide you with ample storage for all of baby's necessities, they also free up your hands to carry your baby and take care of all the other logistics required in moving from place to place with your precious little one.
During the course of this baby gear review, we will talk about why the best backpack diaper bags are worth your money. First, we feature our comparison chart in the section below. We'll take a look at an overview of the types of diaper bags and discuss the benefits. Following that is our selection guide, where you'll see the most important features you may want before making a final purchase.
Up first, in our review section, we provide our readers with backpack diaper bag reviews.
Comparison of the Best Diaper Bags
Here we have a comparison table of the best diaper bags on the market. We've organized our chart by price ascending to make it easy for you to browse. After the table, you'll find more detailed reviews of each of these bags, along with awards for what we feel each bag does best at!
Mobile users and those with smaller screens: select the green plus button to expand the table and access more information.
10 Best Diaper Bags: Diaper Backpacks, Totes, Purses and More
Here are our top selections of handbag and messenger bag type diaper bags.
Best Affordable Diaper Bags
Hip Cub promises their diaper bag is "where fashion meets practicality" and we think they followed through pretty well on that promise.
Best Travel Diaper Bag
The Skip Hop Duo Special Edition Diaper Bag (French Stripe pictured above) is a roomy diaper bag that hangs neatly on a stroller. This diaper bag can also be worn over the shoulder. It comes with a durable, cushioned changing pad so you can mark that off your list. It has a total of a whopping nine pockets which includes a special zip pocket for personal items and two insulated pockets.
The Skip Hop Duo also carries a slight fashion edge over say a bag like the Graco bag above. It comes in 5 different styles all of which are fairly attractive. The main compartment has a zip closure to keep things in place when you're skipping and hopping about. Due to it's functionality, we've awarded it as the best travel diaper bag- you won't have to leave anything behind!
Best Designer Diaper Bag
If you are interested in maxing out your mommy style points, Ju-Ju-Be is an ideal option. They have many options that run the gamut of different pattern and color combinations. These diaper bag falls into the designer diaper bag category.
This particular featured bag is the 'Marquess' series. The Ju-Ju-Be B.F.F. Legacy Convertible Marquess Diaper Bag comes in four gorgeous styles. The best part is you still get excellent functionality on top of the style points. The Admiral, the Monarch, and the First Lady styles are also well worth checking out.
Best Messenger Diaper Bag
The best messenger diaper bag on our list, is also a runner up for the most affordable. The MG Collection travel baby bags are perfect for on the go, with a cross body straps and handles to make carrying a breeze. The bright colors make a perfect addition to to any nursery, and will brighten up changing time when you're on the go.
Best Diaper Bag Purse
If you're a lady who's used to carrying a purse, switching to a diaper bag to haul things can be a challenge. Thankfully there are a lot of options for you, as diaper bag purses are common, functional, and still stylish. JJ Cole's Satchel Diaper Bag is a great option, it has room for all the things you need for a day out with baby. You won't need an additional bag or backpack to fit all of your things.
Best Backpack Diaper Bags of 2019
If you're looking for a sturdy backpack diaper bag, you'll probably find something to your liking in the following selection.
Best Backpack Diaper Bag: Affordability
The Smart Organizer Back Pack Diaper Bag is one of the most affordable diaper bag solutions out there. It has plenty of pockets, is comfortable enough to wear for longer outings, and is made from a durable polyester weave. You won't win any fashion shows but it gets the job done by being functional.
Best Backpack Diaper Bag for Strollers
No doubt about it, Skip Hop makes some of the best diaper bags available. This is a great option for strollers as it attaches neatly to the base of stroller handlebars.
Best Diaper Bag for Dads
DadGear has created a really cool diaper backpack bag marketed towards dads. This comes in over a dozen styles so it shouldn't be hard to find one that suits your tastes.
Best Small Diaper Bag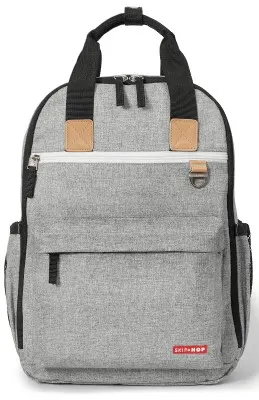 Skip Hop makes our list again with a design of diaper backpack that's a little more versatile. We think this is the best diaper backpack that both mom and dad will love to use. It's small, yet packs a punch when it comes to storage, with plenty of outside pockets and dividers inside to stay organized. It's great for travel, and is ergonomic.
Best Large Diaper Bag
If you're looking to optimize your storage, you might want to go with a larger bag. This Bag Nation backpack is the best large diaper bag on the market. It's ideal for overnight trips and extended travel. You'll be able to fit a plethora of diapers, clothes, wipes, and anything else you may need. It's also going to be practical well into toddler hood, and great for multiple children! Making it also the best diaper bag for twins!
Why a Well Designed Diaper Bag is Worth Considering
Between the toys and binkies, sippy cups, wipes, rash cream, change of clothes, nursing cover, snacks, changing pad, and oh yeah diapers, things can get pretty chaotic on trips out. Plus you have all the items you would normally carry such as wallet/purse, keys, cell phone, etc. A great bag will be able to fit all of these things and help you be prepared at all times.
Every parent learns the hard way a few times that it is pretty important to remember everything your little one might need. Plus, a wise parent knows for example a well timed snack could quell a tantrum or a change of clothes and hand sanitize can remedy a diaper blowout. For any potentially volatile situation, a well stocked diaper bag is the first line of defense.
3 Types of Diaper Bags
You'd be surprised at how many variations of the once simple and humble diaper bag have popped up. There are literally hundreds of options. Given that it is an essential piece of baby gear, many manufacturers have elbowed their way into this product category for a piece of the pie. The good thing for you is that you've got a large selection to choose from (at pretty decent prices to boot).
Sure, a diaper bag is like a right of passage into parenthood, much like a mini van. However, you don't have to sacrifice all your style points when it comes to carrying this type of tote. How are diaper bags different than say an everyday purse? Well, most are quite a bit bigger than your average everyday purse, with many more compartments for all the baby essentials.
Handbag Diaper Bags
There are two subcategories of diaper bags that are styled like handbags. These type of diaper bags you carry just like you would a purse and are marketed towards women. They usually have a strap on other side, possibly a zipper which both contribute to helping things stay put when your on the move. Tote type bags also fall into this category.
The majority of these bags have the ability to be carried in the over-the-shoulder style as well. There are two broad classifications of handbag diaper bags:
Standard: Your run of the mill diaper bag or tote, these feature a large center storage area usually flanked by some handy pockets secured with zippers or buttons.
Designer: Just like purses, diaper bags have developed their own premier and trendy brands and designs. You're not just paying for the functionality of a diaper bag in this category. For designer diaper bags, you pay a premium on the look. Most of the time you also get something more high quality that lasts longer too, but that is not always the case. If you want a stylish diaper bag, you may want to peruse through the options in this category.
Messenger Diaper Bags
These types of diaper bags are marketed towards women and men alike. Some people may like the messenger style of carrying bags (strap across the body), though many people find it gets in the way. If you trying to balance weight and shift your baby from one arm to the next it can get annoying pretty quick.
An advantage over the handbag though is you can carry this around hands free. Two hands are always better than one when managing one (or more) kiddos.
Backpack Diaper Bags
The key thing about backpack diaper bags is you have both hands free at all times. Much like the messenger bags though with other advantages: you don't have to keep readjusting things and the weight is evenly distributed to your back and shoulders. The best backpack diaper bags have room for everything and are the most efficient carrying method.
You may look like a college student, but you don't really have to fuss with these type of bags until you need something. At times, you may even forget you have it on. As long as they are adjusted properly, you'll significantly reduce any strain on your shoulders and back.
All those odds and ends that your baby needs from time to time can come with you. When you combine a diaper backpack with a stroller you're pretty much a traveling baby station that can service all their needs anywhere you go. That in itself is a significant organizational feat.
Also, a backpack design will help save your shoulder and arms if you find yourself on-the-go often. If you go on lots of little weekend adventures or hikes this is definitely the best way to go. For all of our Dad's out there, backpack diaper bags are great if you won't be caught dead with a floral pattern hand bag.
On top of all this, backpack diaper bags last forever, and can be used by parents long after your little one has grown up such as for hiking trips and the like.
What To Look for in a Diaper Bag
Here are some of the features you should keep in eye on when shopping for the right diaper bag for you and your child.
Pockets and Storage
Storage is key. Pockets, pockets, and an extra roomy middle pocket is definitely one of the first orders of business when it comes to looking for the best diaper bag. If you have a few (or a dozen) staples you like to have with you at all times, it is very helpful for at least some of these items to have their own designated pocket.
That will reduce the time you have to spend rummaging around for that darn anti-rash cream. If you keep your personal items in the diaper carrying bag it is nice to have a place to store your phone and such for safekeeping.
Ideally, you want zippered pockets. Why? Because velcro for a diaper bag is no good. Velcro is loud enough to wake a sleeping baby, it wears out quickly over time, and it sticks to fabrics and even ruins some types of soft materials that it gets stuck on. Magnetic closures aren't too bad either, but sometimes they tend to pop open on their own when fully loaded.
Comfort & Ease of Use
You'll want to try and find something that distributes the weight of your load evenly. This will prevent neck, back, and shoulder problems from the get-go. The last thing you want is to dread going on an outing just because of the stuff you have to carry with you. At the very least, a quality handbag should feature a comfortable carrying mechanism.
Padded handles or carrying straps can be a lifesaver during long journeys and weekend trips.
Another simple thing that makes finding things much easier is a light colored interior lining. Sure, it may stain easier but the advantage of being able to quickly find those wipes or whatever you are looking for is worth the compromise.
You don't want to be digging around in a black hole that swallows everything. Users can add a light interior to a bag that has an over-sized, wide opening and you'll be a much happier parent in the long run.
Fabric & Material
These diaper bags really take a beating. It is a good idea to find one with cleanable liners and you can wipe clean. Bags built with stain and water resistant material are wonderful too and are usually well worth the extra cost. Another cool material you may want to look out for goes by the name of Agion. Agion is a antimicrobial finish and as you can imagine diapers are very susceptible to the growth of microbes.
If you're looking for an eco-friendly product, look for BPA free diaper bags made from organic cotton materials. This will minimize the risk of your baby coming into contact of any harmful chemicals since one way or another everything makes it into their mouth somehow.
Style
Of course, you probably aren't trying to win any fashion contests but if you're going to dish some money out for a diaper bag you might as well get one that looks decent. Baby gear has become much more attractive in recent years and most manufacturers take appearance into account when coming up with their designs.
Style is subjective but there are some diaper bags most people would agree are ugly and then there are those that fall into the very trendy diaper bag category. If your diaper bag is an eye sore, you probably won't be psyched to use it.
Extras
A diaper bag's features and accessories is another big differentiating factor. You can get the bare minimum simple diaper bag with one deep pocket for diapers or you can get one with all the bells and whistles. Some diaper bag's come with quality changing pads that really help with diaper duty when you're not at home.
If you're using reusable cloth diapers you will also need room for a wet bag to keep your dirties in.
There are other features too, such as key clips, shoulder straps with extra padding, bottle/sippy cup holders, and even luggage feet. Sometimes they come with a tightly sealing compartment for soiled clothes and a wipes case to store baby's wipes. Indeed, you could always buy some of this stuff separately, but to get it all in one package can save money and is pretty convenient.