Whether you adopted a new puppy or your furry friend has been a part of your family for years, there is no better time to begin training your dog than today with the best dog training books on the market!
When your dog is well-behaved, your relationship with them is even more enjoyable. Even bad habits learned by both you and your dog can be undone with proper training. By utilizing a dog obedience training book, you and your dog can enjoy walks, playtime, and even meals with less stress.
Many dogs adopted during these social distancing times have not had access to proper socialization with other dogs or people outside of their immediate family. Ignoring these crucial developments can lead a dog to become anxious and even aggressive in unfamiliar situations around new people and animals.
Dog training does not require many tools; start with a great dog training book and an eagerness to improve your relationship with your fur baby.
Our Top Picks: Best Dog Training Books
While any one of our top six dog obedience training books would do the trick, here is the breakdown on each choice.
1. The Puppy Primer
The best dog training book overall
Author: Patrica B. McConnell | Publisher: McConnell Publishing | Pages: 127 | Copyright: 2010 | Price: 💰
The Puppy Primer is a pet trainer or dog owner's quintessential resource. This best-selling dog training book takes the reader through the steps one should take to properly train their dog.
Like all of the books on this list, it relies heavily on positive reinforcement to teach your dog everything from basic commands to fun tricks. You and your dog will start with understanding the concepts and importance of socialization and positive reinforcement and then work on sit, stay, and getting and keeping your dog's attention. Move onto curbing undesirable behaviors like play biting and jumping up and then learn how to play! You and your dog will learn that training is so much more than obedience: it's a partnership!
Reviewers Like
Gives you week-by-week training guide for puppies
Thorough resource for teaching behavior and commands
Great book for puppy training; many recommend reading the first chapter before even bringing a new puppy home
Reviewers Dislike
Does not give much help to those struggling with crate/potty training
Focuses mostly on training and positive reinforcement and not so much on obedience
Lacks a clear timeline for when to introduce new commands and training at certain ages
2. Perfect Puppy in 7 Days: How to Start Your Puppy Off Right
The best dog training book for new puppy owners
Author: Dr. Sophia Yin | Publisher: Cattledog Publishing | Pages: 176 | Copyright: 2011 | Price: 💰💰💰
Dr. Sophia Yin is a world-renown veterinary behaviorist. She is often referred to by vets when owners need extra help training their stubbornly smart dogs. She has worked with countless dogs and breeds over 20 years of her career and knows a thing or two! Perfect Puppy in 7 Days uses over 400 photos and step-by-step plans to visually guide owners through the training process. One facet that Dr. Yin focuses heavily on the ever-important socialization training piece.
This scientific-but-enjoyable dog obedience book gives the owner perspective on their dog: where did they come from and how did they develop before you adopted them, preparing for a new puppy, and even foolproof potty training (a bold claim!).
Reviewers Like
Many readers love the "Learn to Earn" method
Hundreds of photos and illustrations make the dog training book more engaging
Great resource for new dog owners or those setting up to bring home a new puppy
Reviewers Dislike
Training requires a lot of time and dedication by the owner
Not ideal for owners with physical limitations; many times, the owner needs to squat and pop back into standing position
No mention of what to do when things don't go perfectly or when your dog doesn't respond to the positive reinforcement methods mentioned in the book
3. The Culture Clash
The best "what is your dog thinking?" book
Author: Jean Donaldson | Publisher: James & Kenneth Publishers | Pages: 222 | Copyright: 2005 | Price: 💰
Winner of multiple dog training book awards, The Culture Clash has become one of the most influential books among veterinarians and dog trainers. It is a fascinating read that takes you into the mind of your dog and their lovably simple "can I eat it, chew it, urinate on it, what's in it for me" philosophy.
Jean Donaldson clearly loves dogs and seems to have an insight into the enigma that is the canine psyche. In part, she writes from the dog's point of view and advocates relentlessly for their well-being. While this is not the best book on dog training, it is an excellent resource for understanding your pet. I can give insight to how positive reinforcement plays a huge part in having a mutually enjoyable relationship with your pup.
Reviewers Like
Provides insights on dog behavior and why dogs do the things they do
Dismisses antiquated training methods and offers explanations of happier alternatives
Gives a realistic portrait of living with a dog and not the perfect "Disneyland" version many owners expect when getting a puppy
Reviewers Dislike
Not enough time focusing on rehabilitating older dogs/rescue pups/untrained adults
While it is informative, there is a lot of deatils to get through, and the book is not a step-by-guide
Donaldson does not believe that most owners are worthy of having and taking care of a dog, and her disdain for "average" pet owners weaves throughout the text
4. How to Behave So Your Dog Behaves
The best scientific dog training book
Author: Dr. Sophia Yin | Publisher: TFH Publications | Pages: 272 | Copyright: 2010 | Price: 💰💰
Dr. Sophia Yin takes a scientifically sound but practical approach to dog training. Each edition of this best selling dog training book offers the latest in canine behavior insights useful to any pet owner. Dr. Yin utilizes straight-forward language, photographs, and illustrations to enhance the text. By focusing on the positive only, this dog obedience training book helps you unlearn your own undesirable behaviors towards your dog, such as yelling, hitting, pushing, and any other aversive correction methods.
The book's five-minute sections give you bite-size exercises that make training your dog fit into your life by not turning it into your full-time job. With games and quizzes interspersed through the dog training book, both you and your pup will enjoy learning and training using Dr. Yin's methods.
Reviewers Like
Evidence-based information reads like a textbook
Common sense instructions make training easy (but don't expect it to click right away!)
Concise resource that is best to reference as you use it and not to read through cover to cover
Reviewers Dislike
Reads a bit too academic and theoretical for some
Content wavers between positive reinforcement only and some more antiquated methods
Dr. Yin focuses a lot of the book on behaviorism and not as much on actual training techniques
5. The Other End of the Leash: Why We Do What We Do Around Dogs
The best dog training book for communication
Author: Patrica B. McConnell | Publisher: Ballantine Books | Pages: 272 | Copyright: 2003 | Price: 💰
The Other End of the Leash takes dog training books to another level and offers a new perspective to dog owners. How we behave around our dogs is just as important as how we treat them.
Dr. McConnell looks at how humans are just another species and makes her observations about how we interact with dogs. She acknowledges that we share a unique relationship with dogs. Ultimately, we are still two completely different species who interact very differently with the world around them. In this dog training book, the author aims to teach owners how to use their voice to get what they want out of their dog and eliminate an alpha-presence mentality.
Reviewers Like
Comparing human/primate behaviors and canine behaviors and how they can co-exist
Dismantling alpha/pack leadership ideology and how it's ultimately harmful to human-dog relationships
Explains why, even in successful training programs, problems still arise and how to combat them using behaviorism
Reviewers Dislike
Reads more like a memoir than a training manual
Author makes multiple references to her credentials, which many readers found off-putting
Many anecdotes that mentioned other dog owners were borderline offensive and caricaturistic while portraying the author like a heroine swooping in to save these otherwise perfect dogs from their moronic owners
6. Don't Shoot the Dog: The New Art of Teaching and Training
The most entertaining dog training book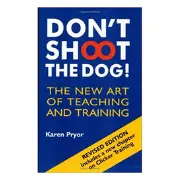 Author: Karen Pryor | Publisher: Ringpress Books | Pages: 202 | Copyright: 2006 | Price: 💰
Karen Pryor uses humor and behaviorism to illustrate how anyone will respond to positive reinforcement, thanks to operant conditioning. Dog trainers love Pryor's guidebook, and it led the pack to making positive reinforcement training what it is today. The use of scientific terms gives the reader a feeling that this dog training book is more than just a practical guide but a well-researched academic text. Training methods are easy to follow and replicate by using her step-by-step instructions.
Reviewers Like
Well written and easy to read
You don't just train your dog; you train yourself!
Relates dog training to how to train humans and understand behavior patterns in both dogs and people
Reviewers Dislike
Lists euthanasia (humanely ending your pet's life) as a behavior-curbing method
Training information interspersed with personal anecdotes does not have the same readability and flow as others in the genre
Author mentions only positive reinforcement but then describes an anecdote where she mists her cat in the face with wine to curb an undesirable behavior. (Never spray your cat in the face!)
What to Look for in the Best Dog Training Books
Modern dog training and obedience books will tout a positive reinforcement-only approach. According to most veterinarians in the field, positive is the way to go. When choosing a resource to help you in your quest to have the best-behaved dog on the block, consider a positive reinforcement-only training book.
Even an untrained adult dog can learn how to behave and coexist in your home with the right tools. If you are training a puppy, a book that specifically starts with puppies is ideal. Those dog training books will feature timelines and hopefully give the owner realistic expectations.
Drop the pack leader mentality! Your dog cohabitates in your home. They aren't a member of your pack, but a loving and snuggly member of your family.
Our Process
Compiling a best-of list can be difficult: deciding on criteria and rating metrics, weeding through hundreds of titles, and then articulating the list from a place of knowledge and experience.
This reviewer has several years of veterinary experience and education and can speak intelligently on dog behavior and training. Even so, we read many books on dog training, and from those, we deduced which titles would be on our list. From there, we read hundreds of reviews (both positive and negative) from multiple sources in order to compare data and create our list of the top 6 best dog training books available for purchase.
---
Further Reading