Unless you're huddled in a base camp with a bunch of mountaineers, it can be easy to overlook the importance of gloves for hiking. Even in summertime, you may start off thinking, "this is fine!" The next thing you know, you're on top of a ridge with the wind biting into your knuckles and hours to go before you get back to the car. Finding the best hiking gloves means identifying what sort of hiking you will be doing.
The blessing in disguise to finding a good pair of gloves is that there's an enormous range on the market. But, since there's so much out there, you might not have the time to sift through it all. Prices, materials, and intended uses vary widely.
What you need will depend largely on what kind of hiking you want to do, during which seasons, and at which temperatures. Keeping this in mind, we've gathered here our picks for the best gloves for hiking.
Our Top Picks: Best Hiking Gloves
1. Black Diamond Soloist
The best hiking gloves overall
Brand: Black Diamond | Temperature Range: -15/15 degrees F | Insulation: PrimaLoft Gold | Waterproofing: Pertex Shield | Price: 💰💰💰
Back Diamond's Soloist glove is a smartly designed and versatile glove featuring some of the best materials you can get. The nylon shell stretches four ways, granting you a greater range of motion for anything from gripping trekking poles to navigating zippers. Their waterproof BDry insert is one of the toughest on the market, and the fact that it's removable is useful for lessening bulk on dry days. The liner, also removable, utilizes 170 grams of PrimaLoft Gold on the back of the hand as well as an additional 133 grams on the palm. All these layers make the Soloist one of the best winter hiking gloves, but they also leave flexibility for warmer days and climates.
A note on PrimaLoft's insulation: it's one of the best synthetic (non-down) insulations out there. It retains its heat even when wet and dries quickly. On top of that, the company makes a concerted effort to remain sustainable, using recycled products from items like water bottles.
Because of its removable elements and world-class materials, we're happy to recommend the Soloist as one of the best hiking gloves right now.
Reviewers Like
Versatile
Warmth doesn't sacrifice agility
Palm reinforced with Kevlar for grip
Reviewers Dislike
High price
Since waterproof insert is removable, not always waterproof
2. The North Face Etip Recycled Glove
The best eco-friendly hiking gloves
Brand: The North Face | Temperature Range: Mild Cold | Insulation: Double-Knit Fleece | Waterproofing: None | Price: 💰💰
It's no surprise that lovers of the outdoors are conscious of sustainability. But it can be hard to find eco-friendly products that don't break the bank.
The North Face's Etip gloves have long been a staple for many when it comes to a basic glove. But now they also offer a version made from almost entirely recycled materials. These gloves aren't your answer for seriously cold weather conditions or mountaineering, but they are a good option for hiking in milder weather or trail running. Or, use them as a base layer with a shell over them.
The Etip is touchscreen compatible and also uses The North Face's trademarked Radiometric Articulation – meaning, they will keep your hand comfortable in its naturally relaxed position.
Reviewers Like
Stylish and sleek
Not cumbersome
Reasonably priced
Reviewers Dislike
Wrist is too snug
Not warm enough for serious winter use
3. Columbia Fast Trek
The best budget hiking gloves
Brand: Columbia | Temperature Range: Mild Cold | Insulation: Polyester Microfleece | Waterproofing: None | Price: 💰
There's no getting around it: if you're planning on doing some serious winter weather exploration, it will cost you. But if you live in a warmer climate or plan to stay below the snow line, there's no need to break out the big bucks. Who are you impressing, the chipmunks?
Columbia's glove is a tried and true option for anyone looking for basic warmth. The microfleece is light but warm, and a cinched wrist gives a little extra protection from the elements.
Reviewers Like
Good value
Comfortable
Lightweight and not bulky
Reviewers Dislike
Not windproof
Not suitable for serious winter use
4. Outdoor Research Alti
The best winter hiking gloves
Brand: Outdoor Research | Temperature Range: Severe Cold | Insulation: 200g PrimaLoft HiLoft Silver | Waterproofing: Gore-Tex Insert | Price: 💰💰💰💰
Are you planning on some serious winter activity this year? If you are hiking in harsh cold, mountaineering, or playing winter sports, you're going to want gloves that live up to your level of intensity.
Outdoor Research has been producing some of the most effective winter sport gloves for years now. All the best waterproof gloves for hiking will include a shell with durable waterproof materials such as Gore-Tex or Pertex. The Alti series is no exception. Its Gore-Tex insert is praised by buyers for its combination of effectiveness and breathability.
Meanwhile, the removable inner layer offers warmth from PrimaLoft insulation while still giving protection from the wind. So, while the price is higher, you're essentially getting two gloves in one.
Reviewers Like
Breathable
Tough waterproofing
Sturdy without being heavy
Reviewers Dislike
Bulky
Some buyers found the fit between layers tricky
5. Carhartt WB
The best winter budget hiking gloves
Brand: Carhartt | Temperature Range: Severe Cold | Insulation: FastDry Technology | Waterproofing: Storm Defender Protection | Price: 💰
Plenty of people have a soft spot for Carhartt, and for good reason. They provide durable products with a down-to-earth attitude (and the price points don't hurt). If you want a heavy-duty winter glove without the sticker shock, Carhartt is an excellent place to look.
This glove is waterproof and insulated at a fraction of the price of other winter gloves. The tradeoff here will be mobility and weight. These will be significantly bulkier, but they will keep you warm and dry.
Reviewers Like
Excellent value
Keeps hands warm
Waterproofing is effective
Reviewers Dislike
Wristband is tight
Palm is not durable enough
6. Outdoor Research Capstone Heated Sensor Gloves
The best extreme cold hiking gloves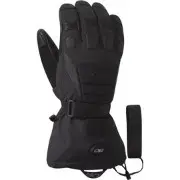 Brand: Outdoor Research | Temperature Range: Extreme Cold | Insulation: Eduraloft | Waterproofing: Gore-Tex Insert | Price: 💰💰💰💰💰
Tickets to Antarctica anyone? These gloves are certainly made for the extremes. Pair Outdoor Research's winter-fighting designs with battery-powered heat, and you should be ready to tackle pretty much any cold climate.
Of course, this level of warmth isn't going to be necessary for many hikers. But during our research, we were struck by how many reviewers cited circulation issues, such as Reynaud's syndrome, as the reason these gloves made a real difference for them. If a couple of battery packs grant more people access to the outdoors, we're all for it.
Now, take note that heated gloves come with limitations. The battery will only last so long, making them unsuitable for backpacking trips, for example. And they will be heavier and clunkier. But a lifetime warranty sweetens the deal for anyone wavering over the investment.
Reviewers Like
Surprising amount of dexterity
Warm with or without batteries
Best solution for those with circulation problems
Reviewers Dislike
Battery life isn't long enough
Warranty replacement is slow
7. Patagonia Wind Shield Gloves
The best lightweight hiking gloves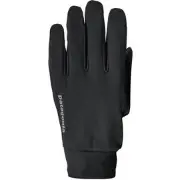 Brand: Patagonia | Temperature Range: Mild Cold | Insulation: Double-Knit Fleece | Waterproofing: No | Price: 💰💰
Patagonia's gloves fall into the same basic category as the Columbia Fast Trek we listed above. These aren't going to get you through any serious deep snow. But the difference here is superior wind resistance.
Lightweight, dexterous, and wind-resistant, these gloves are ideal for high-intensity outdoor activities such as trail running and cross country skiing. They're also perfectly suitable for spring and fall hiking at lower altitudes.
Reviewers Like
Breathable but warm
Touchscreen compatible
Good for multi-sport activity
Reviewers Dislike
Run large
No nose-wiper for runners
What to Look for in Hiking Gloves
When shopping for the best hiking gloves, we recommend that you first ask yourself the most general question: what will make the outdoors most accessible for you? We don't believe that cost should be prohibitive to enjoying a good hike, which is why we've listed our favorite affordable options here. On the other hand, if you're really looking to expand your adventures, investing in higher quality gloves could aid you on your journey.
Elevation Matters as Much as Climate
Whatever your goal, materials will have to be on your mind. For shorter or lower elevation hikes, a simple pair of gloves will do the trick. If you expect wind or plan to also use the gloves for running or cycling, look for wind-resistant materials.
For higher elevation, colder, and more ambitious voyages, you'll want to keep both waterproofing and insulation in mind. Serious winter gloves will generally include a waterproof insert and a removable liner so that you can layer according to need. And keep in mind that while these gloves come at a higher price, they also offer you multiple options alongside longevity.
Don't Neglect Freedom of Movement
Finally, don't count out dexterity. The best hiking gloves should feel like an extension of your hands rather than an impediment. The more insulated the glove, the more mobility is compromised. And the higher end the glove, the more dexterity you're likely to retain. So, if you're easily irritated by clunky gloves, investing in a more expensive pair could be worth it.
Our Process
For this guide on hiking gloves, our team spent 2 hours researching the most popular options from over 15 brands and manufacturers big and small. We then read about one hundred user reviews (both positive and negative) to discover what shoppers thought about each hiking glove. After comparing this data, we narrowed our list down to the top 7 on the market. You can count on this research to guide you to a mindful purchasing decision.
If you enjoyed this read, sign up for our newsletter below and get special online shopping deals delivered straight to your inbox.
---
Further Reading