Most of us have probably never given much thought to the best light bulbs for garage door openers, until it's time to replace yours. Even then, it's not likely a topic you want to spend lots of time researching. Not to worry — help has arrived!
Here's the main thing to know: you need to buy a tough piece of equipment for a tough job. A light bulb for your garage door opener needs to be able to withstand bumps and vibrations, high heat and frigid cold, all while properly illuminating a dark garage at a moment's notice.
Read on to quickly identify the best light bulbs for garage door openers.
Our Top Picks
Let's shine a light on our top picks:
A Closer Look: Best Light Bulbs for Garage Door Openers
The lights are on, and illuminating the details of each of the light bulbs in our top picks list.
If you want our quick and easy recommendation for what is truly the best overall garage light bulb, look no further than the Genie 60W Universal LED bulb. It's widely available, works for almost all garage doors, and is long-lasting. Furthermore, it causes none of the radio interference issues that other LED bulbs sometimes can.
These light bulbs are also really tough — as in they can withstand up to 5Gs of shaking force, so the day-to-day vibrations of garage doors opening and shutting are of little concern. Finally, worry not about temperature or humidity fluctuations, as this LED bulb is cold weather tested and fine for damp locations.
Reviewers Like
Nice and bright
No interference with opener
Works with a wide variety of garage door brands
Reviewers Dislike
Some wish the color was whiter
Comparable to standard, cheaper bulbs
In our mind, reducing the likelihood of having to frequently climb up a ladder to replace a cheap light bulb is worth a few extra dollars. But if you are the thrifty type, we have a couple of options: this reasonably priced two-pack of garage door light bulbs from Hamilton Hills, and an ultra-budget option from Feit (read on to our #3 pick).
The Hamilton Hills LED offers universal compatibility and efficiency, with a long life of up to 25,000 hours. This flicker-free, noise-free LED bulb offers many of the same qualities as other garage door opener light bulbs. Also, it withstands harsh environments, damp conditions, vibrations and shocks.
Reviewers Like
Great value
Lights up the whole garage
Noticeably better than standard light bulbs
Reviewers Dislike
Very cold, white light
Not as bright as expected
If you are a true bargain-hunter, we present this option for an even more affordable garage door light bulb. But beware, with the price cut comes a greater likelihood that the bulb may cause electrical interference with the remote of your garage door opener.
The Feit LED light bulb is more of a general-purpose LED light bulb, but will also work for some garages/garage doors. Like all LED bulbs, it uses about 85% less energy compared to a standard incandescent light bulb. It is also mercury-free.
Note that this light bulb sells in singles rather than multi-packs.
Reviewers Like
Easy to install
Very inexpensive
Works well with many garage door brands
Reviewers Dislike
Lack of quality control
Bulbs caused electronic interference with some brands of garage door openers
The TORCHSTAR Garage Door Opener LED Bulb is our vibration-resistant pick, but it's also an excellent overall choice. Like the Genie bulb, it can withstand all sorts of shaking and prolonged vibrations and is made with shatter-resistant materials. It doesn't flicker or produce any humming, so there's no interference with garage door remotes.
It's also very bright, packing the equivalent of 100 watts and about 1500 lumens. According to the manufacturer, this is due to its "270° omni-directional beam angle, which creates an even and well-balanced lighting output."
If you're looking for a tough garage door opener that can withstand harsh and damp conditions, look no further than the TORCHSTAR.
Reviewers Like
Good value
Nice and bright, with no delay
Eliminates electronic interference with garage door remotes
Reviewers Dislike
A bit pricey
A few thought light strength was more equivalent to a 60W bulb than a 100W bulb
5. MiracleLED Rough Service Garage Door Light
The best safety garage door opener light bulb
Brand: MiracleLED | Type: LED | Watt Equivalent: 60W | Lumens: 500 | Lifespan: 20,000 Hours | Price: 💰💰
This light bulb can withstand rougher use and any vibrations or shocks that come along with garage door operation — or other environments where a heavier duty light bulb might be necessary.
The MiracleLED is also appropriate for use in light commercial settings, as outdoor flood lights, or in outdoor sconces, globe fixtures, and carriage lanterns. Like all LED bulbs, it should last about 25 times longer than an incandescent bulb. MiracleLED also offers a one-year limited warranty on their bulbs.
Reviewers Like
Easy to install
Bright white color
Durable and well-made
Reviewers Dislike
Slightly shorter lifespan
Bulbs caused electronic interference with some brands of garage door openers
Do you have an especially dark garage? Or maybe a larger space to cover? Sometimes the regular 60W equivalent bulbs just don't cut it. If that's the case, give the Great Eagle extra bright LEDs a try. These professional-grade bulbs contain no mercury, lead, or UV light — and they're efficient, safe, and long-lasting.
However, please note that these LED bulbs have the potential to interfere with garage door openers — especially if yours is of an older generation.
Reviewers Like
Very bright, warm light
Whopping 2610 lumens at 100 watts
"I'm pretty sure my neighbors thought my house was a lighthouse for ships lost at sea, because it was like harnessing the power of Zeus."
Reviewers Dislike
Not as bright as claimed
Some reported faster burnout than advertised
7. GE Rough Service Incandescent Work Light Bulb
The best incandescent garage door opener light bulb
Brand: GE Lighting | Type: Incandescent | Watt Equivalent: 100W | Lumens: 1015 | Lifespan: 2,000 Hours | Price: 💰
So as a general rule, we don't recommend incandescent light bulbs for use in garage door openers. They don't last as long, and are way less efficient, and more prone to breaking from shocks or vibrations. But if you have your heart set on an incandescent bulb for your garage door opener, then definitely choose a shatter-resistant design like this GE Rough Service Work Light Bulb.
In general, incandescents are just more of a hassle for not that much less money. Their one upside is that they won't interfere with garage door opener remotes — which, to be fair, can be a significant upside. Note that this light bulb is usually sold individually, rather than in a multi-pack.
Reviewers Like
Noticeably more rugged than other standard incandescent bulbs
Teflon gives a true rubbery coating that prevents glass shattering
Rough service bulbs don't buzz like regular incandescents and tend to have a longer life
Reviewers Dislike
Don't last as long as LED bulbs
Because of the "Saf-T-Gard" coating, these bulbs are more expensive than other incandescents
What to Look for in the Best Light Bulbs for Garage Door Openers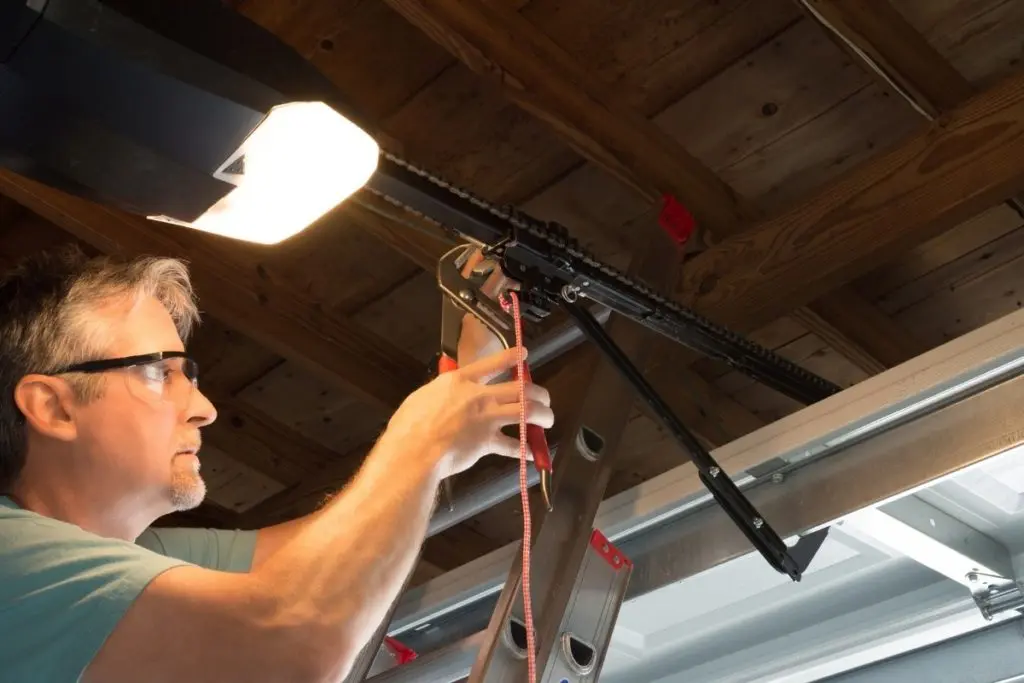 When it comes to buying a light bulb for your garage door, you technically a few primary options: incandescents, compact fluorescents (CFLs), and LEDs.
Incandescent Light Bulbs. Incandescents are the standard many grew up with, but these bulbs are phasing out of production due to their major inefficiency.
Compact Fluorescent Light Bulbs (CFLs). While they last longer than incandescents and are moderately efficient, CFLs are also the most likely to mess with your garage door opener's remote. They are also sensitive to cold temperatures, which makes them a poor choice for many garages!
Light Emitting Diode (LED) Light Bulbs. In our opinion, LEDs are by far the #1 best light bulbs for garage door openers, because of their remarkable blend of performance and energy efficiency. They have a dramatically longer lifespan than incandescents, and most won't interfere with the radio frequency of your garage door remote. Perhaps most importantly, they are way tougher than the other two types of light bulbs. LED bulbs can withstand drastic temperature fluctuations, changes in humidity, shock, and vibrations.
Most garage door openers have two sockets for bulbs, so we recommend buying light bulbs in pairs (or multipacks) for more value and convenience. Just make sure to replace both with the same type for optimal performance.
Other Key Features
Size and Wattage. Most garage door openers will fit A21 size light bulbs, but an A19 size with a maximum wattage of 100W (or 10W for LEDs) is ideal.
Lifespans. High-quality bulbs should last you around 25,000 hours, but shoot for a minimum of 20,000.
Safety Features. Look for shatter-resistant bulbs, or bulbs that use safety glass or a protective coating. That way, if your light bulb falls from high up and does break, it won't shatter all over.
Electrical Interference. This is a less common problem with newer garage door openers but is still an issue for many consumers. In a nutshell: certain types of lightbulbs can interrupt the signal between your garage door's remote and your garage door opener, preventing the remote from working. CFLs are the most likely to cause this aggravation, which is why we recommend steering clear of those bulbs. LEDs can also cause issues, but the LED bulbs designed for use with garage door openers almost certainly won't. In particular, the Genie and TORCHSTAR products are specially designed to prevent this interference. With the other brands on our list, you may be in for more trial and error. Most make the claim that they don't interfere, but some reviews suggest otherwise.
Always check your garage door opener's instruction manual before you buy any bulbs. Your opener may list a size requirement or maximum wattage or even recommend a specific brand.
Our Process
For this guide on light bulbs for garage door openers, our team spent 5 hours researching the most popular options from over 25 brands and manufacturers big and small. We then read about one hundred user reviews (both positive and negative) to discover what shoppers thought about each bulb. After comparing this data, we narrowed our list down to the top 7 garage door opener light bulbs on the market. You can count on this research to guide you to a mindful purchasing decision.
If you enjoyed this read, sign up for our newsletter below and get special online shopping deals delivered straight to your inbox.
---
Further Reading