In researching this article, we found that the best yard sprays for mosquitoes can only be ones that don't harm the other insects essential to our eco-system. Consequently, we do have a traditional option on our list, but encourage everyone to use insecticides with caution.
It's the worst. First, you start wondering whether or not you heard a subtle droning buzz. Then, a tiny tickling sensation. Slowly, it dawns on you: it's not your imagination, someone's making a meal of you! Ah, summer's most dreaded nemesis: the mosquito.
And where one goes, others are sure to follow.
Most of us have a bottle of mosquito repellant at the ready for a hike or a camping trip. But what happens when you realize that, this year, no single-use spray is going to cut it. What do you do when you realize that your yard is overrun with mosquitoes?
Look no further — we've put together a list of the best natural mosquito sprays and repellents for outdoor use.
Our Selection Criteria
We know it's important for you to make choices that don't harm the environment. That's why the top 5 repellents on our list are all non-toxic. They are dramatically safer for children and pets, wildlife, and are specially formulated to kill mosquitoes. The truly best mosquito repellent sprays for your yard won't kill honey bees, butterflies, and other beneficial insects while they're doing their job. And most of these mosquito treatments are even biodegradable and pleasant-smelling!
Note: We've included one recommendation for a traditional chemical pesticide. We know there might be some situations that call for the heavy-duty stuff. Just be aware that this type of insecticide is poisonous and will kill any insect it comes into contact with, including beneficial ones (save the bees)! These chemicals also pose carcinogenic risks, cause respiratory problems, and contribute to chemical runoff as they are washed away by rain into waterways (where they are hazardous to aquatic organisms).
That's why it's a relief there are so many effective mosquito-killers on the market that pose little to no harm to humans, pets, and the environment! Indeed, it's true that some of these sprays are not quite as instantaneously deadly as the toxic versions. In addition they do tend to require more frequent reapplication. But if you follow the directions, we're confident you'll find them every bit as useful.
Our Top Picks: Best Yard Sprays for Mosquitoes
In a hurry? Here are our top picks:
1. EcoRaider Mosquito Yard Treatment 3-in-One Triple-Action
The best mosquito yard spray overall
Brand: EcoRaider / Type: Spray / Active Ingredients: Lemon Grass Oil, Geraniol, Peppermint Oil, & Sodium Lauryl Sulfate / Price: 💰
Unlike other sprays that list mosquitos among the insects they kill or repel, this spray is mosquito-focused. It kills and repels them throughout their lifecycle. EcoRaider is effective against multiple species of mosquitoes, consistently well-reviewed, and is widely available online.
Most importantly, this mosquito yard treatment uses natural (biodegradable) insecticidal extracts that are safer for children and pets. EcoRaider also comes in multiple sizes: a 2-ounce personal spray, 16-ounce outdoor spray, or a larger 32-ounce bottle that attaches to a garden hose.
Reviewers Like
Most find it very effective
Gentle to use around children and pets
Most appreciate the botanical smell (though a few don't)
Reviewers Dislike
Occasional accounts of ineffectiveness
Can cause plant damage if directly sprayed on foliage
2. Cutter Natural Outdoor Fogger
The best mosquito yard spray on a budget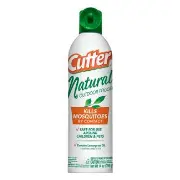 Brand: Cutter / Type: Spray / Active Ingredient: Lemongrass Oil / Price: 💰
If you're looking for a mosquito spray for a smaller space, like a patio or balcony, Cutter Natural Outdoor Fogger is a great product to try. It's also very affordable, so you can experiment with how well the formula works for your space before purchasing the larger size.
Reviewers Like
Generally very effective
A big hit with dog lovers
Most people like the lemongrass smell (though some don't)
Reviewers Dislike
Needs more frequent application compared to chemical sprays
While the spray is pet-friendly, make sure to let the spray fully dissipate/dry before allowing your pets to come into contact with treated areas
3. Cutter Natural Bug Control Spray Concentrate
The best mosquito spray for large yards
Brand: Cutter / Type: Spray / Active Ingredient: Lemongrass Oil / Price: 💰💰
Cutter is a brand that has traditionally made chemical insecticides and repellents. In recent years, they have also entered the non-toxic mosquito spray arena. This brand is easy to find, well-reviewed, kid and pet-friendly, and effective if used as directed and regularly re-applied.
Cutter Natural Bug Control Spray Concentrate is an excellent choice for those with a bigger yard, or a larger mosquito-prone area to cover.
Reviewers Like
Also works to reduce ants and fleas
Lemongrass is more bee-friendly than some other natural formulations
Easier and sturdier hose attachment valve than other brands, less leakage
Reviewers Dislike
Not organic
Needs more frequent application compared to chemical sprays
4. Bonide Mosquito Beater Repellent Granules
The best mosquito repellent granules
Brand: Bonide / Type: Granules / Active Ingredients: Geranium, Cedar, Lemongrass, Garlic, & Citronella Oils / Price: 💰💰💰
This mosquito yard treatment is a little different, in that it isn't a spray, but rather a granule/shaker application. One of the most significant advantages of using granules is their strength and longevity. This formula can repel mosquitoes for up to 3 weeks, and across 4000 square feet! And the pellets are biodegradable, non-toxic, and even safer to use than sprays.
In addition to yards and patios, try Bonide Mosquito Beater around pools, barbeques, near pet and children's play areas, around decks, or at campsites.
Reviewers Like
Less messy, more direct application than sprays
Very effective against moderate mosquito populations
Won't burn out or damage grass or foliage like mosquito sprays can
Reviewers Dislike
Needs a very liberal application, and efficacy gradually fades
Not as adequate for severe mosquito infestations, or after prolonged heavy rain
5. Thermacell Patio Shield Mosquito Repeller
The best thermal mosquito repellant
Brand: Thermacell / Type: Thermal / Active Ingredient: Allethrin / Price: 💰💰💰
This portable Thermacell unit is another spray-free option that uses Allethrin (a synthetic version of repellent found in chrysanthemums) to repel mosquitoes. These units create a "patio shield" of 15 feet and 12 hours of mosquito protection, with no open flames or smoke.
Thermacells come in different colors and sizes and include a fuel cartridge and several replacement mats.
Reviewers Like
Very effective
Versatile and portable
Users found this mosquito repeller aesthetically pleasing
Reviewers Dislike
Not recommended for use around food
Some complaints about design, reliability, and functionality
6. Off! Outdoor Fogger
The best traditional chemical insecticide yard spray
Brand: Off! / Type: Spray / Active Ingredients: Prallethrin & Cyfluthrin / Price: 💰
It's always better to use non-toxic outdoor mosquito treatments whenever possible. And it might take a little experimentation with different types, application strategies, and patience to find the right formula or combination of mosquito repellents.
That said, we know there are times when it makes sense to carefully and judiciously apply a more heavy-duty mosquito yard spray. If you find yourself in this situation, we recommend Off! Backyard Pretreat Outdoor Fogger. Most reviewers agree it's the best mosquito killer sprays for your yard.
As long as you use it sparingly, follow all directions, and make sure to keep children and pets away from treated areas, this spray should be okay for occasional use.
Reviewers Like
Fresh smell
Immediately and noticeably effective
A favorite for use before entertaining groups of people
Reviewers Dislike
Users express worries about health risks
Hazardous to aquatic organisms and bees
Best Non-Toxic Additions & Alternatives to Mosquito Yard Sprays
Killing and repelling mosquitoes effectively often takes a diversified strategy. Yard sprays are great for use in any outdoor area you expect to spend time in. Still, sometimes additional targeted measures are needed as well. Here are a few more non-toxic options to try alongside the best yard sprays for mosquitoes.
Mosquito Prevention
If you can prevent mosquitoes to begin with, you won't have to Rambo-style spray your way through a giant cloud headed straight toward your patio or deck.
Get rid of standing water around your yard or outdoor space. Don't provide them with any water to breed in! Check for puddles everywhere — like plant saucers, wheelbarrows, gutters, tires, or even discarded toys or garbage can lids.
Keep everything tidy and reduce shade. Mow your lawn, eliminate tall grass, remove brush, and keep trees and bushes trimmed.
Plant natural repellents along the perimeter of your yard or in pots around your outdoor area. We all know skeeters hate citronella, but they'll also avoid lavender, marigolds, rosemary, mint, catnip, geraniums, lemon thyme, basil, and lemon balm.
For most larger outdoor spaces, they're not going to cut it on their own. But for smaller spaces, or to reinforce another repellent, they're still popular for three reasons — they're cheap, handy, and they work!
If you don't mind a bit of smokiness, these are also a good old-school option. Most reviewers agree that they work a little better than candles.
These natural pellets help prevent mosquitoes, killing any larvae formed in standing water in or near your yard. Even better, they are totally harmless to beneficial insects, pets, and wildlife.
Again, probably not enough on their own, but in combination with other repellents, they can really reduce mosquitoes — with zero smoke, flames, sprays, etc.
What to Look for in the Best Mosquito Yard Sprays
You want to choose the right mosquito control application for your particular outdoor area, so make sure you're considering the size of your yard, the mosquito population, and whether or not you'll be eating food in that area.
For instance? If you need to kill or repel a moderate amount of mosquitoes on a small patio for an outdoor dinner, you'll want to use something targeted. Try the Cutter Natural Outdoor Fogger (#2). As long as you let it thoroughly dry beforehand, this spray is fine to use in an area where you'll be eating. If you're not planning to eat in your outdoor space, a thermal option, like #5, would also be a good bet. Either of these will also work for a campsite.
However, if you're looking to cover a large or partially wooded area, the best mosquito killer sprays for your yard will likely be one of the hose-attachable concentrates or the mosquito granules. The repellent granules work exceptionally well in grassy areas, wilder spots, and around wooded perimeters. The concentrates work particularly well for harder surfaces, like around pools, near decks and patios, around outdoor fireplaces, etc.
And no matter which application you choose, you won't be spraying a toxic substance, so you can liberally apply the treatment. Which is great for efficacy — and your conscience!
Our Process
For this guide on mosquito yard sprays, our team spent 4 hours researching the most popular options from over 30 brands and manufacturers big and small. We then read about one hundred user reviews (both positive and negative) to discover what shoppers thought about each spray. After comparing this data, we narrowed our list down to the top 6 mosquito yard sprays the market. You can count on this research to guide you to a mindful purchasing decision.
If you enjoyed this read, sign up for our newsletter below and get special online shopping deals delivered straight to your inbox.
---
Further Reading