If you're tired of having to find an outlet in every corner of your house to plug in your vacuum, a cordless option may be just what you need. Cordless handheld vacuums are lightweight and portable. They're an excellent option for cleaning your car or hard-to-reach nooks and crannies in your home. And if you've got little ones, they're ideal for busting out and sucking up spills and crumbs in a hurry.
So what's the best cordless handheld vacuum out there? That depends on your budget and needs. Check out our list below to find one that's right for you.
Our Top Picks: Best Cordless Handheld Vacuums
Here are our top picks for the best cordless handheld vacuums:
1. Black+Decker Dustbuster Handheld Vacuum
The best cordless handheld vacuum overall
Brand: Black+Decker | Battery: 16v Lithium Ion | Weight: 2.6 lbs | Average Runtime: 12 minutes | Price: 💰💰
The Black+Decker Dustbuster boasts strong suction power that doesn't fade while you're using it. We chose this vacuum as our best overall pick because of its combination of power, versatility, and affordability. At 2.6 pounds, this vacuum is very lightweight and portable, making it ideal for reaching high or hard-to-reach areas. It also has a long nozzle to help you reach into crevices and under furniture, and it utilizes energy-efficient charging technology so you'll save on energy costs in the long run.
The only real downside to this vacuum is the relatively short runtime of 12 minutes, so if you're looking for a handheld vacuum that allows for longer sessions, you might want to look at other options.
Reviewers Like
Lightweight
Extremely powerful suction
Crevice tool for cleaning hard-to-reach places
Reviewers Dislike
12-minute runtime
Some say it's a bit loud
2. Dirt Devil Accucharge Technology BD10045RED Hand Vacuum Cleaner
The best eco-friendly cordless handheld vacuum
Brand: Dirt Devil | Battery: 15.6v Nickel Cadmium | Weight: 3.25 lbs | Average Runtime: 30 minutes | Price: 💰💰
Dirt Devil is one of the more energy-efficient and eco-friendly vacuum brands across the board, and this handheld vacuum is no exception. It has an ENERGY STAR rating, so you know you're getting something that's actually green. It comes with a retractable brush, although many users say it's not super helpful and ended up not using it.
With most battery-powered gadgets, the charger continues to suck energy from the wall for as long as it's plugged in. Dirt Devil designed the circuitry in their Accucharge to recognize when the battery is fully charged, making it extremely energy-efficient. Even the packaging is eco-friendly. The vacuum comes packed in molded pulp instead of styrofoam.
Reviewers Like
Powerful suction
ENERGY-STAR certified
Longer-than-average runtime
Reviewers Dislike
Some users called it flimsy
Suction suffers as the battery gets low
3. Holife Handheld Vacuum
The best budget cordless handheld vacuum
Brand: Holife | Battery: 11.1v Lithium Ion | Weight: 3.14 lbs | Average Runtime: 25 minutes | Price: 💰
With good suction, a sleek appearance, multiple attachments, and a respectable runtime, the price point on this unit is hard to beat. It's one of the best rated cordless handheld vacuums on several retail sites, which is pretty impressive given its affordability. With a 25-minute average runtime and a lightweight design, it's among the best cordless handheld vacuums for cars, shelves, stairs, and other areas that are hard to reach with a corded vacuum.
This unit also comes with two attachments: a crevice tool for hard-to-reach places and a dusting brush for delicate surfaces like furniture or glass. One downside of this unit is the location of the power button. Some users noted that it sometimes shuts off while you're vacuuming because the power button sits close to the grip
Reviewers Like
Super affordable
Compact and lightweight
Lots of included attachments
Reviewers Dislike
Power button placement
Suction isn't as strong as some other units
4. GeeMo Handheld Vacuum Cleaner 8500PA Wet Dry
The best wet/dry cordless handheld vacuum
Brand: GeeMo | Battery: 8v Lithium Ion | Weight: 2 lbs | Average Runtime: 20-25 minutes | Price: 💰💰
This GeeMo model takes the number one spot for the best cordless handheld wet/dry vacuum. Reasonably priced and well-liked by reviewers, this unit is durable and tackles both wet and dry messes with ease. With strong suction and three attachments, it's powerful enough to handle dust, cat litter, pet hair, spilled juice, leaks, and just about any other substance you can think of.
This unit has a fairly large dust bowl for a handheld vacuum, and its translucent design makes it easy to tell when it needs to be emptied. Users also love how easily it breaks down for cleaning. One drawback that several reviewers noted is that this vacuum is louder than other comparable models.
Reviewers Like
Good battery life
Simple and easy to use
Three attachments designed for different surfaces
Reviewers Dislike
Loud
Hard to tell if it's charging
5. BISSELL Pet Hair Eraser Lithium Ion Cordless Hand Vacuum
The best cordless handheld vacuum for pet hair
Brand: Bissell | Battery: 14v Lithium Ion | Weight: 4.29 lbs | Average Runtime: 17 minutes | Price: 💰💰
If you have a dog or cat that sheds, a cordless handheld vacuum is a must! This Bissel model is far and away the best cordless handheld vacuum for pet hair, partly because of how effective it is at removing hair and fur from upholstery. This handheld vacuum has a pretty large dust bin that's simple and easy to empty, and it includes three attachments: an upholstery tool, a motorized brush tool, and a crevice tool.
Users say it consistently holds its charge well and handles pet hair, cat litter, and dog food with no problems. Another big plus? Bissell donates 5 dollars for each item sold.
One downside is that this vacuum isn't the best for carpets. While it's awesome for couches, car seats, and hard floors, none of the three included tools are designed specifically to clean carpets, so you might need a separate vacuum for thick carpeting or rugs. It's also on the bulkier side.
Reviewers Like
Large dust bin
Great for removing hair from upholstery
Multiple attachments make it a versatile option
Reviewers Dislike
Bigger and bulkier than most handheld units
Battery doesn't last as long as some other options
6. Eureka Powerplush Cordless 2-in-1 Handheld Cleaner
The best cordless handheld vacuum for hard floors
Brand: Eureka | Battery: 21.6v Lithium Ion | Weight: 5.5 lbs | Average Runtime: 20 minutes | Price: 💰💰💰💰
If you're in the market for a versatile and easy-to-use hard-floor vacuum cleaner, this model by Eureka should not be overlooked. This cordless unit easily converts from a stick vacuum to a handheld, making it convenient for wood, vinyl, and other hard floors in addition to smaller nooks and crannies and hard-to-reach areas in your home.
With a decent runtime of about 20 minutes and pretty strong suction, it's one of the best cordless handheld vacuums for stairs and cars. Although this vacuum is a rockstar when it comes to hard surfaces, reviewers note that it can be a bit difficult to maneuver on carpets and rugs.
Reviewers Like
Strong suction
The long nozzle is great for reaching cobwebs
Can be used as a stick vacuum or a handheld unit
Reviewers Dislike
Pricier than other options
Some users were not happy with the battery life
7. Tineco A10 Hero Cordless Stick/Handheld Vacuum Cleaner
The best cordless handheld vacuum for carpets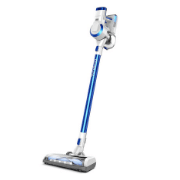 Brand: Tineco | Battery: Lithium Ion | Weight: 5.03 lbs | Average Runtime: 25 minutes | Price: 💰💰💰💰
Like the Eureka Powerplush, the Tineco A10 Hero is a two-in-one cordless vacuum, meaning it easily converts from a stick vacuum to a handheld. But while the Powerplush is our top choice on this list for hard floors, this model is awesome for carpets! Users say it's super simple to convert, and it comes with multiple brushes and versatile attachments that make reaching corners and crevices a breeze.
With an average runtime of about 25 minutes, it's a great option for cleaning both smaller messes and bigger areas. One drawback to this model, however, is that it's on the pricier side compared to other vacuums on this list, but its versatility and effectiveness when it comes to tackling dirt and debris caught up in your carpeting may make it worth the extra cash.
Reviewers Like
Good battery life
Variety of attachments
Convertible design makes it super versatile and convenient
Reviewers Dislike
Expensive compared to other options
Putting it on max mode drains the battery quickly
8. Dyson V8 Absolute Cord-Free Vacuum
The cordless handheld vacuum with the best battery life
Brand: Dyson | Battery: 21.6v Lithium Ion | Weight: 5.75 lbs | Average Runtime: 40 minutes | Price: 💰💰💰💰💰
Dyson released this model following the V6, and although it boasts a more robust motor, it also has the price tag to go with it. If money's not a concern, however, this is an almost universally loved option. With an impressive average runtime of 40 minutes, this convertible vacuum is our top pick for the best cordless handheld vacuum cleaner with a killer battery life.
For those who need a slimmer model, the Dyson V8 is your best bet. Two-tier cyclones work in parallel, massively increasing airflow and effectively capturing dust and even the smallest particles. Combine this vacuum, which works great on both hard floors and carpets, with a good carpet cleaner, and you've got a force to be reckoned with when it comes to cleaning up after your pets!
Reviewers Like
Excellent suction
40-minute runtime
Sleek convertible design
Reviewers Dislike
Expensive
Battery drains more quickly in max mode
9. VacLife Handheld Vacuum
The best lightweight cordless handheld vacuum
Brand: VacLife | Battery: 13.5v Lithium Ion | Weight: 1.94 lbs | Average Runtime: 30 minutes | Price: 💰💰
This sleek and compact vacuum by VacLife is light as a feather. Weighing in at only 1.94 pounds, reviewers love how portable and easy to use it is. With a runtime of up to 30 minutes and a great selection of attachments, it's a great option for the price. Its compact design and bright LED light make it perfect for cleaning dark, hard-to-reach areas like under car seats and behind furniture.
Although it's not quite as budget-friendly as the Holife Handheld Vacuum, which is our top budget pick, this model by VacLife is still one of the best cordless handheld vacuums under $100. VacLife also provides full refunds or replacements if you run into problems, which is a big plus.
Reviewers Like
Affordable
Great attachments
LED light for cleaning dark areas
Reviewers Dislike
No stand or wall mount hanger
Changing the filter can be tricky
10. ORFELD 4-in-1 Cordless Vacuum
The best versatile cordless handheld vacuum
Brand: Orfeld | Battery: 12v Lithium Ion | Weight: 6.6 lbs | Average Runtime: 40 minutes on low | Price: 💰💰💰
If you don't have space for multiple vacuum cleaners that serve different purposes, think about buying a super versatile, convertible model like the Orfeld 4-in-1 Cordless Vacuum. It easily converts to a variety of shapes and is pretty lightweight, portable, and easy to maneuver.
With a 180-degree folding handle, in addition to a 180-degree sideways swivel and a 90-degree up/down swivel, this Orfeld is ideal for cleaning under furniture and reaching those hard-to-get-to nooks and crannies in your house or vehicle.
It also retails at a pretty reasonable price, given all the features you get with this unit. It holds its charge well and offers up to 40 minutes of runtime when you use the low power setting, making it a great option for cleaning multiple rooms in one go.
Reviewers Like
Super versatile
Excellent battery life
Great bang for your buck
Reviewers Dislike
Getting it on the charger can be tricky
Harder to empty than some other options
What to Look for in a Cordless Handheld Vacuum
Of course, you can always consider turning to a robot for your vacuuming needs. But a handheld vacuum is a great option if you prefer a hands-on approach or have lots of difficult-to-reach areas in your home, especially if you know what to look for.
The best cordless handheld vacuum cleaners usually have the following features:
1. Suction
One thing to keep a very close eye on is how powerful the vacuum is voltage-wise. Suction power can be a problem with battery-powered vacuums. Double-check the battery size and voltage to ensure you're getting something that's going to be up to the task.
2. Lightweight and Portable
The whole point of a cordless handheld vacuum is portability and ease of use. You don't want to be lugging around a heavy unit, especially if you're taking it out to vacuum your car or holding it above your head to reach high shelves. Look for a vacuum that's under five or six pounds, and don't forget that it gets heavier as it fills up.
3. Easy Storage
One of the major benefits of smaller, more portable vacuums is that they don't take up a ton of space in your home. Most cordless handheld vacuums can be stored on a hook in your closet, laundry room, or garage. If you opt for a convertible model, look for one that can be stored upright and doesn't need to lean against a corner.
4. Competitive Price
The amount you can expect to spend on a vacuum cleaner is pretty variable, depending on the features you want. The more advanced robot vacuums can retail for upwards of $1,000. Many of the cordless handheld models we included on this list cost less than $100.
Keep in mind that convertible vacuums tend to cost a bit more than those that are only handheld, and more features tend to mean a higher price tag. Whatever your budget, it's helpful to do your research before you make a purchase so you know what's a fair price.
5. Attachments
Crevice tools, different brushes, flexible nozzles, and other attachments can make a huge difference when it comes to handheld vacuums. Think about where you'll be using your vacuum and evaluate the attachments you'll need accordingly. If you're constantly noticing cobwebs collecting in the corners of your ceilings, you may want a long nozzle to avoid having to get the ladder out. If you want to clean under the seats in your car or behind furniture, a narrow or flexible attachment might be what you need.
6. Battery Life
The average run-time of a cordless handheld vacuum is going to be around twelve minutes. This twelve minutes average run-time usually lasts long enough for a quick clean-up. But, if you're looking for something that can last longer, a full-size cordless vacuum might be a better fit.
A Short History of the Cordless Vacuum
To better appreciate the luxuries of cordless handheld vacuums, here's a snapshot of how far the industry has come:
1901: The first motorized vacuum cleaner hit the market. It was so heavy that it had to be carried by horse and buggy.
1908: Hoover bought a patent from James Murray Spangler for the first truly portable vacuum. It had an electric fan and collected dust in a pillow-like bag that had to be replaced or emptied.
1910: A smaller motor was invented that could be run on the standard AC/DC electricity we use today.
1930: Plastic was introduced to the industry, and the first plastic vacuum was made.
1963: The first upright vacuum was made, and the trend toward more lightweight units continued.
1978: James Dyson began development on the bagless vacuum. His experiments continued into 1993.
1979: The first cordless vacuum was introduced to the market.
Fast-forward to today, and we now have tons of cordless and handheld models and even robot vacuums.
Our Process
For this guide on the best cordless handheld vacuums, our team spent 5 hours researching the most popular vacuums from 25 brands and manufacturers big and small. We then read 160 user reviews (both positive and negative) to discover what shoppers thought about each vacuum. After comparing this data, we narrowed our list down to the top 10 cordless handheld vacuums on the market. You can count on this research to guide you to a mindful purchasing decision.
If you enjoyed this read, sign up for our newsletter below and get special online shopping deals delivered straight to your inbox.
---
Further Reading