Adding ankle weights to your workout will target your hips, legs, and glute muscles. That's true for walking, running, and aerobics. No matter the exercise, using ankle weights can improve results. In this ranking, we tell you what you need to know about the best ankle weights, including the best adjustable ankle weights and the best for women. Ankle weights aren't just for ankles, either. They work for arm and glute workouts as well. There are no shortcuts for working out, but using ankle weights definitely helps hard work pay off. So what are you waiting for? It's never too soon to add the best ankle weights to your exercise routine.
Our Top Picks: Best Ankle Weights
1. BalanceForm GoFit Ankle Weights
The best ankle weights overall
Brand: BalanceForm | Weight Options: 8 | Materials: Neoprene/Moisture Absorbing Interior | Price: 💰
With eight weight options, the first ankle weights we want to tell you about are the BalanceFrom GoFit. These fully-adjustable weights are made from neoprene with a moisture-absorbing interior to keep you comfortable while you sweat. In addition to walking and jogging, these weights are good for core and cross-training. You can even use them for swimming. Additionally, the stitching is reinforced, and they're filled with sand.
They're kept secure with an oversized velcro pad, and the weight increases in half-pound increments. According to user reviews, these weights fit well on small wrists and ankles. They're handy for mat exercises while rehabbing post-knee surgery. We learned they're also super comfortable, with soft, athletic-type fabric. The weight stays evenly distributed. The BalanceFrom GoFit ankle weights are the best choice if you're after a little extra burn in your aerobics workout without turning it into a full strength-training routine.
Reviewers Like
Easy to adjust
Won't slip on small ankles
Good choice for a stationary bike
Reviewers Dislike
Lots of disagreement about how durable they are
2
2. Nordic Ankle Weights
The best walking ankle weights
Brand: Nordic | Weights Options: 4 | Materials: Neoprene/Reinforced Stitching | Price: 💰💰💰💰
Simple walking can be a great aerobic workout. To add some burn to your next trek, we recommend Nordic ankle weights. They're a little spendy for ankle weights, but worth it, with four weight options. Nordic uses neoprene with reinforced stitching, and there are some nice color options to choose from. The weights are fully-adjustable, with a velcro pad and a reflective trim to keep you safe while walking at night. Transport your weights to the gym and back in the carry bag that comes with the purchase.
Satisfied consumers comment they're easy to take care of. To clean, just use water and detergent, then rinse and air dry. Some wear them around the house while doing chores or while they're out on hikes. The weight increases in 1-pound increments. These weights also work well on wrists, with the velcro and latch buckle keeping them securely in place, no matter where you wear them. Over time, most who use them for walks end up not noticing they're even on. We do not recommend them for swimming, however.
Reviewers Like
Carry bag is a nice bonus
Plenty of room for adjustment
Ideal for knee replacement rehab
Reviewers Dislike
Not durable under heavy use, one user claims
Velcro a big "rubby" —fixed with sock adjustment
3. Prodigen Adjustable Ankle Weights
The best adjustable ankle weights
Brand: Prodigen | Weight Options: 9 | Materials: Cotton | Price: 💰💰💰💰
Adjustable ankle weights are essential to keep you challenged as your skills improve. The best adjustable ankle weights in our ranking come from Prodigen. With nine weights to choose from in unusual increments like 3.5 and 7.5-lbs, Prodigen ankle weights are made from cotton with a strong velcro strap for comfort and stability. Prodigen is also the rare company to make ankle weights as heavy as 15 lbs.
Otherwise, the weights feature 4-layer construction:
mercerized cotton
neoprene
an Oxford bag to keep the bags compact
and a plastic bag to protect the iron pellets from leaking
Simply switch the bag out to go up in weight. The interior is soft, breathable, and moisture absorbent. And overall, these bags are durable, holding up well under intense use. That's according to one user who chose these bags to rehab a knee shattered in an accident. We also like reports that the stitching is strong and that the neoprene feels smooth against the skin.
Reviewers Like
Weight easy to adjust
Comfortable in hot weather
Sized perfect for ankles and wrists
Reviewers Dislike
Bit bulkier than expected
Not right for the extra petite
Some find it hard to change the weighted bags
4. Sportneer Ankle & Wrist Weight
The best running ankle weights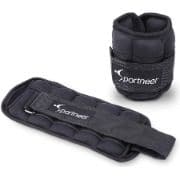 Brand: Sportneer | Weight Options: 5 | Materials: Neoprene/Reinforced Stitching | Price: 💰💰
Sportneer ankle and wrist weights lead the pack among the best ankle weights for running. With five weight levels, they're made from neoprene with reinforced stitching, and the outer trim is extra durable for running long distances. Contributing to Sportneer landing at the top of the ankle weights for running is the high-quality velcro enclosure. That means you won't feel the weight moving around while you run.
There are five sand pockets reaching weights of 4 lbs. The straps help keep the weights comfortable and snug, creating the perfect fit, and the custom-designed D-ring keep also helps keep the weights in place while you move. Users say the bags are easy to take in and out, and that the strap is long, and the velcro is strong. According to reports, the construction material tends not to chaff, and we like the three color options to choose from.
Reviewers Like
No-fray material
User-friendly buckle design
Many prefer sandbags over solid weights
Reviewers Dislike
Too thick and bulky, for some
Fits some wrists but not ankles
Some trouble with chafing and sliding reported
5. All Pro Weight Adjustable Ankle Weights
The best ankle weights for glutes
Brand: All Pro | Weight Options: 10 | Material: Nylon/Foam/Polyester | Price: 💰💰
Great glute exercises like kickbacks and butt lifts are made even more effective with the right ankle weights. Available in 10 weight options, All Pro ankle weights are our pick for the best ankle weights for glutes. To tone your tush, All Pro weights get as heavy as 2.5 lbs per ankle. They're made of nylon, foam, and polyester. The weights are nicely padded around the ankle, and what's also notable is the padded heel protecting the achilles tendon. The cushion flap permits the full range of motion.
The long strap makes the weights easy to adjust for different ankle sizes, including extra-small ankles. They're not meant for swimming, but they do work well for kickboxing, just make sure the weight is evenly distributed. Another unique application is microloading, or bumping weight increments in the weight room by a ¼-lb at a time, a more effective weight-training approach for many. The weights slide in and out easily, and once in place, the weights stay secure.
Reviewers Like
Fabric not stiff or uncomfortable
Hook and loop straps hold up well
Steel rods for weights instead of bags
Reviewers Dislike
A bit slippy on wrists
Prevent rust with Rust-oleum
Best for weight-training rather running, some say
6. Bone Fitness Adjustable Ankle Weights
The best ankle weights for women
Brand: Bone Fitness | Weight Options: 5 | Material: Neoprene/Iron Sand | Price: 💰💰💰
Women looking to add ankle weights to their workout should consider the Bona Fitness adjustable ankle weights. Jogging in the dark raises safety concerns for many people. The Bona Fitness weights feature a reflective trim, helping anyone who uses them to stay safe in the dark. Otherwise, there are five weight options to choose from, and they're made from neoprene and filled with iron sand. The straps are adjustable, and Bona Fitness products are known for fitting different shapes and sizes, no matter where you choose to wear the weights.
Helping you stay visible, the weights come in a nice color combination of blue, fluorescent green ,purple, and gray. They're also wrapped in a soft, stretchy comfortable Lycra that absorbs moisture and stays breathable. Those who've tried the weights call them comfortable, adding that once they're wrapped around an ankle they stay put. They're sturdy enough for all sorts of workouts, and one doctor actually recommends using them for building bone strength.
Reviewers Like
Extra-wide velcro strap
Won't dig into your legs
Good balance around the leg
Reviewers Dislike
1-lb weights don't fit as well
Weights beads leaked for one person
Weight of both ankle weights listed together, not individually
Our Process
For this guide on the best ankle weights, our team spent 5 hours researching the most popular options from over 30 brands and manufacturers big and small. We then read about 5 user reviews (both positive and negative) for each product to discover what shoppers thought about each ankle weights. After comparing this data, we narrowed our list down to the top 6 on the market. You can count on this research to guide you to a mindful purchasing decision.
If you enjoyed this read, sign up for our newsletter below and get special online shopping deals delivered straight to your inbox.
---
Further Reading