Ice has proven to be one of the greatest challenges for blenders. Whether the blades of a blender can slice through solid ice is the most crucial test of its strength and durability. Determining the best blender for ice cubes requires us to consider several factors.
What is the reported lifespan of the blades?
What is the blender's speed?
Is it durable enough to stand up against frozen fruit and ice?
These questions and more were considered when building this list to name the best blender for crushing ice. The NutriBullet system leads the competition, with price and design being key factors.
Read on for a list of the best blenders for breaking up ice and more.
Our Top Picks: Best Blenders for Ice
In a hurry? Here are our top picks:
1. NutriBullet
The best blender for crushing ice overall
Brand: NutriBullet / Watts: 1200 / Capacity: 64 oz / Dishwasher Safe: Yes / Price: 💰💰
With three precision speeds, you have the control with this blender from NutriBullet. It's our selection for the overall best blender for crushing ice. It blends through ice without issue. However, reviewers warn against using too much ice or recommend using crushed ice if possible. It pulverizes everything from leafy greens to frozen fruit. NutriBullet's versatility also makes it one of the best blenders for frozen fruit and ice. The blender comes with three cups total: sized large, medium, and small. According to users, it's worth every penny.
Reviewers Like
Made of sturdy hardware
Easy to use, wash, and operate
Great alternative to more expensive Vitamix
Reviewers Dislike
Very loud
Might need to replace blades often depending on usage
2. Ninja Kitchen System
The best blender for crushing ice runner-up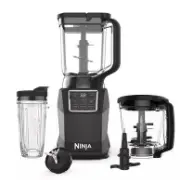 Brand: Ninja / Watts: 1500 / Capacity: 40 oz / Dishwasher Safe: Yes / Price: 💰💰💰
More than a blender, Ninja Kitchen System also contains a powerful food processor and two small travel-sized containers. Reviewers consistently remark on the durability and speed of the blades. Its powerful motor is no match for most other blenders on the market. It can cut through ice easily and qualifies as one of the best blenders for smoothies with ice. It's less expensive than the other "premium" blenders but lacks little in power and additional features.
Reviewers Like
Strong motor for blending ice
Made with plastic as opposed to glass
Large blade in the center makes a huge difference
Reviewers Dislike
Poor warranty coverage
Grooves near the bottom of the container that are hard to clean
3. Oster Blender Pro 1200
The best blender for crushing ice on a budget
Brand: Oster / Watts: 1200 / Capacity: 24 oz / Dishwasher Safe: Yes / Price: 💰
The Oster Blender Pro 1200 comes in at our number three spot as the best blender for those on a budget. Affordable and durable, you can trust that you're getting an excellent product for a sliver of a top-marked blender's price. The blades spin in alternating directions to help ensure its contents are blended smoothly. Ice cubes are no match for this blender. Compared to previous blenders from Oster, this one is 50 percent bigger, allowing you more freedom to make larger and tastier food and drinks.
Reviewers Like
Runs quietly
Several different speed options
Comes with a portable smoothie cup and food processor attachment
Reviewers Dislike
Weak food processor
Difficult to get through to customer service
4. Ninja Professional BL610
The best ice-crushing blender for smoothies
Brand: Ninja / Watts: 1000 / Capacity: 64 oz / Dishwasher Safe: Yes / Price: 💰💰💰
The uniquely stacked blades on this blender are hard to beat. Most blenders feature blades positioned at the bottom of the unit. Ninja's blades are staggered vertically on a bar extending from the base of the pitcher. Reviewers routinely comment on using this blender for their daily smoothies, calling it the best blender to crush ice for smoothies. It has a huge capacity, which provides users with the flexibility of making small or large batches of food or drink. For the price of the product, this blender from Ninja is a promising ice-crushing device.
Reviewers Like
Blends quietly
Long-lasting motor and blades
Blender comes exactly as advertised
Reviewers Dislike
Somewhat challenging to get blades clean
Some users report container cracking after cleaning in a dishwasher
5. Vitamix 7500 Blender
The best luxury blender for crushing ice
Brand: Vitamix / Watts: 1500 / Capacity: 64 oz / Dishwasher Safe: No / Price: 💰💰💰💰💰
Vitamix blenders are notorious for their power, durability, and steep price. However, if you're in the market to splurge on a new powerful blender for your kitchen, check this one out. With ten different speeds, users can blend the perfect texture into their foods and drinks. The stainless-steel blades grind through ice cubes with no trouble. Reviewers remark that users of this blender must read the instructions to know how to use their new blender properly.
Reviewers Like
Very quiet
Fits easily on countertops and in cupboards
Guaranteed a completely smooth smoothie every time
Reviewers Dislike
Very expensive blender
Must read instructions for proper usage
6. Cleanblend Commercial Blender
The best commercial ice blender
Brand: Cleanblend / Watts: 1800 / Capacity: 64 oz / Dishwasher Safe: Yes / Price: 💰💰💰
If you're blending ice for multiple people, a small household blender might not get the job done as seamlessly as you'd like. This commercial blender from Cleanblend remedies that with its large portion size and heavy-duty performance. An 8-blade sealed ball pulverizes the contents of this blender. It's stainless steel blades and glass container make it one of the most durable blenders on this list. It can tackle anything from frozen fruit to celery, ice cubes to grains. When considering the purchase of this blender, keep in mind that it is much larger than other similar products on the market.
Reviewers Like
Excellent customer service
Incredibly powerful blender
On par with leading brands for quality and dependability
Reviewers Dislike
Pitcher sits loose in the motor
Food sometimes gets trapped at base of container
7. Hilax Personal Blender
The best personal blender for crushing ice
Brand: Hilax / Watts: 1000 / Capacity: 35 oz / Dishwasher Safe: No / Price: 💰💰
If you're searching for a portable blender powerful enough to crush through ice cubes, this personal blender from Hilax is one that you should check out. It comes equipped with two sizes of blending containers and a travel container to easily take your smoothies on the go. It's a self-cleaning blender, meaning you only need to add water and a few drops of soap to the container then blend away. It's perfect for taking to the gym, office, or traveling.
Reviewers Like
Two cup sizes
Easy to use and easy to clean
Blends successfully and quickly
Reviewers Dislike
Noisy for a portable blender
Some users report the blender making rattling sounds
8. Homgeek Blender
The best ice-crushing blender with the most speeds
Brand: Homgeek / Watts: 1450 / Capacity: 70 oz / Dishwasher Safe: Yes / Price: 💰💰💰
This blender from Homgeek might be one of the most cost-effective on the list. With ten powerful speeds, this commercial blender is durable, so you can rest assured that it won't break. As a bonus, the blender comes with a tamper to help you move its contents around to ensure maximum pulverization. One thing to keep in mind is that this blender needs time to "rest" after blending. It might smell burnt after use. The odor is due to a sharp rise in temperature because of blade use. It usually cools down in less than 30 minutes.
Reviewers Like
High-quality product for the price
Provides the perfect consistency every time
Easy to adjust the power level while blending
Reviewers Dislike
Very loud and bulky
Can break if pushed too hard
9. KitchenAid Diamond
The most stylish blender for crushing ice
Brand: KitchenAid / Watts: 550 / Capacity: 60 oz / Dishwasher Safe: Yes / Price: 💰💰💰
If you're looking for a powerful blender that will also look stylish while sitting on your countertop, try this KitchenAid Diamond blender. With a sturdy metal base and reliable motor, this blender can make a great addition to your kitchen. Prospective buyers should note the wattage of this blender – it comes in at a little over half the power of other blenders on our list. However, reviewers consistently note that this blender crushes through its contents well provided that you don't overpack it.
Reviewers Like
Very quiet operation
Simple and powerful blender
Dishwasher-safe for a squeaky clean finish
Reviewers Dislike
Dishwasher might warp the lid
Poor grip on bottom after a lot of use
What to Look for in the Best Blenders for Ice
Motor
The first thing to look for when it comes to selecting the best blenders for crushing ice is the motor. In order to slice through solid cubes of ice, a blender must have a powerful motor. The ideal amount of power ranges between 1000 and 1500 watts. Keep your eye out for a built-in overheat function to prevent your blender's motor from overheating after a lot of use. It's an additional safety measure that should be welcome in your kitchen.
Blades
Next, when choosing your perfect ice-crushing blender, take into consideration the blades. Are they made from durable material? How many blades are there? How are they angled in the blender to ensure maximum crushing? You generally want to purchase a blender that has blades near the bottom or sides of the jar. This design helps prevent blending contents from slipping through to the very bottom of the glass.
Material
After you've analyzed the blades and motor of your prospective blender, take a look at the material used for the jar/pitcher. The best blenders for crushing ice will push contents up the jar's sides while simultaneously sucking down in the center. This design ensures constant motion throughout the entire blender. A blender that is too wide means contents are more likely to slip into the pitcher's bottom. Comparatively, if the blender is too narrow, you will have to push contents down toward the blades. Choose a blender that is a medium width to prevent these two scenarios.
Ease of Use
Finally, we have to take into consideration the ease of use with the blender.
Do you want a blender that is dishwasher safe?
Do you want a blender with minimal assembly?
Ask yourself these questions prior to purchasing your blender. If you're using a blender often, convenience is crucial.
Now it's your turn to choose your favorite blender for crushing ice. Using this information, you can now make an informed and trustworthy decision on your purchase.
Our Process
For this guide on ice-crushing blenders, our team spent 5 hours researching the most popular options from over 20 brands and manufacturers big and small. We then read about two hundred user reviews (both positive and negative) to discover what shoppers thought about each blender. After comparing this data, we narrowed our list down to the top 9 blenders for ice on the market. You can count on this research to guide you to a mindful purchasing decision.
If you enjoyed this read, sign up for our newsletter below and get special online shopping deals delivered straight to your inbox.
---
Further Reading