A healthy lifestyle at home doesn't always translate when hitting the road or at work. Those smoothies and shakes that make your healthy diet possible and exciting won't be as easy to come by. Having one of the best portable blenders in your armory of appliances will help keep your healthy habits in reach.
A portable blender is a small, personal blender that is easy to use at home and on the go. It's adaptable and reliable for a range of lifestyles and uses. Price, size, and power are three things we kept in mind when determining what is the best portable blender.
Our overall top pick is the FOCHEA High-Speed Personal Blender for its motor reliability, cost, and compact style. However, depending on your lifestyle, a different blender might suit you better. Check out this list of the best portable blenders for every lifestyle.
Our Top Picks: Best Portable Blenders
Short on time? Here are our top picks:
1. FOCHEA Personal Blender
The best portable blender overall
Brand: FOCHEA / Capacity: 20 ounces / Cordless: No / Motor: 500W / Price: 💰💰💰
The convenience with this blender is going to be hard to beat. FOCHEA's high-speed personal blender is a powerhouse when it comes to blending, making it one of the best portable blenders for smoothies on this list. It comes equipped with a durable motor base, stainless steel blades, two 20oz travel bottles, and an interchangeable blade. This 500W motor blends at speeds up to 24000 r/m that will allow you to blend anything from frozen fruits to leafy greens to liquid in less than 20 seconds.
Reviewers Like
Quick to clean
Easily blends ice cubes
Rubber hold around the outside to prevent hand coldness
Reviewers Dislike
Requires an outlet
A few users report their cups leaking
2. NutriBullet Blender
The best portable blender runner-up
Brand: NutriBullet / Capacity: 24 ounces / Cordless: No / Motor: 600W / Price: 💰💰💰💰
Fast, easy, and durable, this portable NutriBullet blender is an excellent item to add to your kitchen. It's composed of sturdy material and blades that crush through everything from spinach to frozen berries. Reviewers consistently remark about the price. It's steeper than most, coming in around $50 without any added accessories. However, they often counter this by saying it's well worth the price for the quality of the product. They also note that despite the power of this blender, chunks of food often get trapped in the bottom near the blades, so it frequently needs stirring.
Reviewers Like
Multi-year warranty offered
Blends smoothly when blended with liquid
One of the most popular portable blenders on the market
Reviewers Dislike
No to-go cup attached
Somewhat bulky for a portable blender
3. Supkitdin USB Personal Blender
The best portable blender on a budget
Brand: Supkitdin / Capacity: 13 ounces / Cordless: Yes / Motor: 175W / Price: 💰
A fully-charged Supkitdin portable blender can blend up to 20 cups of juice. It's useful for making smoothies, juices, shakes, baby supplements, and more. Because of its long battery lifespan, it's one of the best portable blenders for travel and an excellent choice for those seeking a blender to take outdoors. It's lightweight and compact, making it incredibly easy to transport nearly everywhere. As a bonus, this portable blender is made mostly of eco-friendly material. It's the most affordable blender on the list, coming in at around $20.
Reviewers Like
Blades easily cut through ice cubes
Excellent value when considering price
Comes with two rubber straws and cleaning sponge wand
Reviewers Dislike
Not safe for a dishwasher
Somewhat difficult to clean the blade
4. PopBabies Personal Blender
The most stylish portable blender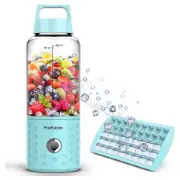 Brand: PopBabies / Capacity: 14 ounces / Cordless: Yes / Motor: 175W / Price: 💰💰💰
PopBabies Personal Rechargeable Blender is not only effective but stylish. It's small and compact so that it will fit nicely in small spaces. The glass container is dishwasher safe and makes for an excellent to-go cup. One of the best features of this portable blender is its ability to charge while blending. On the same note, the battery life of this blender is repeatedly called upon by reviewers as one of their favorite perks. Users should keep in mind that due to the PopBabies portable blender's smaller size, they won't be able to blend as much as a conventional blender.
Reviewers Like
Good battery life
Great for work and busy lifestyles
Easy-to-use for shakes, smoothies, and baby food
Reviewers Dislike
Small portions
Doesn't blend well if overfilled
5. ModernComfort Home BlenderX
The best luxury portable blender
Brand: ModernComfort / Capacity: 20 ounces / Cordless: Yes / Motor: 260W / Price: 💰💰💰💰💰
Voted the best portable blender by CuisineBank.com in 2020, the Modern Comfort blender is a powerhouse addition to your kitchen. If price isn't a concern when purchasing your blender, this is one to consider. It's reportedly 6x more powerful than most other portable USB blenders, making it the best portable blender with a USB port, and holds a healthy battery life. The blender comes with a top-notch water-resistant bag that is excellent for traveling. It also comes with a 20oz glass cup with measurements labeled on the side for convenience.
Reviewers Like
Very easy to travel with
As powerful as most countertop blenders
Extra room in bag to carry additional items
Reviewers Dislike
Unaffordable price
Some reviewers report the device not holding a charge
6. OYeet GoPower Blender
The most reliable portable blender
Brand: OYeet / Capacity: 15 ounces / Cordless: No / Motor: 1000W / Price: 💰💰💰💰
The sturdy blades of the OYeet GoPower Blender blend a delicious smoothie in as little as 10 seconds. Make your smoothie thick or thin – easily accomplish both with this blender. It's compact, fitting nicely in a home, office, hotel, or gym. This blender is certified to have an extended motor life, so you can rest assured that your portable blender is durable and long-lasting. OYeet GoPower Blender also offers a 180 money-back guarantee with 2 years' warranty with each purchase.
Reviewers Like
Dishwasher safe
Takes up little space
Doesn't leak when transported
7. Tenswall Portable Personal Blender
The best portable blender for travel
Brand: Tenswall / Capacity: 13 ounces / Cordless: Yes / Motor: 120W / Price: 💰💰
Well known for its compact size and shape, this blender from Tenswall has been named the best portable blender for travel. It's strong motor and blades blend delicious drinks in just seconds, and the self-cleaning feature makes it truly unique. Reviewers consistently remark upon the ease of cleaning and use for this blender. Tenswall's portable blender is also very affordable at just over $20. The most significant complaint among users is the size. While the blender itself works well, the small size better matches its price point.
Reviewers Like
Lightweight
Blends a variety of fruits & veggies
Silicone cover to prevent leakage into the motor
Reviewers Dislike
Not safe for dishwashers
Small capacity when compared to most other portable blenders
8. TOPQSC Portable Blender
The best portable blender for smoothies
Brand: TOPQSC / Capacity: 15 ounces / Cordless: Yes / Motor: 120W / Price: 💰💰
This portable blender from TOPQSC is our favorite when it comes to making rich and creamy smoothies on-the-go. It is small enough to fit in anything from a lunch bag to a purse and can be easily used at the office, gym, outdoors, and on the road. The glass to-go cup is highly durable, non-toxic, and eco-friendly. The battery life on this blender supports 15-20 drinks and takes under 5 hours to charge. One of the best features users of this blender consistently mention, is about how quietly it operates. It's perfect for blending your drinks in a quiet office.
Reviewers Like
Operates quietly
Easy to operate and clean
Equipped with two 2600mAh batteries
Reviewers Dislike
Stops working if overfilled
Liquid pours out if the cup lid is too loose
9. Hamilton Beach Personal Blender
The best portable blender for crushing ice
Brand: Hamilton Beach / Capacity: 14 ounces / Cordless: No / Motor: 175W / Price: 💰💰
Smoothies, sauces, dressings, salsas, and shakes are all doable in this portable blender from Hamilton Beach. Unlike most other blenders on this list, Hamilton's Beach's product can easily cut through pieces of ice with its stainless steel blends. A smooth texture is practically guaranteed. When purchasing this item, you have the choice of one or two travel jars that duel as drinking cups and fit into most generic cup holders. This blender also comes in fun colors like blue, green, and pink, along with black and white.
Reviewers Like
Affordable
Convenient to-go cups
Easily fits in the dishwasher
Reviewers Dislike
Not cordless
Challenging to find in stock
What to Look For in a Portable Blender
Now that we've compiled a list of some of the best portable blenders for a variety of lifestyles, it's time to explore what you should look for when selecting your ideal blender.
Size
Unlike most conventional countertop blenders, portable blenders come in a range of sizes. Depending on your need for the blender, purchasing a smaller and less expensive product might be desirable. If you're blending drinks for multiple people, you should consider increasing the size of the blender. Keep in mind that when it comes to portable blenders, smaller size equals easier and lighter portability.
Power
Before purchasing your new portable blender, take note of the power level at which it will blend your drink. The more watts or horsepower the portable blender has, the stronger it is. Power will also impact the price of the blender. If you're regularly blending large ice cubes or chunks of frozen fruit in your blender, it might be a good idea to invest in a blender with more power.
Blender Jar
Ideally, the blending jar of your portable blender doubles as a drinking glass as well. Several of the products listed in this article offer blender jars with features like rubber grips for your hands and cup-holder sized bottoms to make them convenient for the most users.
Another characteristic to take into consideration is the sustainability of these jars. Many companies are producing portable blenders with jars that are ethically and eco-friendly.
As a third note, a wider jar means pieces of food are less likely to get stuck in the blades while blending. A glass jar will be heavier than a metal jar, but it will also be transparent, allowing you to see what you're mixing.
Price
Portable blenders can vary dramatically in price. The least expensive ones can cost as low as $15 while the most expensive can cost over $100. Before deciding on your portable blender, it's best to determine your price range along with what exactly you want to use your blender for. Keep in mind that the size and power of the blender will often help determine the price.
Our Process
For this guide on portable blenders, our team spent 4 hours researching the most popular options from over 25 brands and manufacturers big and small. We then read about two hundred and fifty user reviews (both positive and negative) to discover what shoppers thought about each blender. After comparing this data, we narrowed our list down to the top 9 portable blenders on the market. You can count on this research to guide you to a mindful purchasing decision.
If you enjoyed this read, sign up for our newsletter below and get special online shopping deals delivered straight to your inbox.
---
Further Reading