Looking into the best rowing machines? A rowing machine is a fantastic addition to nearly every home gym and fitness space. We couldn't put it any better than U.S. Olympic Rower, Mike Teti, who says that "rowing machines provide the best total body workout of any cardio machine."
While you may have trouble getting up the stairs after your routine, you can rest assured that your upper and lower body are getting a thorough workout.
The best rowing machine is the Concept2 Model D, which strikes a balance of performance and unmatched durability. But depending on your needs and budget, we've lined up several excellent options for you to check out. Let's get started.
Our Top Picks: Best Rowing Machines
Here are the top indoor rowing machines of the year:
Best Overall: Concept2 Rowing Machine Model D.
The Concept2 Model D boasts 10 levels of air resistance and near-perfect consumer reviews, offering an unrivaled workout for beginners and experts alike.
Best Eco-Friendly: WaterRower Rowing Machine.
Imitate the authentic rowing experience with this water-powered machine that features a lovely natural wood finish.
Best Budget: Sunny Health & Fitness SF-RW1205.
Whether you're new to the sport or on a tight budget, the SF-RW1205 is a reliable hydraulic-powered machine for under $100.
Best Under $500: Fitness Reality 1000.
Rowing doesn't have to cost a fortune. The Fitness Reality 1000 is a magnetic model that boasts 14 levels of resistance and BlueTooth connectivity under $500.
Best Air: Stamina ATS Air Rower.
This sleek two-tone rowing machine is a great entry-level air rower with plenty of ergonomic and comfort-oriented perks.
Best Water: Mr. Captain Rowing Machine.
With a wooden design based off an actual rowboat, it's hard to beat the immersiveness of Mr. Captain's rowing machine.
Best Folding: Sunny Health & Fitness Rowing Machine.
Short on space? This compact, ultra-lightweight, and portable model comes with eight resistance levels and folds to just 19 x 37 inches.
1. Concept2 Rowing Machine Model D
The best rowing machine overall
Manufacturer: Concept2 / Resistance: Air / Dimensions: 24 x 96 inches / Folding: Yes / Price: 💰💰💰💰
Concept2 is a premier brand in the rowing machines industry. They are known for their quality craftsmanship, fair pricing, and thoughtful business practices. Moreover, Concept2 backs most of their machines with a 5-year warranty (including this one).
The Model D provides just about everything a rower needs: an ergonomic grip and handle, footrests with adjustable straps, a smooth flywheel, and the all-new Performance Monitor 5. This performance monitor tracks all the stats you'd expect, including total time, calories burned, distance, pace, and number of strokes.
It also lets you set up interval training, create a preset workout, and store your data. You can then transfer the data to a computer using a flash drive to analyze your stats even more. The machine separates into two pieces so you can easily fold it when you complete your workout. An excellent machine!
Reviewers Like
Built like a tank
10 levels of air resistance
Features the Performance Monitor 5 computer system for tracking stats
Reviewers Dislike
Difficult to find
On the pricier side
2. WaterRower Rowing Machine
The best eco-friendly rowing machine
Manufacturer: WaterRower / Resistance: Water / Dimensions: 22 x 84 inches / Folding: No / Price: 💰💰💰💰
WaterRower crafts premium rowing machines that are prominently featured in many fitness magazines. They are beautiful machines that incorporate a water flywheel design, which is constructed to mimic the actual feel of rowing. The flywheel is smooth and quiet, allowing you to listen to music or simply focus on your workout.
Our favorite feature of this particular model? WaterRower constructs this machine with real ash wood and stained honey oak for an authentic, potent workout every time.
Reviewers Like
Stunning natural wood finish
Flips upright for easy storing after use
Authentic workout with minimal joint impact
Reviewers Dislike
Basic (and small) performance monitor
The unit is very narrow, with poorly constructed footrests
3. Sunny Health & Fitness SF-RW1205
The best budget rowing machine
Manufacturer: Sunny Health & Fitness / Resistance: Hydraulics / Dimensions: 20 x 53 inches / Folding: No / Price: 💰
On a tight budget? Go back to basics with the Sunny Health & Fitness SF-RW1205, a hydraulic-powered rowing machine at an unbelievable price.
No, it doesn't have all the bells and whistles you'll find on high-end models. But you do get an ergonomic design, 12 levels of resistance, and even a digital display! Plus, the hydraulic cylinder is surprisingly robust and suitable for most men and women starting (or picking back up) a rowing regimen.
Despite its straightforward construction, there is one thing we don't understand about the SF-RW1205. Namely, how the company — Sunny Health & Fitness — managed to price it below $100! Better pick one up while the magic lasts.
Reviewers Like
12 levels of resistance
Excellent overall craftsmanship, considering cost
Fantastic beginner and lightweight workout machine
Reviewers Dislike
Does not fold
Generates lots of heat and only suited for shorter sessions ~ 15 minutes
4. Fitness Reality 1000
The best rowing machine under $500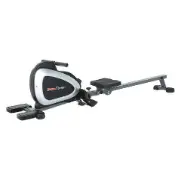 Manufacturer: Fitness Reality / Resistance: Magnetics / Dimensions: 22 x 89 inches / Folding: Yes / Price: 💰💰
If you'd like to make your fitness goals a reality, you need the Fitness Reality 1000! With this bad boy, the devil's in the details.
At first glance, it appears to be just like many similar models on the market. But look closer, and you'll find a boat-load of features, including magnetic resistance, patent-pending foot stabilizing pads, and a large LCD complete with tracking. Not only that, but the machine is designed to help you perform various exercises, not just rowing. Try your hands at front raises, tricep extensions, even reverse grip curls! There's no limit to what you can do.
And that's not even the best part. This ultra-affordable machine comes in under $500 and features the highest ratings on the market — backed by a one-year warranty.
Reviewers Like
Near-silent operation
14 resistance settings w/ a thick nylon cable
BlueTooth capabilities w/ CLOUD Fitness App
Reviewers Dislike
Does not roll well, despite wheels
Folding requires removing pins and parts
5. Stamina ATS Air Rower
The best air rowing machine
Manufacturer: Stamina / Resistance: Air / Dimensions: 19 x 77 inches / Folding: Yes / Price: 💰💰
Sure, water-powered rowing machines are great and all, but they're a little too on the dot. Mix your experience up a little with an air-powered rowing machine like the Stamina ATS Air Rower.
This rowing machine is as easy to use and intuitive as they come. Take things a bit slower when you're feeling fatigued or pick up the pace for a more challenging workout — the entire resistance system flows around you and your pace. And you'll never be left in the dark regarding speed, distance, or time. The simple LCD workout monitor tracks and displays it all for you, clear as can be.
The best part about this rower? It's loaded with ergonomic features like built-in wheels, adjustable footrests, and a padded seat and grip. Try the Stamina ATS Air Rower on for size, and enjoy an intense workout like no other.
Reviewers Like
Sleek two-tone design
Easy 30-minute installation
Air resistance that matches your flow
Reviewers Dislike
Fan can be a bit loud
Tracking system is very basic
6. Mr. Captain Rowing Machine
The best water rowing machine
Manufacturer: Mr. Captain / Resistance: Water / Dimensions: 22 x 82 inches / Folding: No / Price: 💰💰💰
The more authentic the experience, the better the workout. That's what Mr. Captain thinks, anyways.
The Mr. Captain Rowing Machine is another water-powered model designed to simulate the actual rowing experience. To that end, this model features a meticulously-crafted oak frame based on a real rowboat! The Mr. Captain can handle up to 320 pounds, no problem, and is perfect for the home gym.
Ready to wrap things up? Use the built-in transport wheels to lift it on its end and store it away. Pretty swanky.
Reviewers Like
Stellar BlueTooth monitor
Solid oak frame that simulates a rowboat
Fantastic (and quiet) water pump with excellent resistance
Reviewers Dislike
On the pricier side
Footplate is challenging to adjust
7. Sunny Health & Fitness Rowing Machine
The best folding rowing machine
Manufacturer: Sunny Health & Fitness / Resistance: Magnetics / Dimensions: 19 x 82 inches / Folding: Yes / Price: 💰💰
Short on space, but don't want to sacrifice the quality of your workout? No problem. Just grab this stunning model from Sunny Health & Fitness — it's one of the best small rowing machines on the market.
It's not just physically small, either. With a price tag well under $300, this magnetic-powered rowing machine performs at a rate comparable to models twice the price! It features eight levels of resistance for intense beginner to intermediate workouts, and an extra-long 48-inch slide rail for rowers up to (and over) six feet tall. Not to mention the digital monitor, non-slip pedals, and ergonomic foam handlebars.
If you want a top-tier rowing machine and you've got limited space, this folding model by Sunny Health & Fitness is the way to go.
Reviewers Like
Folds up to just 19 x 37 inches
Eight levels of magnetic resistance
Among the best compact rowing machines
Reviewers Dislike
No distance monitor
Some of the smaller parts are a bit fragile
What to Look for in a Rowing Machine
Let's scope out the three primary considerations that go into choosing the best rowing machine.
Resistance
First, you'll want to consider which type of resistance is optimal for your regimen.
Rowing machines feature several different types of resistance mechanisms, and each one offers a different experience. The best types of rowing machines include:
Hydraulic. The most affordable option, machines powered by hydraulics use pressurized cylinders that compress to simulate the rowing motion. These heat up quickly and aren't as robust as other options.
Air. Also known as flywheel rowing machines, air-powered models are among the most popular due to their smooth operation and overall reliability. Unfortunately, they also tend to make a lot of noise, particularly on higher settings.
Water. As you might expect, water-powered rowing machines feel the most natural, relying on the drag of water to provide resistance. That said, they typically cost more than their counterparts.
Magnetic. Magnetic rowing machines are an excellent step above hydraulic-powered models, in performance and price. They rely on a magnetic brake mechanism to produce tension and boast near-silent operation. They also tend to be reasonably durable.
Consider your overall workout needs and opt for the resistance that makes the most sense for you. But don't overthink it! Most models allow you to adjust the resistance level to meet you where you're at.
The best thing you can do is be patient and practice your form before getting too crazy with the resistance setting. The damper setting is much like gears on a bicycle. The higher you set the gear, the heavier it will feel on the body.
Size
Rowing machines come in all shapes and sizes. That said, you'll find the sweet spot to be around 20 inches wide by 80 to 90 inches long.
What's that mean for you? You'll need to make sure you've got enough space!
Rowing machines are great for dedicated fitness rooms, garages, and basement gyms. If you plan to use it elsewhere, you'll want to choose a smaller option that's easier to manage. Better yet, find one that folds away so you can stow it in a closet after use.
Price
It's hard to put a price on your health. That's what the best rowing machines are all about, after all — self-care and nourishing your body, one workout at a time.
Unfortunately, we also have to be realistic with our budgets. The good news? Entry-level hydraulic rowing machines start under $100 and go up from there. Our list includes some from that price range all the way up to $2,000!
If you're new to the sport and looking to ease your way into things, we recommend #4 and #7. But you really can't go wrong so long as you're working your body and performing those reps.
Top 10 Rowing Machine Benefits
Rowing machines have grown in popularity in recent years. As Harper's Bazaar reports, more people are converting from cycling to rowing than ever before. Perhaps it's because they were featured on the extremely popular show, House of Cards. Or maybe it's because people are beginning to catch on to their benefits.
Though rowing machines have been around a long time, their popularity is currently on an upswing. These machines are drawing in professionals and consumers alike. Boutique rowing studios are opening up across the country in big cities like New York at an unprecedented rate. Whether rowing is just another fitness fad or a longer-term trend, the facts remain clear: rowing is an excellent, full-body workout.
In fact, according to studies done at Ohio University's Physiology Lab, working out on a rowing machine burns 10 to 15 percent more calories than cycling at the same level of exertion. Here, we discuss the most noteworthy benefits of exercising with a rowing machine.
Efficient Conditioning. According to the Harvard Heart Letter, a study of 158 exercises showed that rowing placed in the top five gym activities in calories burned. On average, a 155-pound person vigorously rowing for 30 minutes will burn over 300 calories. Holy cow! The continuous rowing motion requires your entire body to participate, which quickly boosts your heart rate and strengthens your cardiovascular system in no time.
Suitable for Beginners to Experienced Users. The best rowing machines feature adjustable resistance, enabling you to build up your strength. Even if you are a fitness fanatic, you can crank up the resistance level and experience a workout that kicks your butt.
Muscle Development. Rowing machines simulate the rowing motion, with the benefit that you can increase the resistance of the "water" via the "paddle" mechanisms. The result? Just like the sculpted rowers you see at the Olympics, rowing machines can condition your entire body. Rowing targets the legs since you have to push yourself back from the platform, which hits the glutes, quads, and hamstrings. They also target the upper body when you pull back, which hits your shoulders, arms, and back.
Low Impact. Another notable benefit is the fact that rowing puts minimal stress on your joints. Throughout the workout, you'll be in a sitting position where your arms and legs are fixed. This reduces the chance of injury and harm to your joints. Fewer injuries mean you can stick to your exercise plan and maintain your ideal fitness level. This is an effective way for older fitness enthusiasts to stay in shape because it places no strain on your joints or back.
Core Muscles. Rowing machines can help sculpt and tone your abdominal muscles. Furthermore, these machines help strengthen the lower back. Core muscles are used to stabilize your body during the rowing machine motion.
Versatile. Most workouts require about an hour of your time to burn a significant amount of calories and get a decent workout. While it's great to do 60 minutes on a rowing machine, you can fit in a high-intensity workout in 20 to 30 minutes if you're willing to push yourself.
Small Footprint. Rowing machines are great for working out at home because they take up relatively little space. The best rowing machines are designed to be foldable and portable so that you can store it out of sight after your exercise.
Easy to Learn. The great thing for beginners to know is that the basics of indoor rowing can be learned in about 10 minutes. In our "how to use a rowing machine" section below, we discuss some pointers to get you started on the right foot.
Measurable Progress. Another benefit of rowing machines is that they have displays where you can monitor your progress. Stats such as total time, distance traveled, pace, resistance level, and calories burned are all available to watch on many machines. You'll know if you're getting an awesome workout and whether you want to kick it up a notch. Having milestones to hit, such as increased resistance or total time, motivates you to keep working at it.
Relatively Low Cost. Compared to other cardio equipment, a top of the line rowing machine from a company like Concept2 will cost you around $800. Compare that to a high-end cycling bike for about $1500 or a commercial-grade treadmill at $4,000. The best thing is once you invest, there are no ongoing costs like a gym membership would entail. You won't have to buy more dumbbells or weight plates as you get stronger — all you do is increase the intensity level.
Our Process
For this guide on rowing machines, our team spent 5 hours researching the most popular options from over 30 brands and manufacturers big and small. We then read about one hundred user reviews (both positive and negative) to discover what shoppers thought about each rower. After comparing this data, we narrowed our list down to the top 7 rowing machines on the market. You can count on this research to guide you to a mindful purchasing decision.
If you enjoyed this read, sign up for our newsletter below and get special online shopping deals delivered straight to your inbox.
---
Further Reading