Kayak fishing is a newer hobby ever-rising in popularity with on-shore anglers looking to switch things up. While fishing (and kayaking) is definitely enjoyable and relaxing when you're alone, sometimes the peace and tranquility is best shared with a good friend. We've compiled a list of the year's best tandem fishing kayaks, so you and your kayak fishing partner can get on the water with confidence and seize the day!
Our Top Picks: Best Tandem Fishing Kayaks
Here's an overview of our favorite picks:
Best Overall: Old Town Twin Heron Angler.
Compatible with solo and tandem kayaking, this vessel is incredibly stable, durable, and is spacious enough for comfortable use all day long.
Best Eco-Friendly: Eddyline Whisper CL.
How do you make kayaking an even more eco-friendly activity? You make your kayaks out of 100% recyclable materials!
Best Budget: Lifetime Sport Fisher Angler 100.
For tandem kayaking adventures that won't break the bank, look no further than the Lifetime Sport Fisher Angler 100.
Best Sit-On-Top: Ocean Kayak Malibu Two.
If you prefer sit-on-top kayaks, the Malibu Two is sure to meet every single one of your tandem kayak dreams.
Best w/ Pedals: Hobie Mirage Oasis.
Paddling is great, but easily gets tiring — and sometimes you just want your hands free for picture-taking or snacking!
Best Inflatable: Coleman Sevylor Colorado.
Inflatable doesn't have to mean flimsy, as proved by this puncture-resistant, storage-forward kayak.
Best for Families: Ocean Kayak Malibu Two XL.
With all the features of the Malibu Two and the added bonus of a third seat and extra length, the XL is here to take you, your partner, your kids, and your pets out on the water!
1. Old Town Twin Heron Angler Kayak
The best tandem fishing kayak overall
Manufacturer: Old Town | Weight: 64lbs | Max Load: 500lbs | Length: 13' 6" | Price: 💰💰
The Twin Heron Angler tandem kayak in an incredibly stable and durable vessel, making it great for beginning and intermediate kayakers, or for those who want to take a young kayaking apprentice along on the adventure.
If your tag-along is of the four-legged variety, the front seat can be easily removed to create a more comfortable, roomy spot, ensuring your fur baby is just as happy with their experience as you are. In spite of the exceptional stability, the Twin Heron Angler still offers high-speed capability and excellent maneuverability in both rivers and lakes, meaning you can get to where you want to go faster and spend more of your time relaxing and enjoying your fishing excursion.
The sleek design features Old Town's innovative Auto Trim Hull that keeps the bow from rearing up or dipping down on solo kayakers in the stern seat. This feature is also helpful should the front seat be occupied by a child while the stern seat is occupied by an adult. With four different flush-mount rod holders, you and your kayaking partner can fish from any point on the point, hands-free!
The Old Town Twin Heron Angler is simply one of the best tandem fishing kayaks around.
Reviewers Like
Agile enough with anti-rearing bow for solo use
Overall lightweight construction is easy to bring along and maneuver on land
With the front seat removed, there's plenty of room for your dog – or dogs, plural!
Reviewers Dislike
The removable front seat is a little difficult to get in and out of place
Though there's plenty of storage space, there's no built-in dry storage
2. Eddyline Whisper CL Tandem Kayak
The best eco-friendly tandem fishing kayak
Manufacturer: Eddyline | Weight: 73lbs | Max Load: 600lbs | Length: 18' | Price: 💰💰💰💰💰
While kayaking is definitely a more environmentally-friendly water activity than motorized alternatives, you can never be too kind to the planet. That's why Eddyline has created a series of specially-crafted kayaks made from their proprietary Carbonlite 2000. This high-performance, co-extruded plastic laminate features a UV-resistant exterior that performs like fiberglass with qualities like abrasion resistance, impact resistance, dimensional stability, and reduced heat distortion, all at a lighter weight for optimal agility.
But what really makes this exceptional material stand out is that it is 100% recyclable. Eddyline also makes a point of maintaining an environmentally-responsible manufacturing process that recycles or repurposes any and all scrap plastic and generates little to no waste.
Reviewers Like
Plenty of stability for extended fishing
Spacious storage hatches for supplies and overnight trips
Excellent rudder design offers high directional and speed control
Reviewers Dislike
The overall weight is a little heavy for getting to and from the water
The stern and front cockpits are relatively close together, making synchronized paddling non-optional
3. Lifetime Sport Fisher Angler 100 Kayak
The best tandem fishing kayak on a budget
Manufacturer: Lifetime | Weight: 73lbs | Max Load: 500lbs | Length: 10' | Price: 💰
Lifetime is a well-respected brand of excellent outdoor equipment, and their Sport Fisher Angler 100 Kayak is no exception.
This sit-on-top tandem boat features a molded carry handle at the front and is only 10 feet long, making it compact for transport to and from the water. Thanks to the rear storage hatch and 500-pound weight capacity, this baby can handle you, your partner, and all your supplies without breaking a sweat. The molded paddle cradles and paddle clips on both sides, in addition to fishing pole holders, mean you won't want for an extra set of hands at any point on your adventure. Multiple footrest positions accommodate kayakers of all heights. The hull design offers enhanced stability and agility, even during solo use.
Reviewers Like
Incredibly stable and cuts through water with ease
All the features your tandem fishing kayak needs at an unbeatable price
Roomy enough for both kayakers and plenty of supplies, accessories, and snacks!
Reviewers Dislike
The storage compartment is a little difficult to access
Some reviewers noted that, upon delivery, their kayaks had structural defects, but Lifetime appeared to offer speedy replacements and excellent customer service
4. Ocean Kayak Malibu Two Tandem Sit-On-Top Recreational Kayak
The best sit-on-top tandem fishing kayak
Manufacturer: Ocean Kayak | Weight: 57lbs | Max Load: 425lbs | Length: 12' | Price: 💰💰
While the sit-on-top style of kayak isn't for everyone, for those who prefer it, check out Ocean Kayak's Malibu. Stability is of the utmost importance when it comes to sit-on-top kayaks, and the Ocean Kayak Malibu takes this very seriously.
With plenty of room for any angler-duo ready to hit the surf and catch some fish, this boat is compact and a great starter for anyone looking to get a friend or family member into kayak fishing without making them go solo! It's the perfect fishing kayak for a couple with a child, as it has two comfort seats and a third built-in seat well for an onlooker. It's compact size and incredible lightweight construction make it easy to tow along to the river or lake, and also offers exceptional agility on the water. Like many other tandem kayaks on our list, the Malibu boasts solo-kayaking compatibility.
Reviewers Like
Excellent tracking and agility
Molded-in seats for comfort and spine support
Side carry handles for easy maneuvering over land
Reviewers Dislike
Little to no storage space
No integrated rigging or grommets for car rack attachment
5. Hobie Mirage Oasis Kayak
The best tandem fishing kayak with pedals
Manufacturer: Hobie | Weight: 93lbs | Max Load: 550lbs | Length: 14' 6" | Price: 💰💰💰💰💰
Paddling is, of course, the most common way to propel and direct a kayak (or any motorless boat, for that matter). But sometimes, you need something different. Whether your arms are worn out from paddling all day or you just need your hands free to munch on some trail mix, the Hobie Mirage Oasis is here with built-in fins and foot pedals. The twist-and-stow rudder helps control direction while you're pedaling, while Hobie's patented kick-up fin technology means you can cut through the water without breaking a sweat.
Plus, the Mirage Oasis comes with all the other features you want in your tandem kayak, like inflatable lumbar supports, adjustable seats, easy-access storage, and anti-rearing bow. There's even an integrated mount for sails for those who want to try something new!
Reviewers Like
Incredibly stable with only one or both occupants
Dual rudder controls for directional capability in both seats
Powerful fins for speed even with only one person pedaling
Reviewers Dislike
Incredibly heavy, making it difficult to get to and from the water
The fins need to be removed in shallow water, or the kayak will get stuck
6. Coleman Sevylor Colorado 2-Person Fishing Kayak
The best inflatable tandem fishing kayak
Manufacturer: Coleman | Weight: 40lbs | Max Load: 470lbs | Length: 10' 9" | Price: 💰
If you're looking for a more compact, more portable inflatable kayak, look no further than Coleman's Sevylor Colorado. At about 11 feet fully inflated and a weight capacity of 470 pounds, this kayak is definitely more than capable of handling two kayakers at a time. The wide-stance design makes for a stable paddling and fishing platform for both users. Integrated rod holders, mesh storage pockets, paddle holders, d-rings, and multiple footrest positions round out the features of this kayak to ensure optimal comfort and functionality.
Inflatable doesn't have to mean flimsy, and the 1000D tarpaulin bottom, tough nylon cover (840D nylon), and 18 gauge PVC construction prevent punctures and ensure added durability. Plus, the entire kayak is reinforced with Coleman's Airtight System to prevent leaks. If motorized movement is more your thing, the Sevylor Colorado has integrated motor fittings.
Reviewers Like
Incredibly durable with high weight capacity
Rigid floor and sides are roomy enough to be comfortable but still keep you dry
Multiple air chambers to keep the kayak inflated and functional should another air chamber become compromised
Reviewers Dislike
Though the tracking fin helps, tracking isn't as great as other tandem kayaks
Kayak needs to be stored completely dry (meaning lots of drying-out time) to prevent damage
7. Ocean Kayak Malibu Two XL Tandem Sit-On-Top Kayak
The best tandem fishing kayak for families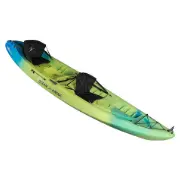 Manufacturer: Ocean Kayak | Weight: 68lbs | Max Load: 500lbs | Length: 13' 4" | Price: 💰💰
Whether your family includes you and a spouse, you and some kids, or you and your fur babies, the Ocean Kayak Malibu Two has you covered.
With all the features of the Malibu Two we already mentioned, this XL features three in-well seats molded for optimal comfort and a higher weight capacity to accommodate everyone. Ocean Kayak's patented overlapping footwells ensure all occupants have a natural place to rest their feet. Skid plates ensure the whole family is safe, while the unparalleled stability ensures no amount of movement from any family member can tip the boat over. This also makes the kayak compatible with fly-fishing. With all these family-friendly features, the XL can still be easily paddled solo if you just need some time to yourself.
Its exceptional versatility and overall quality secure it the final spot on our list of best tandem fishing kayaks!
Reviewers Like
Incredibly stable for fidgety children and easily distracted dogs
Excellent tracking and turns on a time for precise directional control
Easy to get in and out of, even from the water (perfect for swimming breaks!)
Reviewers Dislike
Understandably long, but difficult to maneuver on land
Despite the seat molding, many users found the seats uncomfortable and recommended adding cushions of some kind
What to Look for in the Best Tandem Fishing Kayaks
While searching for the best tandem kayak for fishing, you'll want to consider both the standard kayak features and the features you'll need for fishing. This means looking not only at things like how comfortable the seats are or how long the nose is, but what the on-boat storage looks like, and whether or not there are integrated fishing pole holders.
Our Process
For this guide on tandem fishing kayaks, our team spent 2 hours researching the most popular options from over 25 brands and manufacturers big and small. We then read about fifty user reviews (both positive and negative) to discover what shoppers thought about each kayak. After comparing this data, we narrowed our list down to the top 7 tandem fishing kayaks on the market. You can count on this research to guide you to a mindful purchasing decision.
If you enjoyed this read, sign up for our newsletter below and get special online shopping deals delivered straight to your inbox.
---
Further Reading