Studies show small gas engines like those used in lawnmowers contribute as much as four percent of all carbon emissions nationwide. Although the best solution is to reduce the space in your yard given over to grass, while also doing as much yard care as possible by hand, mowing the lawn is sometimes unavoidable. But perhaps having one of the best battery-powered lawn mowers can help.
Quiet, clean, efficient — and best of all — running without any gasoline at all. Battery-powered lawn mowers are a great way to mow the lawn while also cutting your fuel consumption. You're ready to make the switch — that's why you're here! But choosing the battery operated lawn mower is an overwhelming prospect. We hear you, and we can help.
It's time to leave that gas mower behind. Coming up next are our picks for the seven best battery-powered lawn mowers.
Our Top Picks: Best Battery-Powered Lawn Mowers
1. WORX WG751
The best battery-powered lawn mower overall
Manufacturer: WORX / Cutting Deck: 20″ / 3-in-1: Yes / Weight: 66.1 pounds / Price: 💰💰💰💰
The best rated battery lawn mower needs to have a little bit of everything: cutting power, versatility, ease-of-use, and modern design. The lightweight WORX WG751 satisfies all of the above, with a 20-inch steel cutting deck, a 3-in-1 system for bagging, mulching, or side discharge, and single-lever height adjustment ranging from 1.5 to 3.5 inches.
Modern touches with the WG751 include:
Grass bag with a full indicator
Push-button start (no more yanking fruitlessly on that dang pull-cord)
An oversized carry handle helping make disposing of your grass clippings easy and convenient.
That's while the patented Intellicut system provides additional torque on demand and battery conservation when needed.
Speaking of batteries, this mower runs on two 20V 4.0Ah batteries, which come with the purchase along with a charger. These batteries combined deliver the performance and power of 40V batteries, and thankfully they can be shared across WORX products. There's also a foldable handle for storage, and a 2-year warranty protects the mower.
Reviewers Like
Steel blade
Mowed a quarter acre on a single charge
Fantastic blend of cutting power, versatility, ease of use, and design
Reviewers Dislike
Grass looks "chewed"
Had to mow a few spots twice
2. Greenworks 25302
The best green battery-powered lawn mower
Manufacturer: Greenworks / Cutting Deck: 20″ / 3-in-1: Yes / Weight: 42.5 pounds / Price: 💰💰💰
Greenworks brand sets the standard for eco-friendly yard care machinery, and their 25302 is no different. This push-button start, dual blade mower, is powered by 4Ah and 2Ah batteries juicing the motor through dual battery ports. There's also automatic switch over for improved run time of up to 70 minutes, depending on conditions.
Otherwise, the mower offers a 20-inch cutting deck and 3-in-1 capability at a relatively light 42.5 pounds. There's also 10-inch rear wheels and seven-inch front wheels, and five cutting height positions, ranging from 1.75 to 3.375 inches — just under four inches, not bad!
Speaking of grass height and thickness, it's here where the 25302 truly shines. State-of-the-art Smart Cut technology adjusts power and runtime based on the condition of your grass, with a hard top rear bag that indicates when it's full and time to empty.
All Greenworks' 40V lithium batteries are interchangeable between products, saving you money if you already have some. The whole mower is protected by a 2-year warranty on the batteries and a 4-year warranty on the machine.
Reviewers Like
Quieter than a vacuum cleaner
Mulches better than gas mowers
Mowed front and back yard twice on a single charge
Reviewers Dislike
All plastic parts (except electronics)
No spring-loaded plastic cover on the battery compartment
3. Sun Joe ION16LM
The best lawn mower for a small yard
Manufacturer: Sun Joe / Cutting Deck: 16″ / 3-in-1: No / Weight: 37.3 pounds / Price: 💰💰💰
Like a small dog with a big (but quiet) bark, the Sun Joe ION16LM is our choice for best battery lawn mower for a small yard. But just because this mower is small and lightweight, weighing in at only 37.3 lbs, doesn't mean it's not powerful.
Humming along on a powerful brushless motor, the ION16LM hits the sweet spot between battery efficiency and maximum motor performance, all while decreasing noise and vibration. There's also a 16-inch cutting deck with bag and discharge chute only, as well as a six-position height adjustment lever, cutting grass from between 1.18 to 3.15 inches — not bad for such a little 'fella.
Also worth mentioning are the tough front and rear all-terrain wheels, helping this mower maneuver in confined areas. A lithium-ion battery powers the whole thing, providing 40 minutes of run time on average. It also features a 9.25-gallon grass bag that's easy to detach.
Boasting an ergonomic handle, the mower starts with a key for safety, especially around kids. It features EcoSharp technology for maximum performance and improved battery life. The deck is made from ETL approved & Energy Star certified ABS plastic. Sun Joe supports the iON16LM with a full two-year warranty.
Reviewers Like
Super lightweight and easy to move
Easily mowed 1,600 square foot lawn
Safety key starter for safety around kids
Reviewers Dislike
Grass bag fills quickly
Jumps around on a lumpy yard
4. Snapper XD
The best self-propelled battery lawn mower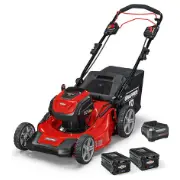 Manufacturer: Snapper / Cutting Deck: 21″ / 3-in-1: Yes / Weight: 80.9 pounds / Price: 💰💰💰💰
Self-propelled lawn mowers float along as if entirely under their own power. All you have to do is walk behind them, guiding them where you need to go with minimal pushing required. Needless to say, this is a nice feature to have in any mower, and our choice for the best self-propelled battery lawn Mower is the Snapper XD.
With the XD, old-school lawn mowing power meets the modern world with smart load sensing technology. It adjusts blade power automatically for extra thick or overgrown patches of grass.
Also notable are the 10-inch wheels and rear-wheel drive — self-propelled mowers come in rear, front, and all-wheel drive. This mower is powered by two Briggs & Stratton 82V MAX 2.0 lithium-ion batteries. Batteries and charger are included with purchase, reaching full capacity on a 60-minute charge and lasting up to 90 minutes with both batteries combined, depending on conditions.
The mower weighs just over 80 pounds, a bit heavy, with a 21-inch solid steel mowing deck, as well as 3-in-1 design for mulching, bagging, or side discharge of grass clippings. There's also seven, single-lever height adjustments, and it starts with the push of a button. The XD is covered by a five-year warranty, with a two-year warranty on the batteries.
Reviewers Like
A bit louder than a vacuum
Works well on steep slopes
No power loss at the end of battery charge
Reviewers Dislike
Control levers not ergonomic
Hard to maneuver around bushes due to larger wheels
5. BLACK+DECKER 3-in-1 Lawn Mower
The best 3-in-1 battery lawn mower
Manufacturer: BLACK+DECKER / Cutting Deck: 12″ / 3-in-1: Yes / Weight: 14.4 pounds / Price: 💰💰
An affordable and very lightweight option is the BLACK+DECKER 3-in-1 lawnmower. 3-in-1 lawn mowers provide all the yard care tools you need in one convenient package, including a mower, string trimmer, and edger — it's like a Transformer. How cool is that?
Best of all, they're all powered without gasoline, running on two 20 volt MAX lithium-ion rechargeable batteries. These are included with purchase and nicely compatible with the full line of BLACK+DECKER's 20-volt MAX line of tools. The batteries do charge pretty slow, however, reaching max capacity in about two-and-a-half hours. We suggest you pour some lemonade and wait.
Although this option is only for very small lawns (no larger than about 1,200 square feet), the BLACK+DECKER 3-in-1 Lawn Mower has a lot to offer. Take a closer look at the 12-inch cutting deck, a power drive transmission, and adjustable cutting height spanning 1.6 to 2.4 inches, with a pivoting, height-adjustable handle. Impressed?
It's easy to switch between functions with an easy-to-use foot pedal. Both the edger and the trimmer feature a gear-driven transmission maintaining constant speeds without bogging down. In contrast, the string trimmer boasts AFS, or an auto-feed system providing continuous line advancement.
Reviewers Like
Feels like pushing a vacuum
Good for hard to reach places in larger lawns
Whole thing lighter than average string trimmer
Reviewers Dislike
Handle trigger non-intuitive to use
Hard to tell when mower locked in place
6. Greenworks 2501302
The best battery-powered lawn mower on a budget
Manufacturer: Greenworks / Cutting Deck: 19″ / 3-in-1: Yes / Weight: 40.9 pounds / Price: 💰💰
Our pick for best battery operated lawn mower if you're on a budget is the 2501302 from Greenworks. This tool provides everything you need in a mower without the extra cost. The unit runs on a DigiPro brushless motor powered by G MAX 40V Li-Ion batteries for longer run time and durability. However, the batteries are not included with the purchase.
But once fully juiced, the batteries can be counted on to run for a solid 60 minutes, or long enough to mow about a ½ acre. There's also a seven-point, single-lever height adjustment spanning 1.25 inches to 3.5 inches, and a 19-inch steel deck with 3-in-1 design for rear bagging, side discharge, and mulching.
The mower is also pretty lightweight at just over 40 lbs with a foldable handle for convenient storage, both points contributing to this mower earning high marks for ease of use. Added maneuverability comes from the 8-inch rear wheels and the 7-inch wheels in the front.
Even though the battery is not included with this mower, it is compatible with other Greenworks models. Compatible devices include trimmers and pruners, saving you some money if you already have one. The blades are also replaceable.
Reviewers Like
Lightweight batteries
Deck is wider than many electric mowers
Up to five 1,500 square foot mows on a single charge
Reviewers Dislike
High/wet grass drains the battery
No consistent high mode, must throttle up and down
7. Makita XML03PT1
The best lithium battery-powered lawn mower
Manufacturer: Makita / Cutting Deck: 18″ / 3-in-1: No / Weight: 93 pounds / Price: 💰💰💰💰
Completely rechargeable and highly durable, lithium-ion batteries are the best battery option for any piece of battery operated lawn care equipment. Topping our list of best lithium battery-powered lawn mowers is the Makita XML03PT1.
There's a lot to like about this option, not least of which being the four 5.0 ah lithium-ion batteries, and 18V Dual Port Rapid Optimum Charger, as well as fast charging time. There's also a class-leading single-lever 10-point height adjustment, and a brushless motor delivering 3,300 RPM to get the job done faster.
Also not to be missed is the 18-inch cutting deck. Still, the mower only offers a bag with a mulching plug, instead of full, 3-in-1 capabilities. A word of caution, Amazon lists this mower at a heavier than average 93 pounds. However, consumers report that to be inaccurate, saying the mower weighs more like 40 pounds instead.
The XML03PT1 does offer a folding handle for secure storage. It also features a 16-gallon grass collector, cutting down on time spent dumping out your grass clippings. And it's all protected by the Makita Extreme Protection Technology, improving operation in harsh conditions by channeling water and dust away from important internal components.
Reviewers Like
Extra quiet
Mowed half an acre on a single charge
Not self-propelled but can still handle a hill
Reviewers Dislike
Longer-than-average handle
Lowest cutting height too low for some
What to Look For in a Battery-Powered Lawn Mower
Here's how we chose the seven best battery-operated mowers in our ranking.
Cutting Deck
The right cutting deck depends on the size of your lawn. The larger the lawn, the wider the deck. If your lawn is less than a ½ acre, experts say a cutting deck of fewer than 40 inches will do just fine.
Another thing to keep in mind is the kind of lawn you have — lots of small nooks and crannies in your landscaping? It can be challenging to navigate around using a mower with a wide deck. Also, you'll need more storage space for a mower with a wider deck.
3-in-1 System
Like the cutting deck, whether or not you should choose a mower with 3-in-1 capabilities (rear bag, side discharge, and mulching) depends a lot on both lawn and landscaping goals. We certainly gave extra attention to mowers offering this kind of versatility.
If you just need a mower to keep that small patch of grass under control, 3-in-1 might be less critical. There are some solid ecological reasons to choose mulching, however.
Weight
The weight of the mower is just one of many ergonomic, maneuverability, and ease-of-use factors we considered when ranking these mowers. Battery operated mowers do weigh less on average than gas mowers. We tried to stick to lightweight options that still provide big mowing power.
Price
Last, there's the price of the mower. There was a time when battery-operated mowers cost a bit more than their gas-guzzling counterparts. However, recently MSRP on battery-powered mowers has become more competitive.
There's more to consider than just sticker price, however, since gas mowers require fuel, oil, lubricant, and maintenance — all added ducats spent down the line. Some battery-powered mowers sell their batteries separately — a hidden cost. We tried to stay away from those in our ranking whenever possible.
Our Process
For this guide on battery-powered lawn mowers, our team spent 4 hours researching the most popular options from over 20 brands and manufacturers big and small. We then read about one hundred user reviews (both positive and negative) to discover what shoppers thought about each mower. After comparing this data, we narrowed our list down to the top 7 battery-powered lawn mowers on the market. You can count on this research to guide you to a mindful purchasing decision.
If you enjoyed this read, sign up for our newsletter below and get special online shopping deals delivered straight to your inbox.
---
Further Reading