The best headphones for working out not only sound great but also stay in — even during super sweaty workouts. Beats are a must-have during any treadmill or outdoor running adventure. Heck, even lifters can rock headphones to get amped up for the next set. The problem with some headphones is that they don't stay put when you're in action. Or, worse yet, they break from the slightest drip-drop of sweat.
That's where the best workout headphones come in! They provide users with a clear sonic experience while remaining stable throughout the bumpiest of rides.
This guide takes you through ten of the best headphones for working out. While our overall favorite is the Skull Candy Ink'd Plus Earbuds, there are a variety of headphones for all different activities. Let's jump in to see which one works best for you.
Our Top Picks: Best Workout Headphones
Ready to get back to your workout? Scope out our top picks:
Best Overall: Skullcandy Ink'd Plus Earbuds.
With stellar audio and a convenient hook-on collar, the Skullcandy Ink'd Earbuds are the best headphones for working out.
Best Budget: Sony MDRAS200 Headphones.
If you're looking for a top-notch headset under $25, the Sony MDRAS200s are the way to go. They are also our pick for the best wired workout headphones.
Best Wireless: Hussar Magicbuds.
These earbuds by Hussar work like magic thanks to APTX, CVC, and BlueTooth technologies.
Best Gym Earbuds: JLab Epic Sport Earbuds.
Gym junkie? Enjoy booming bass and score major style points with the JLab Epic Sport Earbuds.
Best for Machine: Philips ActionFit Headphones.
Philips has been a household name in audio for decades, and the ActionFit Headphones keep you in the (audio) loop while working out on machines.
Best Over-Ear: Treblab XR100 Headphones.
Pop the stylish Treblab XR100 Headphones over your ears, and enjoy wireless audio to your heart's content.
Best On-Ear: Sennheiser PMX 686G Headphones.
Seeking the best on-ear headphones? No problem — the PMX 686Gs rest on your ears better than any competitor headset.
Best Headset: Sony MDR Headset.
Another option from Sony? You bet! IPX4 resistance and a convenient ear hook make this headset ideal for all athletic activities.
Best Water-Resistant: Jaybird RUN Headphones.
The Jaybird sings with these delightful wireless earbuds that feature top-of-the-line IPX7 water resistance.
Best Luxury: Apple Airpods Pro.
The Airpod Pros cement Apple's dominance in the audio space with innovative features like Transparency Mode and Adaptive EQ.
1. Skullcandy Ink'd Plus Earbuds
The best headphones for working out overall
Brand: Skullcandy / Type: Wireless / Resistance: IPX4 / Mic: Yes / Price: 💰💰💰
Skullcandy is known for their stylish and high-quality audio equipment. With the all-new Ink'd Plus Active Wireless Earbuds, they've brought their expertise to the workout scene — with fantastic results.
These Ink'd Plus Earbuds seemingly have it all: BlueTooth technology, 15 hours of battery life, a built-in microphone, and more. They look as cool as you'd expect from Skullcandy, and the ear hooks and neck loop provide high-level ergonomics that fit the overall aesthetic.
Sure, they're a bit pricey. And some users complain that the 9.2mm drivers with 95+/-3dB sound pressure aren't loud enough. But overall, they're some of the best wireless earbuds for working out, bar none.
Reviewers Like
Excellent noise canceling
Whopping 15 hours of battery life
Lightweight (35g) and comfortable
Reviewers Dislike
A bit pricey
Modest 9.2mm drivers
2. Sony MDRAS200 Headphones
The best cheap workout headphones
Brand: Sony / Type: Wired / Resistance: None / Mic: No / Price: 💰
On a tight budget? Don't sweat it. The Sony MDRAS200 Active Sports Headphones come in under $20 and feature everything you need to get started in a pinch.
Features include a clip-on, angular design that stays put during activity, and 13.5mm drivers for crystal audio during all your favorite exercises.
Unfortunately, the Sony MDRAS200 features no IPX certification, and the speakers will break with exposure to water. While they are designed to keep sweat out, users recommend steering clear of any rainfall whatsoever.
Reviewers Like
Exceptionally affordable
Snug and adequately comfortable
Fantastic sound quality considering the price
Reviewers Dislike
Not water resistant
Wires are prone to fraying
3. Hussar Magicbuds
The best wireless workout headphones
Brand: Hussar / Type: Wireless / Resistance: IPX7 / Mic: Yes / Price: 💰💰
You may have missed your Hogwarts' acceptance letter, but the Hussar Magicbuds will still have you channeling your inner wizard.
These exceptional headphones are your ticket to a fantastic workout! The hook-over earpieces provide a snug, secure, and comfortable fit — perfect for keeping up with the buds' nine hours of battery life. They also offer insanely crisp audio, thanks to built-in Advanced APTX technology and CVC 6.0 noise reduction.
If you're a workout connoisseur, you don't want to miss these buds.
Reviewers Like
CVC 6.0 Noise Reduction
Ergonomic design with silicone ear hooks
IPX7 offers top-tier water and sweat resistance
Reviewers Dislike
Large earpieces
Lackluster BlueTooth connection
4. JLab Epic Sport Earbuds
The best earbuds for gym use
Brand: JLab / Type: Wireless / Resistance: IPX6 / Mic: Yes / Price: 💰💰💰
The Epic Bluetooth Sports Earbuds from JLab are an extremely comfortable option for most users. These are very lightweight, only weighing 18 grams. You may even forget you have them on!
These earbuds are the ultimate kit for workout folks, as you get 20 hours of battery life, a waterproof and sweatproof design, and six sets of extra ear tips. You heard that right: six!
The Jlabs have contoured ear hooks and a wrap-around ear design that provides ultimate stability for runners and lifters. You can be up to 30 feet away from this pair and still make calls and listen to music. There's a small cable that wraps around your neck, which includes volume and phone controls. The 8mm drivers are great for high-performance audio and eardrum-pounding bass.
Reviewers Like
Booming bass
Snug, secure fit
Phenomenal IPX6 resistance for the price
Reviewers Dislike
Poor noise isolation
Not the best microphone
5. Philips ActionFit Headphones
The best earphones for working out on a machine
Brand: Philips / Type: Wired / Resistance: IPX1 / Mic: No / Price: 💰
If you're seeking an affordable set of earbuds from an electronics powerhouse, Philips' ActionFit Headphones is the way to go. These headphones hook around your ear, ensuring they stay on no matter what sport or activity you're engaging in. Moreover, the three ear tips with built-in noise isolation offer an ergonomic experience for all athletes, big and small.
Meanwhile, the Kevlar-reinforced 4-foot cable leaves ample room for connecting to your device(s) from afar, and the cable clip ensures a tangle-free experience.
While the ActionFit is sweatproof, they tend to get slippery when too wet or sweaty. Remedy this by choosing the right size eartips, or pair with a headband for a better fit and style.
Reviewers Like
Comes with three ear tip sizes
Noise isolation reduces outside sound
Extra-long 4-foot cord connects with phone in your pocket
Reviewers Dislike
Earpiece slick when sweaty
Poor quality control with sound drivers
6. Treblab XR100 Headphones
The best over-ear headphones for working out
Brand: Treblab / Type: Wireless / Resistance: IPX7 / Mic: Yes / Price: 💰💰
You've never seen a set of headphones like these.
The Trelab XR100s boast a sporty dual-tone color palette, elongated pods, and ear hooks. They come with a neckband for a snug fit while running, jumping, or playing sports.
And that's not even the best part! The Trelab XR100s also feature cutting-edge noise-canceling tech and up to nine hours of battery life on a single two-hour charge — and yes, that's with BlueTooth connectivity on.
The main issue with these is that you either love the look or hate it. The team here at Shelf digs the Treblab XR100s, but we'll let you decide for yourself if they're the best wireless headphones for working out.
Reviewers Like
Excellent sound quality
Fantastic nine hours of battery life
Industry-standard BlueTooth connectivity
Reviewers Dislike
Ear fittings are a bit small
Reduced range (under 10 feet) when obstacles are in the way
7. Sennheiser PMX 686G Headphones
The best on-ear headphones for working out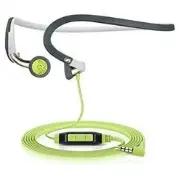 Brand: Sennheiser / Type: Wired / Resistance: IPX4 / Mic: Yes / Price: 💰💰💰
Few names in the audio world offer as many high-quality accessories as Sennheiser. You can bet they've done it again with the PMX 686G Sports Earbuds for Apple and Android devices.
These ultra-lightweight (1.25 ounces) headphones provide a workout experience unlike any other. First, you get insanely dynamic audio from Sennheiser's proprietary 120 dB drivers. In terms of input, the built-in mic captures omni-directional voices for precise delivery every time. And this headset even comes with anti-bacterial ear adapters known as SteriTouch — exactly what you need after a long, sweaty workout.
A bit pricey… but perfect for avid runners.
Reviewers Like
Lightweight and comfortable
Great for running and aerobic sports
Comes with a tangle-free cord and breathable carrying pouch
Reviewers Dislike
Some find them a bit snug
Long cord may not be ideal
8. Sony MDR Headset
The best workout headset
Brand: Sony / Type: Wired / Resistance: IPX4 / Mic: Yes / Price: 💰💰💰
You already know that Sony makes some of the best earwear in the business. But have you seen the Sony MDRs? These earbuds are pretty cool, as they have removable ear hooks for a 2-way wearing style (secure or loose). They're also water-resistant (but not waterproof, so don't go hopping into a pool with them on).
Included with purchase is a free carrying pouch, clip, and cable adjuster, as well as the Smartkey App. These earbuds are compatible with both Apple and Android, so you're set there. Probably the best thing about these is their sound — one of the best for their price point, for sure.
Reviewers Like
Unrivaled sound quality
Durable materials guarantee a long lifespan
Multiple ways to wear them: secure or loose
Reviewers Dislike
Spendy for a wired headset
Prone to falling out without the ear hooks
9. Jaybird RUN Headphones
The best water-resistant headphones
Brand: Jaybird / Type: Wireless / Resistance: IPX7 / Mic: Yes / Price: 💰💰💰💰
As Jaybird says, no wires, no worries!
If money is no issue, you'll want to consider Jaybird's new RUN headphones. These little wireless buds stay glued to your ears, even when you sweat like a broken Hoover Dam!
You get 12 hours of battery life, full water resistance, a built-in mic, button controls, interchangeable fins and tips, and more! And that's not to mention the Jaybird App, which lets you fine-tune your audio via your smartphone. You can also locate the headphones through the Jaybird App, should they ever go missing. A remarkable set of features at a reasonable price.
Reviewers Like
Audio delay
Delivers pitch-perfect music
Comfortable for all sized ear canals
Reviewers Dislike
Cheap charging case
Sound occasionally cuts out
10. ProApple Airpods Pro
The best luxury workout headphones
Brand: Apple / Type: Wireless / Resistance: IPX4 / Mic: Yes / Price: 💰💰💰💰💰
If you're seeking the creme de la creme, the best luxury headphones for working out, look no further than the Apple Airpods Pro.
As with most things Apple, you'll pay a premium for these workout accessories. But it's well worth it. To name just a few features, you get active noise cancellation, Transparency Mode for working out on the go, and Adaptive EQ that automatically tunes your music for perfect acoustics. All connected to your smart device and Siri.
Listen for up to 4.5 hours on a single charge, and simply pop them into the case for a quick rejuicing when you get low.
Apple reinvented the audio game, and these earbuds are sure to take your workout to the next level.
Reviewers Like
Super comfortable
Comes with several different ear tips
Adaptive EQ adjusts pitch and volume to your tastes
Reviewers Dislike
Expensive at over $200
Only 4.5 hours on a single charge
What to Look for in the Best Headphones for Working Out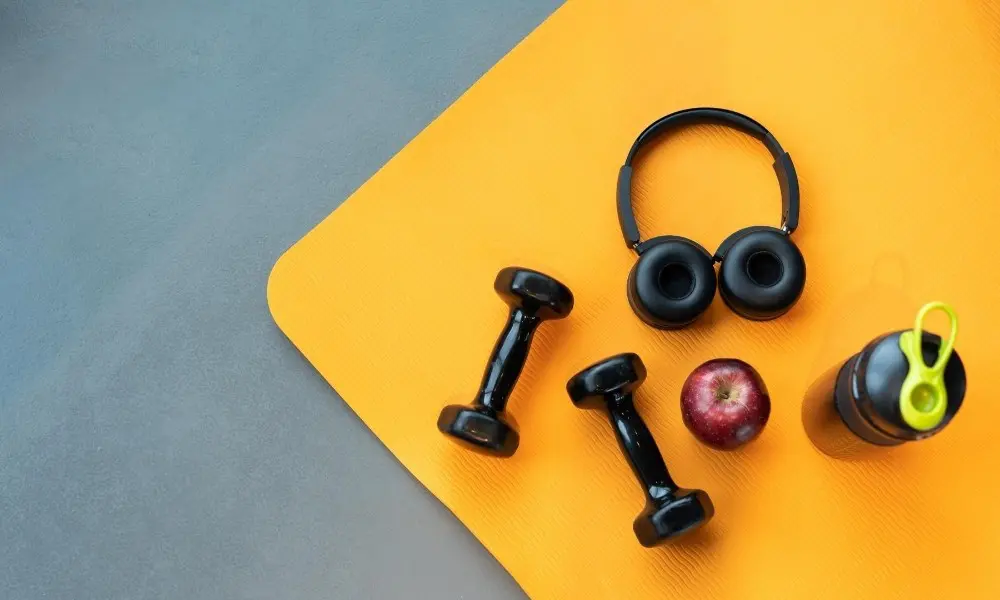 Here are some of the top considerations that gym and fitness enthusiasts say are essential when shopping for a set of headphones and earbuds:
Price. It is no surprise that most people's top consideration is the cost of the set. We think many individuals probably have an idea of how much they would like to spend on a new companion for their ears. $25, $50, $100, $200? In our list, we've included a little something for everyone.
Keep in mind that many wireless BlueTooth headphones are more expensive than their wired counterparts.
Wired vs. Wireless. Another top consideration is the wired vs. wireless debate. The benefits of staying wired? You don't have to remember to keep them charged, you get inline audio and phone controls, and you receive the best sound for your dollar. Benefits of cutting the cord? You don't have to run a wire under your workout clothes or worry about getting it tangled or yanking it out of your ears mid-workout. Ouch!
Sealed vs. Unsealed. This may also be known as open-air vs. closed headphones, but for exercise headphones, sealed vs. unsealed terminology makes more sense. The fundamental difference here is that with seal pairs, you'll block out gym noise and maybe that annoying Zumba class going on next to the weight room.
However, you sacrifice a little awareness for this noise-canceling ability. In turn, unsealed earbuds are a bit safer because you'll hear people behind you and other such things.
Fit and Stability Mechanisms. If you've got a large cabesa and some elephant-like ears, you need to take this into account when shopping for headphones (particularly earbuds).
Find a pair with custom tips so you can adjust to the largest tip for bigger ear canals. You may want to find a stability mechanism that works for you and doesn't annoy you during workouts. This will prevent the headphones from falling out mid-stride. Look for ear hooks, in-ear contoured pieces, around-ear grabbers, and other such designs.
Battery Life. For wireless workout headphones, you want to keep an eye on this factor. You don't want them dying after an hour of working out. If you are a cross country runner or make long cycling trips, make sure you find a pair that is going to go the extra mile with you.
Extras. Custom ear tips, carrying cases and pouches, smartphone clips, waterproof or water-resistant ratings, warranty details, magnetic anti-tangle cords — the sky's the limit with what some manufacturers have packed into these kits for an extra treat.
General Thoughts on Headphones for Working Out
Exercise headphones are for those who like to run, bike, hike, lift weights, or perform any other vigorous activity while listening to music, audiobooks, podcasts, or other types of media. These headphones are built with durability in mind, and they can withstand a beating. Whether that beating takes the form of sweat, weather, strain, and punishment from being transported all over the place, these headphones are built to last at least a couple of years. You can check out a comprehensive list of types of headphones here.
There are a few distinguishing characteristics of the best headphones for working out. The first characteristic is a lightweight design. You don't want anything bulky that is going to get in the way of working out. Headphones that cover the ear (circumaural headphones) or are worn over-ear (supra-aural headphones) are typically out of the question for intense workouts.
The most commonly seen design of headphones is actually called "earphones." For running and working out, optimal designs include earbuds, inner-ear, and canal earphones. These are designed to rest within the ear canal or sit just outside of it. Earbuds aren't meant to completely seal off the ear, making them a semi-open-air design, whereas inner-ear and canal earphones fit directly into the ear canal. This design seals off background noise and improves audio performance.
No matter which type you opt for, we've included an excellent array on our list of best headphones for working out. So scroll back up, find the perfect fit, and hit the gym!
Our Process
For this guide on headphones for working out, our team spent 4 hours researching the most popular options from over 25 brands and manufacturers big and small. We then read about one hundred user reviews (both positive and negative) to discover what shoppers thought about each set. After comparing this data, we narrowed our list down to the top 10 workout headphones on the market. You can count on this research to guide you to a mindful purchasing decision.
If you enjoyed this read, sign up for our newsletter below and get special online shopping deals delivered straight to your inbox.
---
Further Reading