Pull-ups are one of the best multi-joint upper body exercises for building muscle. As adults, pull-ups are an integral part of a well rounded lifting regime. They sit alongside squats, deadlifts, and dips as one of the heavy hitters. In this roundup, we check out some of the best pull-up bars on the market. We'll start with our favorite, the IRON AGE Pull-Up Bar, and work our way from there. But first, an overview.
Our Top Picks: Best Pull-Up Bars
Short on time? Here are the best pull-up bars.
Best Overall: IRON AGE Pull-Up Bar.
IRON AGE is the best pull-up bar on the market when factoring in reliability, price, and overall performance.

Best Budget: Sunny Health & Fitness Doorway Bar.
At under $20, you can't beat the Sunny Health & Fitness Doorway Bar, complete with mounting brackets.

Best Door-Mounted: Iron Gym Upper Body Workout Bar.
Iron Gym is the most popular pull-up bar in the world for a reason — it performs. Get your workout on with this convenient, easy-to-install bar that's guaranteed to help you build muscle.

Best Wall-Mounted: Titan Pull-Up Bar.
Embrace your inner Titan with this sleek, 500-pound capacity pull-up bar.

Best Standalone: RELIFE Power Tower.
For those seeking an entire workout assembly, the RELIFE Power Tower helps you complete various exercises, like push-ups, dips, pull-ups, and more.

Best Versatile: Ultimate Body Press Doorway Bar.
Take the Ultimate Body Press Doorway Bar on and off your door frame in seconds for a versatile workout experience.

Best Durable: XMark Pull-Up Bar.
Rated for over 500 pounds, X marks the spot for those seeking the most robust, most durable pull-up bar around.
1. IRON AGE Pull-Up Bar
The best pull-up bars overall
Manufacturer: IRON AGE / Type: Door-Mounted / Length: 39 inches / Capacity: 400 pounds / Price: 💰💰
Ever heard of the Iron Age? Back in the day, we didn't have convenient pull-up bars to help us with our workouts. No sir! We climbed trees while running from an assortment of bloodthirsty predators like real athletes.
Umm, yeah. There's a better way. Get all the fitness benefits of the Iron Age from the convenience of home with this incredible pull-up bar!
The IRON AGE Pull-Up Bar mounts in your doorway, providing a fast 'n easy way to get your workouts in. Simply assemble the bar, attach the padded foam mounts to your door frame, and boom! Hardcore workouts in minutes.
When not in use, simply take it down, fold it up, and move it into a nearby closet for unrivaled ease and convenience.
Reviewers Like
Great for smaller spaces
Incredibly sturdy w/400-pound capacity
Convenient to remove, and it even folds up
Reviewers Dislike
Works best for folks between 5'5 and 5'10
No protection foam on the lower portion of the bar
2. Sunny Health & Fitness Doorway Bar
The best pull-up bar on a budget
Manufacturer: Sunny Health & Fitness / Type: Door-Mounted / Length: 36 inches / Capacity: 220 pounds / Price: 💰
Sunny Health's Doorway Bar is a minimalist single bar unit. This is a more permanent solution than the IRON AGE because you select one doorway to install it in, and that's that. While not as versatile, the brackets that come with the bar do make it feel more stable. It is also about $5 bucks less than the ever-popular Iron Gym bar.
Sunny Health's pull-up bar is adjustable (24 inches to 36 inches), so it will fit nearly any doorway you select. It takes about 10 to 15 minutes to install, and the mounting hardware is all included. The max weight capacity of this bar is 220 pounds, so if you're a hefty guy or gal, this isn't the one for you.
Reviewers Like
Cushioned comfort grips
Adjustable length from 25″ to 36″
One of the most affordable bars on the market
Reviewers Dislike
Requires screwing into your doorframe
Reports of the bar popping out of the brackets
3. Iron Gym Upper Body Workout Bar
The best door-mounted pull-up bar
Manufacturer: Iron Gym / Type: Door-Mounted / Length: 36 inches / Capacity: 300 pounds / Price: 💰
If you're looking for a basic, multi-function upper body workout bar, this is an excellent piece of equipment. This is a well-priced door frame pull-up bar at about $25. For that amount, you can use Iron Gym's Upper Body Workout to do push-ups, dips, and pull-ups. It is a little low for dips, but if you implement a chair or stool, you can easily solve that problem. For pull-ups, it fits in a doorway and has three grip positions: wide, neutral, and narrow to help you target different muscles.
It utilizes leverage to stay in the doorway, you don't need to use screws or anything like that. As long as you have a sturdy door frame and aren't over 300 pounds, you're ready to set this up in minutes (assembly time is around 5 minutes) and start building muscle. Iron Gym also has an "Extreme Edition" that is more expensive but has a few more gripping mechanisms.
Reviewers Like
Classic and respected brand
Several different grip positions
Rubber protectors keep your doorway clean and mark-free
Reviewers Dislike
Not ideal for dips
Can be challenging to find
4. Titan Pull-Up Bar
The best wall-mounted pull-up bar
Manufacturer: Titan / Type: Wall-Mounted / Length: 53" / Capacity: 500 pounds / Price: 💰💰💰💰
If you're one of those people that need to have the best, Titan Fitness' pull-up bar is the ultimate solution. This is perfect for a nice home gym, or even a professional gym. This is an expensive pull-up bar, but it is built like a tank and will last for decades. It has a capacity of 500 pounds and can mount on wood studs, sheetrock, or a concrete wall.
As long as you have a reliable connection to mount it to, you'll be good to go. Coated in a matte black powder, it rocks a serious, rugged look. This pulls up bar offers plenty of room, enabling you to do any variation of pull-up your heart desires. One downside is that you do need to buy the screws and washers to install it.
Reviewers Like
Sleek design
Mounts on wood and concrete
Can be installed horizontally or vertically
Reviewers Dislike
Very heavy
On the expensive side
5. RELIFE Power Tower
The best whole body workout bar
Manufacturer: RELIFE / Type: Standalone / Length: 36 inches / Capacity: 330 pounds / Price: 💰💰💰💰
Maybe you prefer something a little more… robust?
Say hello to the RELIFE Power Tower, the best whole body workout bar on the market.
This sturdy piece of workout equipment is made of solid steel and sustains up to 330 pounds with ease. Moreover, it supports all different types of workouts, including push-ups, dips, abdominal raises, and yes, pull-ups. Simply assemble the tower, get into position, and start working those muscles!
A practical and multi-functional piece of equipment at an exceptional price. What more could you ask for?
Reviewers Like
Boasts a limited lifetime warranty
Excellent price for a full-body workout
All features are on one side, so you can place it against the wall or in a corner
Reviewers Dislike
Easy to ding
Some of the welds are poorly executed
6. Ultimate Body Press Doorway Bar
The best versatile pull-up bar
Manufacturer: Ultimate Body Press / Type: Door-Mounted / Length: 36 inches / Capacity: 300 pounds / Price: 💰💰
What do you get when you combine steel tubing, durable ABS couplers, and an ergonomic frame? The Ultimate Body Press Doorway Bar, of course!
This pull-up bar installs in a matter of seconds, no drilling required. Attach it to the door frame in seconds, then remove it for floor exercises in the time it takes to do a couple of reps. Swap back and forth throughout your routine for a full-body workout!
The dense foam handles are as comfy as they come, and you can grip the bar from a variety of angles. All in all, this is one of the most versatile pull-up bars on the market.
Reviewers Like
Great for pull-ups and floor exercises
Installs in seconds — no drilling required
Ergonomic design with comfortable grips
Reviewers Dislike
Some reports of minor damage to door frames
Durable overall, but some of the parts are poor quality
7. XMark Pull-Up Bar
The best durable pull-up bar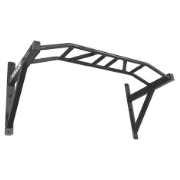 Manufacturer: XMark / Type: Wall-Mounted / Length: 48 inches / Capacity: 500 pounds / Price: 💰💰💰💰
Want to take your workout to new heights? Then you've gotta check out the XMark Pull-Up Bar.
This wall-mounted bar attaches to 2×4 studs behind your wall to provide a unique workout experience unlike any other. That's all thanks to the specialized engineering that offers you virtually limitless hand positions, letting you target the precise muscles you wish to focus on. Not only that, but the welded frame is as durable as they come, supporting weights up to 500 pounds — which you'll need after spending some time with the XMark.
This model features some of the best consumer reviews on the market, and we highly recommend it for folks seeking a durable pull-up bar.
Reviewers Like
Exceptionally durable
Welded frame for enhanced support
Various hand grips work with all types of pull-ups (and chin-ups)
Reviewers Dislike
Very unsightly
Requires drilling into the studs behind your wall
What to Look for in a Pull-Up Bar
Pull-ups are essential for building a well-rounded physique. They work your lats and biceps the hardest, but also target the trunk, shoulders, abdominals, pelvic region, and forearm muscles. They are the king of exercises and help build your body into an absolute machine.
Sounds pretty sweet, right? Unfortunately, getting to that point doesn't come easy. It takes a lot of hard work, dedication, and countless pull-ups. Which translates to a ton of strain on the pull-up bar.
Can your pull-up bar handle the stress?
Let's take a look at what to look for in a pull-up bar that meets your needs and keeps you safe.
1. Type
There are three primary types of pull-up bar: door-mounted, wall-mounted, and standalone.
Door-mounted pull-up bars fit in between your doorway and provide sufficient room for your workout. Door pull-up bars either screw into the frame on either side of the doorway or incorporate an adaptable design that sits atop your door frame but doesn't require any drilling. The latter is incredibly convenient, but it doesn't work with all frames.
Wall-mounted pull-up bars attach to the studs behind your wall for hardcore workouts. These typically hold the most weight, but they're a pain to install and leave giant holes in your drywall.
Standalone units are the largest type of pull-up bar. These sit on the floor and stand several feet tall. They're a bit pricey, as they must be durable enough to support your weight, and high enough to lift you off the ground. But they're an excellent option for home gyms.
2. Size
Whether you're working with a door-mounted model or standalone unit, you have to factor in size.
Screw-in door-mounted pull-up bars typically extend several inches, allowing you to find the perfect length for various door frames. The more adaptable models don't extend, as they're meant to be one-size-fits-all. That said, they won't work for folks with unique or older style door frames.
Wall-mounted pull-up bars are bigger than door-mounted but smaller than standalone units. They're often found in garages, where the unsightly (and permanent) design won't bother anyone.
As for standalone units? These models are quite beefy — the largest of the pull-up bars. While you probably don't want to keep these in the dining room, they are portable. But you may need a workout buddy to help you move it around.
3. Weight Capacity
Perhaps the most important spec is weight capacity. You don't want the pull-up bar falling off the door frame and whacking you in the head, do you?
Pay close attention to the manufacturer's recommended limit, and stick to it. Also, make sure you install your bar correctly, and occasionally inspect it to ensure all the screws are tight and ready to amp you up.
Your workout awaits.
The Best Pull-Up Bar Workouts
Every variation of the pull-up hits a large number of muscles, but specific techniques hone in on certain muscles. For example, wide grip pull-ups focus on the back muscles while narrow grip destroys your biceps.
Here is a list of the most common pull-up bar workouts.
Assisted Pull-Up. If you can't do one pull-up, you've got to start somewhere. This type of pull-up is done by using a chair to rest the feet. This, in turn, helps you complete a pull-up with good form. You can also find a workout buddy and have them grip your ankles and apply force much like a spotter helping with a bench press. Some gyms supply straps that are very useful for those just beginning to build up.
Pull-Up. The classic pull-up is executed with palms facing away from you, knuckles visible. This form mainly hits the upper back, shoulders, and lats. Your abs will also receive a pretty good workout, especially when you first start doing them.
Chin-Up. The chin-up is completed with palms facing toward you, knuckles not visible. This slight variation in grip has significant implications, as the bulk of the weight is transferred to the biceps. The chin-up is a great addition to arm days.
Alternate Grip Pull-Up. The alternate grip pulls up is performed by placing one palm facing you, one facing away. A lot of guys will use this to get a better grip when executing deadlifts.
Weighted Pull-Up. You'll probably need to head to a gym for these, unless you have a well-equipped home gym. Weighted pull-ups are down the road for many of us, and usually, increasing reps is more than enough of a challenge. But once you can get 25+ pull-ups with perfect form, adding a dip belt or weight vest can help you keep building strength and mass.
Commando Pull-Up. These are also known as cliffhanger pull-ups. They are awkward looking, where the body is faced sideways to the bar. You grab the bar like it's a baseball bat, and then the body is pulled up as high as possible, until one shoulder touches the bar. This form hits the lats and obliques extra hard.
One-Arm Pull-Up. Considerable physical strength is required to do a one-arm pull-up. Sure, it's great for showing off, but don't get carried away with these. It certainly isn't the optimal way to build muscle, and you risk injuring yourself.
The Pyramid Routine: The Best Pull-Up Bar Workout Method
Probably one of the best ways to start incorporating pull-ups into your workout is the pyramid routine.
Pick a number from 5 to 10. Then do 1 set of 1 pull-ups followed by 1 set of 2 pull-ups followed by 1 set of 3 pull-ups… you get the gist. Follow this until you hit your number, then walk back down to 1. It's an excellent way to stay psychologically pumped and get a thorough workout in the process.
Of course, once you build up strength, there is nothing wrong with the tried-and-true three sets of ten formula. As you build, you'll want to increase to 12 and then 15 reps, and from there, potentially add more sets depending on the length of your workout. Some individuals choose to get in a set whenever it strikes their fancy, during a commercial break, in between a video game match, or right after they pop out of bed. While not optimal, this will slowly build muscle over time, which is definitely better than doing nothing.
Our Process
For this guide on pull-up bars, our team spent 6 hours researching the most popular options from over 40 brands and manufacturers big and small. We then read about one hundred user reviews (both positive and negative) to discover what shoppers thought about each bar. After comparing this data, we narrowed our list down to the top 7 pull-up bars on the market. You can count on this research to guide you to a mindful purchasing decision.
If you enjoyed this read, sign up for our newsletter below and get special online shopping deals delivered straight to your inbox.
---
Further Reading