Did you know you could save hundreds of dollars every year by using a space heater rather than continually running the heat? It's true — when you purchase one of the best space heaters on the market, you'll save money and keep your space comfortable at all times.
In this article, we've included our top 10 picks for the best space heaters money can buy. Out of all the heaters we looked at, our overall favorite was the Aireplus 1500W Oil-Filled Radiator Electric Heater. This heater can provide enough heat for most indoor spaces, and it has a plenty of extra features. The Aireplus heater even comes with a remote control, an eco setting, and a 24-hour programmable timer to make your life easier.
Our Top Picks: Best Space Heaters
So what is the best space heater? Some of that will depend on your personal needs, but here's a quick list of all our favorites.
1. Aireplus 1500W Oil-Filled Radiator Electric Heater
The best space heater overall
Brand: Aireplus | Heater Type: Oil-Filled Radiator | Fan: No | Watts: 1500 | Unit Size: 26.4" x 15.4" x 6.4" | Unit Weight: 19.81 lbs | Overheat Protection: Yes | Remote: Yes | Price: 💰💰
The Aireplus heater is our overall favorite for a few main reasons: it's safe, it will work well for most spaces, and it has a lot of extra features. Not only does this unit have a digital thermostat that will let you adjust the temperature of your room in single-degree increments, but it also has a 24-hour timer and a remote control.
You have the option to select low, medium, or high heat — or you can just turn on the eco mode and let the technology figure out the most economical way to maintain the temperature you want.
Also, it has more safety features than just overheating and tip-over protection. If you want the best space heater for nursery rooms, this one even comes with a child lock feature to ensure that your little ones stay safe.
Although oil-filled radiators tend to be on the heavier side, this one comes on wheels so that you can roll it from room to room. Radiators are also better at being quiet because there's no fan. And, in case you were worried: no, you don't have to deal with the hassle or mess of replacing the oil — it just stays sealed up inside.
Reviewers Like
The red light display doesn't interfere with sleep
Precise temperature control through single degree increments
The remote control makes it easy to adjust the temperature without getting out of bed
Reviewers Dislike
The buttons beep whenever you adjust the temperature or turn in on and off
It makes a small clicking noise when the heater switches on and off while maintaining the temperature
2. Dr. Infrared Heater Portable Space Heater
The best energy-efficient space heater
Brand: Dr. Infrared Heater | Heater Type: Infrared | Fan: Yes | Watts: 1500 | Unit Size: 13" x 12.5" x 17" | Unit Weight: 25 lbs | Overheat Protection: Yes | Remote: Yes | Price: 💰💰
If you need the best space heater for a large room and don't want to take chances using a smaller model, this option will heat almost any room with its dual heating system and auto energy-saving features. You can use this space heater's IR remote control to crank it up to between 50 and 85 degrees, and you can also rest assured knowing it'll be safe thanks to its 12-hour automatic shut-off timer.
For those who use their garage for more than just parking the car, this is the best electric space heater for garages if you want to heat things quickly. The dual heating system will warm up the air and the objects around it. It does a great job of taking the chill out of a cold, concrete floor.
This heater tends to be on the quieter side, and it even offers a night mode for those who are sensitive to sound. In addition to overheat and tip-over protection, this heater remains cool to touch and comes with an electrostatic air filter and a sensor that turns the unit off whenever there's an issue with the airflow. What's even better is that these heaters are built to last and come backed with a three-year warranty.
Reviewers Like
It puts out a lot of heat quickly
It's better at heating poorly insulated areas than other space heaters
Works well for keeping warm while working on projects in the garage
Reviewers Dislike
The remote only works after you turn the heater on manually
Some reviewers had issues with the heater melting their outlet and the plug
3. Lasko Ceramic Heater With Adjustable Thermostat
The best budget space heater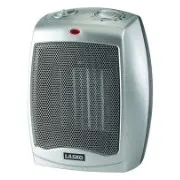 Brand: Lasko | Heater Type: Ceramic Fan-Forced Air | Fan: Yes | Watts: 1500 | Unit Size: 6" x 3.7" x 9.2" | Unit Weight: 3.7 lbs | Overheat Protection: Yes | Remote: No | Price: 💰
Although this space heater might look small, it certainly packs quite a punch and will easily heat up just about any room. It has a 1500-watt high setting, a self-regulating ceramic element inside it, and automatic overheat protection to prevent it from getting too warm. The size of this space heater might scare some people off, but you will be amazed by how much heat it can create once you get it into your home or business.
This heater offers high and low heat settings with an adjustable thermostat and a fan-only mode. It also has cool-touch housing and a carry handle for easy portability. The only mark against this budget heater is that it lacks a mechanism that will turn it off if it tips over — something to keep in mind if you have small children or pets.
Reviewers Like
Easy to move from room to room
The low setting easily maintains the heat in a smaller room
The fan-only setting makes it useful in the summer as well as the winter
Reviewers Dislike
The unit will not turn off when it falls over
There's no air filter, and dust can accumulate inside the unit
4. Honeywell Uberheat Ceramic Heater
The best space heater for small rooms
Brand: Honeywell | Heater Type: Ceramic Fan-Forced Air | Fan: Yes | Watts: 1500 | Unit Size: 8.5" x 6" x 9.5" | Unit Weight: 3.9 lbs | Overheat Protection: Yes | Remote: No | Price: 💰
Do you need something small that can keep you warm when you're sitting at a table in your home or at your desk in your office? One of the best space heaters for either of these occasions is this little beauty. It contains two heat settings that you can adjust based on your needs, a thermostat, 360-degree tip-over protection, non-slip rubber feet, cool-touch housing, and a compact design that will allow you to tuck it away when you don't need it. Besides being one of the more affordable options, it's also one of the best ceramic space heaters on our list.
Reviewers Like
It's tiny and powerful
The contemporary design helps it blend in
It fits on the desk without taking up too much room
Reviewers Dislike
The fan is noisy
The thermostat doesn't maintain an even temperature
5. De'Longhi ComforTemp Portable Electric Oil-Filled Radiator
The best space heater for large rooms
Brand: De'Longhi | Heater Type: Oil-Filled Radiator | Fan: No | Watts: 1500 | Unit Size: 14" x 6" x 25" | Unit Weight: 24 lbs | Overheat Protection: Yes | Remote: No | Price: 💰💰
While this space heater is on the pricey side compared to some other options, it's perfect for those who have a room that doesn't currently have a heat source in it. This space heater can deliver a steady stream of heat and warm up medium and large-sized rooms. The big bonus with this space heater is that it won't get hot to the touch, which will benefit anyone who has small kids or pets. It's the best quiet space heater on our list because there's no noisy fan to worry about and no digital controls that beep.
The ComforTemp is not as easy to carry around as some of the smaller heaters on our list. That said, its wheels allow you to roll it from one place to the next without a lot of effort.
It's worth noting that the De'Longhi brand has a good reputation, and they've been making some of the best oil space heaters for quite some time.
Reviewers Like
It's good at maintaining an even temperature
This heat is gentle and won't cause you to feel dried-out
There's no noisy fan turning on and off while you try to sleep
Reviewers Dislike
It can take time for it to heat a room
It doesn't do well at heating poorly insulated areas
6. Atomi Smart WiFi Portable Tabletop Space Heater
The best smart space heater
Brand: Atomi | Heater Type: Ceramic Fan-Forced Air | Fan: Yes | Watts: 1500 | Unit Size: 8.27" x 9.06" x 18.11" | Unit Weight: 5.94 lbs | Overheat Protection: Yes | Remote: Via Smartphone | Price: 💰💰
This little heater is smart enough to talk with Alexa and Google Assistant. The Atomi Smart App lets you use your smartphone as a remote control and will send you a notification if the heater tips over — don't worry, it also knows to turn the heater off when this happens. If you don't feel like using the smart features, this heater has a large touch screen where you can control it manually and choose from high, low, or eco mode. However, if you want to set up daily or weekly schedules, you'll need to use the app.
All of the other space heaters on our list are stationary. This one is different in that it oscillates and will move around while blowing warm air throughout a room.
Although this space heater is tiny, it's oscillating feature will provide more heat than you might think it's capable of producing — it can heat rooms as large as 750 square feet.
We chose Atomi's smaller heater for our list because of its versatility. However, the same company offers a taller model if you're into that sort of thing.
Reviewers Like
The fan is very quiet
You can turn the screen lights for sleeping
You're able to create custom schedules for the heater to turn on
Reviewers Dislike
It will only connect to routers that transmit a 2.4GHz Wi-Fi signal
Loud beeping noise when you change a setting and when it turns on or off
7. NewAir AH-400 Space Heater
The best under desk space heater
Brand: NewAir | Heater Type: Oil-Filled Radiator | Fan: No | Watts: 400 | Unit Size: 21" x 5" x 16.5" | Unit Weight: 6.45 lbs | Overheat Protection: Yes | Remote: No | Price: 💰💰
If you're looking for a heater that's portable, quiet, and won't take up all your legroom when you place it under your desk to stay warm, the NewAir model is hard to beat.
This heater may not be ideal for heating large spaces because of its size, but it will fit perfectly under a desk to keep you warm while you work. Its low power consumption is also likely to save on energy costs.
It comes with tip-over and overheat prevention to keep you safe. And, because it doesn't rely on a fan to spread the heat around, it's practically silent. If you want something small and don't need to heat a large room, this is the best office space heater you will find.
Reviewers Like
It's silent and won't distract you while you work
Its slim profile makes it easy to place out of the way
Its size and the carry handle make it easy to move around
Reviewers Dislike
It takes a long time to heat a room and won't work for large rooms
Some reviewers complained that the unit gets hotter to the touch than traditional oil-filled radiator heaters
8. Duraflame 3D Infrared Electric Fireplace Stove with Remote Control
The best fireplace space heater
Brand: Duraflame | Heater Type: Infrared | Fan: Yes | Watts: 1500 | Unit Size: 13.07" x 24" x 23.4" | Unit Weight: 28.6 lbs | Overheat Protection: Yes | Remote: Yes | Price: 💰💰💰
If you want the look of a wood-burning fireplace without the hassle of maintaining one, this electric fireplace is a convincing alternative. And, unlike a traditional fireplace, all you'll need to install this unit is an outlet.
Made from durable metal and real glass, this heater has the look of a real fireplace and comes with a patented, 3D flame technology that creates realistic dancing flames around the logs. The fire even has five adjustable settings for color, brightness, and speed.
Aside from just being nice to look at, this is one of the best infrared space heaters on the market. This heater will warm up a large room without drying out the air. Unlike most heating elements, the infrared quartz heating element on this unit works to maintain the room's natural humidity.
Although this heater is bigger than some of the others on our list, it's still portable enough to move between rooms if you want to change the atmosphere. It's designed to heat spaces as large as 1,000 square feet and has overheat protection, an adjustable thermostat, and a remote. This fireplace even comes in a wide array of colors so that you're sure to find one that matches your decor.
Reviewers Like
You can use the fire setting for ambiance without having the heat on
The glass on three sides make the flames visible from multiple angles
The heating element is toward the top of the unit, and the rest of the heater stays cool
Reviewers Dislike
The remote control won't change the temperature setting
You have to open the door to use the manual controls that are hard to see
9. Lasko CD08200 Small Portable Ceramic Space Heater for Bathroom
TThe best space heater for bathrooms
Brand: Lasko | Heater Type: Ceramic Fan-Forced Air | Fan: Yes | Watts: 1500 | Unit Size: 6.25" x 6.25" x 8" | Unit Weight: 4 lbs | Overheat Protection: Yes | Remote: No | Price: 💰
Although this little heater doesn't have a thermostat to regulate the temperature, it's simple, single-button control makes it perfect for warming up a cold bathroom when you're still waking up. You can choose to have it run at high heat for one hour and turn off on its own, or you can put it on high or low heat and turn it off manually.
What makes this heater perfect for bathrooms is that it's one of the only space heaters specifically designed for bathroom use. This unit comes with a dedicated ALCI safety plug designed to shut off power to the heater immediately if there is a short — a helpful safety feature when you're planning on using electronics in environments with water and moisture. This heater also has overheat protection and cool-touch housing.
Like the other Lasko heater on our list, this unit's only major shortcoming is that it doesn't come with tip-over protection. So, you might not want to leave it unattended — especially if you have pets.
Reviewers Like
It handles the high moisture levels in a bathroom without a problem
The simple button control makes it easy to operate with a tap of the foot
The timer setting means you don't have to worry about forgetting to turn it off
Reviewers Dislike
It doesn't have tip-over protection
It doesn't have a thermostat to set the temperature
10. Mr. Heater Indoor-Safe Portable Propane Heater
The best space heater for camping
Brand: Mr. Heater | Heater Type: Propane Powered Radiant | Fan: No | Watts: N/A | Unit Size: 7.7" x 13.4" x 15" | Unit Weight: 9 lbs | Overheat Protection: Yes | Remote: No | Price: 💰💰
If you've been looking for something to keep you warm when you don't have access to electricity, Mr. Heater makes one of the best propane space heaters on the market. Its small size is a cinch to transport, and the foldable handle makes it easy to fit in a tightly packed vehicle.
It's got some excellent safety features too. A sensor will automatically turn off the heater if it detects that the oxygen is low, and a tilt sensor turns the unit off if it gets knocked over.
Although some reviewers complained that the heater doesn't last very long on high heat before running out of fuel, there is an option to connect it to a larger propane tank so that it can run for much longer. Unfortunately, you'll have to buy the adaptor separately. However, if you do a good job of insulating your tent, you could probably get away with just using this heater in small spurts to keep things warm.
Aside from being perfect for camping, this is also the best space heater for RV users who need a backup heat source or simply want an alternative heater to conserve energy on those extra, cold nights.
The only major drawback with this heater is that it won't work at altitudes over 7,000 feet.
Reviewers Like
It shuts off immediately if it's tipped or falls over
It's self-lighting, so you don't need matches or a lighter to start it
It's very portable, and the handle stays cool enough to touch when in use
Reviewers Dislike
The exposed flame in the element makes this unsafe for pets or children
It only lasts for a few hours on high if you don't have it hooked up with an adapter to a larger tank
What to Look for in the Best Space Heaters
Back in the day, there weren't many options when it came to choosing a space heater. And older space heaters were reasonably effective, they weren't always energy-efficient or safe. Thankfully, the current technology used in space heaters is much more advanced and can typically identify temperatures more accurately and regulate them more effectively.
If you are only trying to heat a small area, choosing one of the best space heaters can be much more efficient than running a central air heating system or trying to heat the back of the house with a stove in the front room. To be sure, there are countless advantages to choosing a space heater for your household. But finding the perfect one will depend on quite a few different factors. In this section, we've tried to address some of the most important options and features to help make your selection easier.
1. Heating Capacity
While wattage is often an indication of how much heat a particular unit might offer, it really only tells you the amount of electricity needed to power the heater. That's an essential factor for safety purposes, but it's not as helpful at telling you how much heat a particular unit will put out.
Furthermore, regardless of whether you're looking for the best space heater for 300 square feet or the best space heater for 500 square feet, it's important to consider factors beyond just the size of the room that you want to heat. Does your space have high or low ceilings? Is it well insulated or somewhat drafty?
Different types of heaters are often better or worse at handling the various challenges of specific spaces. The area you want to heat will play a significant role in what type of heater you'll want to get and how efficient and effective your space heater will be.
2. Heater Types
Let's look at a few of the more popular types of portable space heaters on the market.
2a. Oil-Filled Radiators
The best radiator space heaters tend to be quiet, safe, durable, cool to touch, and relatively good at heating large spaces for more extended periods. They're a good option for people with allergies because they don't have a fan blowing around dust and other particles. They also don't have an exposed heating element, so they're typically the right choice for people with small children or pets. Because these radiator style units don't use a fan to spread heat, they can be pretty close to silent when they're in operation, making this style the best space heater for bedrooms. As an added bonus, the heated oil keeps producing heat for a while after you shut them off.
The main drawback to this heater style is that the heat isn't instant — they can take quite a while to heat up. Radiators also tend to be larger and heavier than many other types of space heaters on the market. And, even if they are the best space heater for basements, you certainly won't want to lug them up and down the stairs. If you plan on using this type of heater on multiple floors, it might be more convenient to get two.
2b. Fan-Forced Air Space Heaters
These types of heaters tend to be quick to heat a room. They also tend to be some of the most portable heaters on the market.
Fan heaters typically have exposed heating elements, which can make them a more significant safety risk. Fortunately, many models have safety features to help mitigate the risks, but it might be a good idea to look for models with those features included.
2c. Infrared Space Heaters
This style of heater uses electromagnetic radiation to produce heat. On its own, the heating element works by heating the objects around it rather than heating the air. However, most infrared space heaters have a fan to help disperse the radiant heat. If you're looking for the best space heater for garage work areas, these heaters are a good choice because they offer instant, directional heat. They can also be very efficient.
One of the potential disadvantages of infrared heaters is that the heating element emits light whenever the heater is on, so it might not be the best choice for bedrooms if you're a light-sensitive sleeper. Unlike an oil-filled radiator, these heaters stop producing heat as soon as you turn them off. So, you'll need to leave them on if you want to benefit from their warmth.
3. Safety Features
First and foremost, if you want your space heater to operate safely, always follow the manufacturer's guidelines for the model that you're using. However, there are a few standard rules for safe use.
Plan on plugging them directly into a wall outlet, and don't use them with standard extension cords or surge protectors.
Don't place your space heater near flammable materials. Most manufacturers recommend keeping space heaters at least three feet away from all other objects.
It's always best to place space heaters on a level surface and never leave them running without adult supervision.
Here are some of the extra safety features you might want to look for when you're shopping for a space heater.
5 Extra Safety Features to Look for
Automatic Shut-Off / Overheat Protection. Most space heaters on the market these days have a thermal detection mechanism to prevent them from overheating. If the heater you're looking at doesn't have this feature, you may want to consider a different heater.
Tip-Over Kill Switch. This safety feature will turn the heater off if it gets tipped over. Many models on the market come with this feature, but not all.
Touch Temperature. How hot the outside of the unit gets is often an important factor for households with pets and small children.
Air Filters (on units with fans). If the space heater has a fan, an air filter will help prevent dust from accumulating inside the unit and keep it away from the heating element.
Obstructed Airflow Sensors (on units with fans). Heaters equipped with this kind of sensor will turn off when air isn't properly moving through the unit.
4. Warm-Up Time
Some heaters take more time than others to heat up.
If you want something that can heat in a hurry, you might prefer a model with a fan or infrared technology. If you want a heater that can maintain an even temperature over a long period and you don't mind waiting for things to heat up, look for the best oil filled space heater.
5. Noise Level
Heaters can vary quite a bit in terms of how much noise they make. Typically, models that have fans will be louder than the models that don't have them. Oil-filled radiator heaters are some of the quietest space heaters you can get because they don't use a fan.
However, if you're looking for complete peace and quiet, watch out for heaters that have beeping buttons.
6. Unit Size and Portability Features
One of the main pluses of having a space heater is that it's portable — at least to some degree. Some space heaters are going to be easier to move than others. If you plan on moving your heater around often, here are a few portability features you might want to look for depending on the size and the weight of the model:
Wheels (for larger, heavier heaters)
Handles (for smaller and larger models)
7. Eco-Friendly & Energy Efficient Features
Be on the lookout for the following features when searching for an eco-friendly space heater:
Thermostat. Units that have an adjustable thermostat are typically going to be more energy-efficient.
Eco Mode. Many heaters have an eco-mode setting that will keep them running at their most efficient settings. It can help take the guesswork out of efficiency.
8. Extra Operation Controls and Smart Features
Here are some additional options that you might want your space heater to have.
Automatic shut-off timers
Smart home integration with devices like Alexa or Google Assistant
Remote operation either through a provided remote or a smartphone
Multiple heat settings
Oscillating fans
Digital displays
Programmable scheduling
Night mode options for light and noise
Top 5 Benefits of Space Heaters
Are space heaters worth it? Check out our top five reasons to buy one and see if a space heater is right for you.
Space Heaters Aren't Terribly Expensive
When you're shopping around for space heaters, you will find them to be a lot more affordable than you might think. Similar to other small household appliances like air purifiers, most of the best space heaters will typically cost you less than $100. Space heaters won't waste much energy when you are using them, either. Because of the tungsten filament or ceramic that many space heaters rely on to provide heat, they won't consume as much energy as you might think, which will keep your electric bill lower every month.
They Don't Require Any Installation
The best space heaters are the ones that are portable. And these days, just about all of them fit that mold. You can move your space heater from room to room throughout your home or business without installing it permanently. You can use it in your bedroom at night and transfer it to your office in the morning. This will allow you to provide heat to the rooms that need it most.
They Heat Up Quickly and Stay Warm for Long periods
The tungsten filament or ceramic in the best space heaters do more than just keep your energy costs down. They also heat up very quickly and then stay warm for extended periods. This means you won't have to keep your space heater running for hours on end. It also means that once your space heater heats up, you can enjoy the heat that comes off it for quite some time before you'll have to fire it back up again.
They Work Great in Small Spaces
The best space heaters come in handy when you are trying to heat a small area quickly. Whether it's a bedroom or an office space, space heaters are, as their name would suggest, designed to heat small spaces efficiently. Space heaters are also great because they don't take up much space when you use them. You can easily hide one in an empty corner or under a desk and not even notice it when it's running.
They Are Safer Than Ever Before
For a long time, there were safety concerns surrounding even the best space heaters. People were worried about them starting fires in their homes or businesses. You will, obviously, want to be careful with anything that creates heat. But in general, today's space heaters have safety features like auto shut-off that will prevent them from causing problems in your home or business.
While it's always a good idea to keep safety in mind, you can get all the benefits of using the best space heaters without all the worry when you purchase one today.
Our Process
For this guide on the best space heaters, our team spent 8 hours researching the most popular options from over 15 brands and manufacturers, big and small. We then read about one hundred user reviews (both positive and negative) to discover what shoppers thought about each unit. After comparing this data, we narrowed our list down to the top 10 space heaters on the market. You can count on this research to guide you to a mindful purchasing decision.
If you enjoyed this read, sign up for our newsletter below and get special online shopping deals delivered straight to your inbox.
---
Further Reading