You're at the gym working out and working up a sweat. Your body feels great, but your cotton shirt is becoming uncomfortably hot and see-through. You power through the workout, but leave feeling flustered and embarrassed. Sound familiar? There are few things worse than poor-quality, ill-fitting clothing when you're trying to work out. Fortunately, the best workout shirts for women have you covered (quite literally). They'll hug your body just right, providing all the support and comfort you need to finish your workout with confidence and style.
Our favorite pick is the Nike Women's Dry Tee Drifit Crew for its overall quality, but there's an assortment of excellent apparel on the market. Join us as we check out a variety of options for every body.
Our Top Picks: Best Workout Shirts for Women
Let's jump right into the list with an overview of our favorite picks:
1. Nike Legend Women's Short Sleeve Shirt
The best workout shirt for women overall
Brand: Nike | Type: Short Sleeve / Crew Neck | Material: 100% Polyester | Colors: 19 | Price: 💰💰
The Nike Legend Short Sleeve Shirt is an athletic-fit tee that's ideal for all types of workouts. It's made from 100% polyester that's formulated with Nike's Dri-FIT technology to provide a clean, dry experience no matter the intensity.
As for the fit, it's neither too tight nor loose (assuming you choose the right size), and it contours to your body like a dream. Combined with the iconic swoosh logo on the upper-left, this top boasts the perfect blend of style and functionality. This T-shirt is also machine-washer safe for added convenience.
Overall, it's one of the best women's workout tops on the market!
Reviewers Like
Polyester and Dri-FIT fabrics
The perfect fit, shape, and style for working out
Longer cut provides a slimming, elongated look (also ideal for taller women)
Reviewers Dislike
Some fakes on the market — buyer beware!
If you're looking for an athletic fit, the Nike Legend is not for you
2. Hanes Sport Women's Heathered Performance V-Neck Tee
The best workout shirt for women on a budget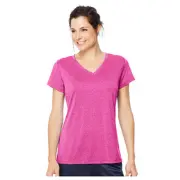 Brand: Hanes | Type: Short Sleeve / V-Neck | Material: 100% Polyester | Colors: 6 | Price: 💰
We get it — Hanes isn't exactly known for their premium shirts. That said, you'd be surprised at the quality and performance of their Sport V-Neck Tee.
First off, it's made from Polyester and Cool DRI interlock fabric, which wicks away moisture and keeps your body at the perfect temp. It also comes with a 50+ UPF rating to keep you protected in the outdoors during those hot summer months.
Choose from half a dozen different colors, and enjoy a sleek and modern V-neck fit that's sure to impress!
Reviewers Like
Dries extremely fast
UPF rating keeps you cool and protected
One of the most affordable sports tees on the market
Reviewers Dislike
Sizes run a bit small
Design may be unflattering on bigger gals
3. Reebok Women's Performance Shirt
The best moisture-wicking shirt for women
Brand: Reebok | Type: Short Sleeve / Crew Neck | Material: 9% Spandex & 91% Polyester | Colors: 5 | Price: 💰💰
The Reebok Women's Performance Shirt combines the best of both worlds — it features the moisture-wicking qualities of polyester alongside the elasticity of Spandex. The result is a performance top that's perfect for working out in the gym, on the track, or in your favorite sport court.
Sizes range from small to extra-large, meaning it's easy to find the right fit for you. Moreover, the shirt tapers to hug your top and widen at the mid-section. In other words, it looks great and offers the ideal level of support.
Reviewers Like
Slimming fit
Longer design means fits taller ladies
Quick-dry, breathable, and comfortable blend of fabrics
Reviewers Dislike
Must hang-dry for best results
Neckline may be too big for some
4. Adidas Women's Essentials Linear Loose Tank Top
The best women's tank top for working out
Brand: Adidas | Type: Tank Top / Crew Neck | Material: 25% Cotton, 25% Viscose, & 50% Polyester | Colors: 6 | Price: 💰💰💰
If you're seeking the best workout tank for women, the Adidas Essential Tank Top may be the right fit.
This is one of the most comfortable tops you can choose for your fitness needs. It features a lightweight design that comes with Climalite technology, which wicks away moisture to leave you with a cool and dry workout experience. Another major bonus? The top is made from a unique blend of cotton, viscose, and recycled polyester. That means you get all the performance of top-rated materials alongside eco-friendly craftsmanship.
Do note that the neck on this tank is a little high. Though not ideal for some, it's an excellent choice for smaller-chested girls and women, who can even wear the tank without a sports bra inside! Super cute, comfortable, and perfect for working out — what more could you ask for?
Reviewers Like
Sexy-sporty aesthetic
Has a very comfortable fit and can also be worn a casual top
Climalite technology helps you feel cool amid your workout routine
Reviewers Dislike
The material is not very soft
Neck may be a bit high for some body types
5. Lemedy Women's Sports Bra
The best sports bra for working out
Brand: Lemedy | Type: Sports Bra | Material: 13% Spandex & 87% Polyester | Colors: 13 | Price: 💰💰
What's the #1 best-selling sports bra online? Believe it or not, it's this incredibly affordable top from Lemedy!
There are several reasons why it's such a popular pick. It comes in five sizes, from small to double XL. It's also perfectly padded for comfort and convenience, no matter your bra size. And, the breathable blend of Spandex and polyester comes in over a dozen colors to match your desired aesthetic.
No matter what type of workout you prefer, from yoga to weightlifting, this is the best bra for fit, fashion, and function.
Reviewers Like
Easy pull-on closure
Perfectly elastic and breathable
Removable pads with a silky smooth feel
Reviewers Dislike
Looks a little bulky with pads
White color shows cup outlines
6. Under Armour Women's Tech Twist
The best long sleeve workout top for women
Brand: Under Armour | Type: Long Sleeve / Pullover | Material: 100% Polyester | Colors: 32 | Price: 34-129 💰💰💰💰
What's the best long workout top for women, you ask? For ladies seeking a quality garment from a reputable brand, you can't go wrong with the Under Armor Tech Twist.
This 100% polyester pullover top boasts UA Tech for the ultimate in breathability and moisture-wicking properties. It also offers anti-odor control, which prevents the growth of odorous microbes and keeps you cool, fresh, and clean.
The top comes in nearly three dozen colors, all of which feature a ½ zipper front that you can pull up or down for customizable levels of support and coverage. Regardless of where you position it, the raglan sleeves extend all the way down from the collar to cuff for a flexible and flattering fit. Oh, and despite all the features, this top weighs under six ounces!
If you work out during the colder winter months, the Under Amour Tech Twist is an absolute must-have and easily made our list of the best workout shirts for women.
Reviewers Like
Fitted yet flexible
Array of gorgeous colors
Super soft fabric that provides a comfortable level of protection against the elements
Reviewers Dislike
Sizes run small
Material is very thin (contributes to light weight)
7. Tough Cookie's Women's #Beast Burnout Tank Top
The best athleisure for women
Brand: Tough Cookie Clothing | Type: Tank Top / Crew Neck | Material: 40% Polyester & 60% Cotton | Colors: 10 | Price: 💰💰
Tough Cookie's #Beast Burnout Tank Top is a comfortable workout shirt that comes with an inspiring tagline. The motivational message on the tank will help you to stay focused while working out!
It doesn't matter if you're going to the gym or hanging out with friends — you can wear this tank whenever, and it's sure to catch eyes. The material is a nice lightweight blend of polyester and cotton that's ideal all summer long. Moreover, the tank-cut offers unmatched versatility that flexes with your body no matter the sport.
Overall, Tough Cookie's tank is among the best workout apparel for women in terms of comfort and style, since you can wear it anytime, anywhere.
Reviewers Like
Has a motivational, catchy tagline
The different colors give you a variety of options to choose from
Blend with pants, jeans, or leggings for a classy look anytime and place
Reviewers Dislike
Some find the tank too short
Shrinks in the wash due to cotton fabric
What to Look for in the Best Workout Shirts for Women
What should you look for when shopping for the best workout shirts for women? Let's consider the most important factors: type, material, and fit.
1. Type
Workout tops come in all shapes and sizes. Among the most common are short sleeve crewnecks and v-necks, tank tops, sports bras, and long-sleeve pullovers. And that's just a sampling of your options!
Think about what you want from your workout shirt and when you plan to use it. More of an indoor Pilates kinda gal? A sports bra may be a fantastic option. Maybe you prefer to run during cold winter nights (hey, no judgment here)? A long-sleeve pullover is probably better suited for that.
2. Material
What's the best material for workout clothes? While there's no correct answer, a few materials (and material blends) excel at providing comfort, flexibility, and moisture-wicking capabilities to your exercise routine. These include:
Polyester
Spandex & Lycra
Viscose
What about cotton? On its own, cotton isn't a fantastic option for workout wear. That said, when blended with another fabric (like polyester), cotton can add affordability and odor-resistant properties to a top.
3. Fit
After you've chosen which type of shirt and which type of material you want, it's all about how it fits! We've curated this chart to help you measure out the right size for your body. Compare this against the measurement of your favorite options.
Our Process
For this guide on the best workout shirts for women, our team spent 3 hours researching the most popular options from over 25 brands and manufacturers big and small. We then read about one hundred user reviews (both positive and negative) to discover what shoppers thought about each shirt. After comparing this data, we narrowed our list down to the top 7 women's workout shirts on the market. You can count on this research to guide you to a mindful purchasing decision.
If you enjoyed this read, sign up for our newsletter below and get special online shopping deals delivered straight to your inbox.
---
Further Reading