The mental and physical health benefits of yoga are considerable. For hundreds of years, people have been practicing yoga and meditation and finding that it has a profoundly positive impact on their lives. There is an ideal flow for every yogi and a yoga book that will shed some light on postures, meditation, and the history of the practice. Finding the best yoga books for your practice is the key.
Our top pick for the overall best book about yoga is Light on Yoga: The Bible of Modern Yoga by B.K.S Iyengar. It's detailed depictions of postures, clear explanations of yogic history, and the philosophy of the practice make this book an excellent choice for both beginners and experts. Here, we've compiled a list of the best yoga books for all types of yogis and interests. Check out this list of the best books about yoga to find your next read.
Our Top Picks: Best Yoga Books
In a hurry? Slow things down and center yourself with our top picks:
1. Light on Yoga: The Bible of Modern Yoga
The best yoga book overall
Author: B.K.S Iyengar / Publisher: Schocken Books / Pages: 544 / Price: 💰💰
Coming in as our overall top pick for the best books about yoga is Light on Yoga: The Bible of Modern Yoga by B.K.S Iyengar. It was first published in 1979 and immediately became one of the best yoga books on the market. It offers a diverse array of poses and a detailed look into the philosophy of yoga and breathing techniques. Throughout the book, there are clear illustrations, making it one of the best yoga books for home practice. If you're looking to add a staple of yoga literature to your home library, this book is a must.
Reviewers Like
Explains yoga philosophy
Excellent reference text for breathing techniques
Contains 300-week Hatha Yoga course in appendix
Reviewers Dislike
First published 50 years ago
Poses are advanced for some yogis
2. Yoga for Everyone: 50 Poses for Every Type of Body
The best yoga book runner-up
Author: Dianne Bondy / Publisher Alpha Books / Pages: 256 / Price: 💰💰
For beginning and experienced yogis, Yoga for Everyone is a comprehensive guide to yoga for every body typewritten by Dianne Bondy. She takes traditional yoga poses and offers alterations to fit every type of body and skill level. Her variations ensure that each practicing yogi stretches and twists their body to achieve the most benefits from their practice. Bondy couples adjusted postures with yoga spirituality for a well-rounded read.
Reviewers Like
Easy read to help ease into yoga
Excellent reference for yoga teachers
Inclusive and accessible for all body types
Reviewers Dislike
Only 50 poses
Might not align with goals of all yogis
3. Yoga Body: The Origins of Modern Posture Practice
The best yoga book on a budget
Author: Mark Singleton / Publisher: Oxford University Press / Pages: 272 / Price: 💰
If you're looking for a read that dives into the postures and philosophy of yoga but aren't interested in spending big money, this book might be for you. Yoga Body: The Origins of Modern Posture Practice by Mark Singleton details the meaning of yoga, helping readers understand how it's more than just physical exercise. He delves into the practice and postures' roots while relating it to modern-day yoga for an informative read.
Reviewers Like
Extremely affordable
Deeply analyzes modern yoga
Provides nice historical context for yoga
Reviewers Dislike
Written in a very academic style
Early chapters are dense with citations
4. The Secret of the Yoga Sutra
The best yoga book for teachers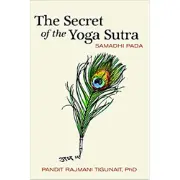 Author: Pandit Rajmani Tigunait / Publisher: Himalayan Institute Press / Pages: 408 / Price: 💰💰💰💰
As relevant in yoga today as it was hundreds of years ago, The Secret of the Yoga Sutra documents the wisdom of the yoga tradition. The Yoga Sutra is a guide to those practicing yoga and a particularly great read for yoga teachers.
Readers should bear in mind that this book is not for the casual reader. It contains complex Sanskrit terminology and is dense with facts about the Yoga Sutra. That said, it is one of the best books to read if you genuinely want to understand your yoga practice's process and benefits.
Reviewers Like
Deeply comprehensive
Written by a Doctor of Philosophy
Provides a greater understanding of the yoga lifestyle and practice
Reviewers Dislike
Not for casual readers
Somewhat dense read
5. The Goddess Pose: The Audacious Life of Indra Devi, the Woman Who Helped Bring Yoga to the West
The best yoga book for westerners
Author: Michelle Goldberg / Publisher: Vintage Books / Pages: 336 / Price: 💰💰
Born in Russia in 1899, Indra Devi is often credited with bringing yoga to the west. She migrated to Berlin after being forced to flee her native country as a teenager. There Indra joined a cabaret group and traveled to India, where she began learning the spirituality of yoga. She would go on to spread what she learned throughout the world. Author Michelle Goldberg delicately tells the account of this incredible woman's life and how she helped introduce yoga to the modern world.
Reviewers Like
Well-researched
Fascinating and enlightening read
Perfect for anyone looking to understand how yoga evolved in the west
Reviewers Dislike
No illustrations
Begins well, but rushes through Indra Devi's last 20 years
6. Do Your Om Thing: Bending Yoga Tradition to Fit Your Modern Life
The best yoga book for beginners
Author: Rebecca Pacheco / Publisher: Harper Wave Books / Pages: 288 / Price: 💰💰💰
With the hectic lives we live today, a one-hour yoga class once a week might be the only time we have to truly connect with ourselves. Rebecca Pacheco's Do Your Om Thing describes how we can modify traditional yoga to fit our lives while reaping the benefits. Pacheco is a master yoga teacher who reminds us that yoga is more profound than the perfect asana. We focus on bringing awareness and intention into our practice with the hopes that it trickles into our daily lives. It's an excellent read for those just getting started with the practice.
Reviewers Like
Hilarious writing style
Relatable and easy to read
Enjoyable read that covers multiple elements of the yoga practice
Reviewers Dislike
Lacks spiritual context
Not as informative for advanced yogis
7. Bringing Yoga to Life: The Everyday Practice of Enlightened Living
The best yoga book for daily living
Author: Donna Farhi / Publisher: HarperCollins Publishers / Pages: 256 / Price: 💰💰
Many of those who practice yoga feel the most substantial impact of their practice while on the mat. In Donna Farhi's Bringing Yoga to Life, she draws on her years of teaching students to instruct readers on how yoga can extend beyond the mat and into their everyday lives.
A yoga practice can be more than physical postures. It's filled with breathing techniques, mantras, and meditations that have a profound impact on the lives of those who practice regularly. To learn more about how to take your yoga teachings off the mat, check out this read.
Reviewers Like
Well-researched
Intimate look at everything that yoga has to offer
Explains philosophical concepts of yoga with clear metaphors
Reviewers Dislike
Somewhat philosophical approach
Some readers felt it was "preachy"
8. Meditation and Mantras
The best book for yoga and meditation
Author: Swami Vishnu Devananda / Publisher: Motilal Banarsidass Publishers / Pages: 276 / Price: 💰💰💰💰
Our selection for the best book about yoga and meditation, Meditation and Mantras by Swami Vishnu Devananda, explains how meditation and mantras can calm and clear the mind. Our world is becoming more connected and distracting, but meditation can focus our attention inward to increase our inner peace. Meditation has long improved mental clarity and health.
This book is for those seeking a deeper understanding of meditation and how it can further incorporate into their yoga practice.
Reviewers Like
Very practical guide for meditation
Author is knowledgeable and concise
Essential reading for anyone wanting to improve the quality of their yoga
Reviewers Dislike
Surface-level descriptions
Writing is directed toward beginners
Expand Your Knowledge About Yoga
Regular yoga practice has the potential to offer a wealth of mental and physical benefits. Several different yoga styles allow yogis to customize a method that has the best results catered to them.
Why should you practice yoga?
The slow and subtle, but intentional movements within the practice give yogis a unique perspective on their bodies and minds.
Benefits of Practicing Yoga
Perhaps one of the greatest physical health benefits of a consistent yoga practice is the reduction of chronic pain like arthritis and headaches. It can also help lower blood pressure and decrease insomnia. It's shown to reduce the risk of injury for those participating in high-impact sports like running or tennis. Increased flexibility, metabolism, and muscle strength are all things one can expect when they practice yoga regularly.
The positive physical outcomes of yoga are plentiful. Still, many don't consider the mental health benefits that come with a regular practice.
Yoga has proven to be incredible for stress management. Stress can manifest itself as sleeping problems, neck or back pains, headaches, and more — but a regular yoga practice helps solve these issues. Yoga can also increase one's ability to concentrate and overall mental well-being, allowing yogis to adopt a more positive outlook on life.
Yoga has incredible impacts on our bodies and minds. Learning about the spirituality of the practice and how to design a flow that feels good to you is crucial for reaping these benefits. Check out one of these reads to enlighten your yoga practice.
Our Process
For this guide on yoga books, our team spent 5 hours researching the most popular options from over 15 publishers big and small. We then read about two hundred user reviews (both positive and negative) to discover what readers thought about each book. After comparing this data, we narrowed our list down to the top 8 yoga books on the market. You can count on this research to guide you to a mindful purchasing decision.
If you enjoyed this read, sign up for our newsletter below and get special online shopping deals delivered straight to your inbox.
---
Further Reading