Veganism has exploded in popularity over the past decade, going from relative obscurity to mainstream diet. Why? Because studies indicate that plant-based foods offer a myriad of health benefits, including weight loss and reduced risk of developing cancer (not to mention the positive environmental impact). The only downside? It can be challenging to meet the recommended daily protein intake. Unless, of course, you're supplementing with the best vegan protein powders.
Now that so many people see the benefits of plant-based diets, supplement manufacturers have started creating vegan protein powders to meet the demand. While our favorite is the Vega One Organic Protein Powder, there are many excellent options on the market. Read on to check them out!
Our Top Picks: Best Vegan Protein Powder
What is the best vegan protein powder? The following are recommended by health and fitness professionals:
1. Vega One Organic Protein Powder
The best vegan protein powder overall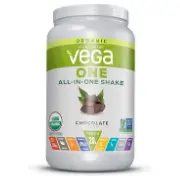 Brand: Vega / Protein: 20 Grams / Calories: 170 / Flavors: 7 / Organic: Yes / Price: 💰💰💰💰
Looking for the best vegan protein powder overall? Vega One is a nutrient-dense option that's perfect for folks from all walks of life.
Each serving contains an ideal 20 grams of protein, sourced from hemp, pea, flaxseed, and sacha inchi seeds. You also get six grams of fiber, 1.5 grams of Omega-3 fatty acids, 50% of your daily requirements of vitamins and minerals, and probiotics. Oh, and it's also entirely soy-free!
As one of the more expensive protein powders on our list, it'll cost you roughly $2.50 per serving. But that's a small price to pay for this healthful powder that's sure to leave you glowing.
Reviewers Like
Several flavors to choose from
Healthy blend of ingredients + probiotics
USDA Organic & Non-GMO Project Verified
Reviewers Dislike
On the expensive side
Many users dislike the Stevia aftertaste
2. Sunwarrior Protein Warrior Blend
The best eco-friendly vegan protein powder
Brand: Sunwarrior / Protein: 18 Grams / Calories: 100 / Flavors: 5 / Organic: Yes / Price: 💰💰
Sunwarrior is one of the most popular vegan protein brands out there, and for good reason.
First off, their Warrior Blend is an entirely raw and organic vegan protein powder derived from legumes, hemp, and goji berries. It also derives medium-chain triglycerides from coconut oil. Talk about delicious and nutrient-packed!
Moreover, the company's mission is simple: to nourish & transform the planet. To that end, the company vets its supply chain for the highest-quality and ethically-sourced ingredients. They also use recycled (and recyclable) packaging for all their mainline products. The result? Clean, green vegan protein from a clean, green company.
Reviewers Like
Scoop built into the lid
Among the best raw vegan protein powders
Quality ingredients from an ethical company
Reviewers Dislike
Gritty texture
Salty "pea" aftertaste
3. Purely Inspired Organic Protein Powder
The best cheap vegan protein powder
Brand: Purely Inspired / Protein: 20 Grams / Calories: 160 / Flavors: 2 / Organic: Yes / Price: 💰
Feeling inspired? Give this affordable vegan protein powder a try, and see how it feels.
While some users complain that Purely Inspired protein is too sweet, we've found that it tastes delicious mixed with a dairy-free beverage or blended into a smoothie. But where this organic protein powder really packs a punch is in its ingredients. Per serving, you get 20 grams of clean plant-based protein, loads of fruits and veggies, and even probiotics! All at only 160 calories!
You won't find a better vegan protein powder at this price point. We highly recommend giving Purely Inspired a try.
Reviewers Like
Naturally flavored
The most affordable option on the market
Hearty blend of pea and brown rice protein
Reviewers Dislike
Only two flavors
Too sweet for some users
4. Garden of Life SPORT Protein Powder
The best vegan protein powder for bodybuilding
Brand: Garden of Life / Protein: 30 Grams / Calories: 160 / Flavors: 2 / Organic: Yes / Price: 💰💰💰💰
Do you consider yourself a heavy lifter or dedicated athlete? If so, the Garden of Life SPORT Protein Powder is an exceptional choice.
That's because this powder delivers a whopping 30 grams of quality protein per serving, or roughly half of the recommended daily intake. That makes it perfect for post-workout recovery when your body is screaming out for sustenance. It also contains six grams of BCAAs, five grams of glutamine, and a proprietary antioxidant blend. Yes, please!
As you might expect, this protein powder is on the expensive side. And you'll have to deal with a gritty, protein-heavy texture. But there's no better supplement for adrenaline junkies seeking the best vegan protein powder for athletes.
Reviewers Like
Great macros
Blends remarkably well
One of the highest vegan protein counts available
Reviewers Dislike
Expensive
Gritty, heavy texture
5. KOS Organic Plant Protein Powder
The best vegan protein powder for weight loss
Brand: KOS / Protein: 20 Grams / Calories: 170 / Flavors: 2 / Organic: Yes / Price: 💰💰💰
When dieting, you often have to consume bland, boring foods, else risk losing all your progress. That means leaving the oh-so-decadent treats behind… or does it?
Introducing the KOS Organic Plant Protein Powder, which delivers the best of both worlds! This raw vegan protein powder boasts a recipe loaded with gut-busting ingredients. This includes 20 grams of protein from pea, flax, quinoa, chia and pumpkin seeds, as well as extras like healthy fibers and enzymes. What's more, it comes in two delicious (albeit standard) flavors: chocolate and vanilla.
Enjoy this natural protein in any form you like — with water, in a smoothie, or baked into a sweet treat. You'll wonder how you ever did without.
Reviewers Like
Protein from five unique sources
Among the best vegan chocolate protein powders
Delicious, natural ingredients from sources all around the world
Reviewers Dislike
High in sodium (500mg)
Lots of allergy-triggering ingredients
6. SAN Nutrition RawFusion Protein Powder
The best-tasting vegan protein powder
Brand: SAN / Protein: 21 Grams / Calories: 116 / Flavors: 6 / Organic: No / Price: 💰💰
If you're struggling to find a raw vegan protein powder that tastes good, give RawFusion a try. This is the best-tasting plant-based protein powder on the market. While other products tend to be gritty and bland, RawFusion has a pleasant, smooth texture with a creamy, chocolate taste. It also contains Stevia to give it some sweetness.
RawFusion uses a matrix of protein from peas, sprouted brown rice and artichoke, as well as sunflower oil for omega-3 fatty acids. Each scoop contains 21 grams of protein, along with 4,500 mg of branched-chain amino acids. However, it uses only three of the nine amino acids that the body needs.
Reviewers Like
Only seven ingredients
Perfect balance of sweetness
Blends in water, milk, and smoothies
Reviewers Dislike
Not organic
Only contains three of nine essential amino acids
7. Orgain Organic Meal Replacement Powder
The best vegan meal replacement powder
Brand: Orgain / Protein: 20 Grams / Calories: 230 / Flavors: 2 / Organic: Yes / Price: 💰💰💰
Orgain's Organic Meal is an excellent vegan protein powder for shakes on the go. The chocolate fudge and vanilla flavors both taste great with milk alone, so they're perfect for a quick pick-me-up between meals.
This powder is also ideal for those looking for a clean, all-natural product, since it is another organic vegan protein powder. This is because it's free of any additives, pesticides, GMOs, hormones, or antibiotics. If you have strict dietary requirements, this is the best vegan protein powder for you.
Reviewers Like
Fills you up
Vegan, Gluten-Free, and Kosher
Mixes well with other supplements
Reviewers Dislike
Slightly chalky
Less ideal for weight loss
What to Look for in the Best Vegan Protein Powder
Here are the most important things to consider when you're shopping for a vegan protein supplement.
Ingredients
Some vegan protein powders use only one source. There are lots of different types out there, including:
Pea protein
Soy protein
Hemp protein
Brown rice protein
and more.
Others use a blend of different ingredients to combine the benefits of various sources. These products often have a fuller profile of vitamins and minerals.
The right one for you will depend on your specific dietary needs. If you're already getting a wide range of nutrients and vitamins from the foods you eat, a single-ingredient protein may be enough.
Protein Per Serving
A good protein powder should have around 20 grams of protein per serving. However, protein requirements vary from person to person. Your required protein intake will depend on your weight and the amount and intensity of training you do. You can use an online protein calculator to determine your specific needs.
Compare your ideal daily protein intake with your diet, and see how a protein powder can fill the deficit. If a powder doesn't contain enough protein, you may have to drink it several times per day or use extra protein bars or other supplements to meet your dietary requirements. This will increase the cost for you.
Don't just automatically choose the cheapest one. Instead, calculate how many servings you're getting for your money, and how long it will last.
Plain vs. Flavored
Most protein powders are flavored, so you can simply add water or milk and them straight away. This is ideal for people who want something quick and easy. They're ready to shake and go right after a workout. However, you can get plain powders, too.
These are much more versatile, as they can be added to all sorts of foods. Simply add them in soups, curries, or even cakes to increase their protein content. They usually don't taste great on their own, but you can create the taste you want with other ingredients.
Our Process
For this guide on vegan protein powder, our team spent 4 hours researching the most popular options from over 25 brands and manufacturers big and small. We then read about one hundred user reviews (both positive and negative) to discover what shoppers thought about each powder. After comparing this data, we narrowed our list down to the top 7 vegan protein powders on the market. You can count on this research to guide you to a mindful purchasing decision.
If you enjoyed this read, sign up for our newsletter below and get special online shopping deals delivered straight to your inbox.
---
Further Reading