The best gardening gifts can be hard to come by. It seems like finding the right present should be easy, but then again, there's a lot of gardening gear to choose from. What about beginning gardeners or older gardeners like grandma and grandpa? And what about kids who are interested in helping out around the yard?
In this article, we go over the best gardening gift ideas for any gardener on your list: mom, dad, grandma, grandpa, kids, beginners, and veterans — or maybe just the special someone in your life who loves to garden. Up next is your one-click stop for the very best gifts for gardeners. Some picks just might surprise you.
Our Top Picks: Best Gardening Gifts
Here are our favorite gifts at a glance:
1. Algoma Cotton Rope Hammock
The best gardening gifts for him
Brand: Algoma | Material: Cotton | Length: 12 Feet | Weight Capacity: 275 Pounds | Price: 💰💰💰
Got a new fella in your life that loves to garden? Say thanks for all the hard work with the best backyard hammock. Hammocks come in all sorts of shapes and sizes and for all kinds of environments. Some even come with a mosquito net. For a garden or backyard, we recommend the Algoma Cotton Rope Hammock. Made from 100% cotton, the Algoma comes with a pillow, pad, and stand to tie it all together. All he needs to do it pop open a refreshing lemonade or ice-cold brewski, kick back, and relax. One word of caution, though, the price tag says you really care.
Otherwise, there are all sorts of other hammocks to choose from for every budget — including portable hammocks and camping hammocks. Not sure if you're there yet (no rush), but you may even want to pick a double-hammock so you can join the fun. No matter what hammock you choose, they're sturdy, easy to assemble, durable, and the gift for any gardener — male or female.
Check out our favorite hammocks and hammock chairs for more gift ideas!
Reviewers Like
With stands and without
Light and easy to assemble
Stay motivated with tunes and podcasts
Reviewers Dislike
Not the best choice for bad backs
Can be tough to get in and out of
2. Jaybird RUN Headphones
The best gardening gifts for her
Brand: Jaybird | Type: Wireless | Resistance: IPX7 | Mic: Yes | Price: 💰💰💰
Need the perfect gift for the woman in your life that loves to garden? Consider a new pair of headphones. No, headphones won't help her prune the roses or water the rutabagas, but they will keep her entertained for hours while she catches up on all her gardening tasks. Depending on where you live, water-resistant headphones may be the best choice for outdoor use.
We recommend Jaybird RUN Headphones, wireless headphones with a built-in mic, button controls, interchangeable fins and tips. Of course, the headphones are also fully water-resistant.
For other styles — including wired or over-the-ear — head over to our list of the best headphones.
Reviewers Like
Light and portable
Compatible with all sorts of devices
Stay motivated with tunes and podcasts
Reviewers Dislike
Hearing damage possible
Earbuds not comfortable for some
3. DeWalt DCHT820P1
The best gardening gifts for mom
Manufacturer: DeWalt | Battery Life: 45 to 60 minutes | Blade Length: 22 Inches | Weight: 11.5 Pounds | Price: 💰💰💰
Mom struggling to keep those hedges neat and tidy with the same old gas-guzzling hedge trimmer she's had since the '70s? Give her a break with a new battery-powered hedge trimmer: lighter, quieter, easier to use, less smelly, and — most importantly — way more efficient than the gas-powered kind.
These days battery-powered hedge trimmers come with all sorts of cool ergonomic features like rear handles that rotate 180-degrees and wraparound auxiliary handles. Some even use rechargeable Lithium-ion batteries for added run-time, less hassle, and less money spent changing batteries. Most important, battery power means no fossil fuels!
Out of five of the very best battery-powered trimmers, we chose the DeWalt DCHT820P1 in this category for various reasons, not least of which because it's designed to vibrate 40% less than other models.
No matter what mom's hedge-trimming needs may be, Shelf has your answers in our ranking of the best battery-powered hedge trimmers
Reviewers Like
Light, quiet
Easy to maneuver
Eco-conscious choice
Reviewers Dislike
Time spent changing batteries
Power decrease as battery drains
4. Orbit 57950 B-Hyve Smart Sprinkler Controller System
The best gardening gifts for dad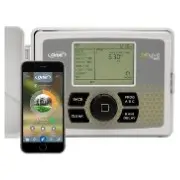 Brand: Orbit | App Included: Yes | Number of Stations: 6 or 12 | Home Assistant Compatible: Yes | Price: 💰💰
It's a myth that when it comes to tech, dads are out of touch. Lots of dads, in fact, love to have the newest gadgets and gizmos. For your gardening-loving pops who can't resist a touchscreen, consider one of the best digital sprinkler controllers. With a new sprinkler controller your dad will be able to automate the watering process so he can finally get to those other projects around the yard he's been meaning to take care of. And the more efficient management of water facilitated by a digital controller helps save money in the long run, and all dads love to save money.
Out of all the sprinkler controllers on the market, we picked the Orbit 57950 B-Hyve Smart Sprinkler Controller System as our top pick. With the B-Hyve (Get it? B-Hyve? The dad joke is right there in the name), you can water your yard from almost anywhere using the smartphone app, or at home via Alexa. Otherwise, put the yard on a timer and let the automated weather sensors do the rest.
You can also check out our complete list of the best sprinkler controllers for even more fantastic options.
Reviewers Like
Remote control
Cuts water consumption
You can set it and forget it
Reviewers Dislike
Some learning curve
Can be challenging to repair
5. Delxo 2020 Expandable Garden Hose
The best gardening gifts for kids
Brand: Delco | Length Options: 50 to 100 Feet | Nozzle Functions: 9 | Fittings: Solid Brass | Price: 💰💰
Got a lil' baby gardener in your midst? Get 'em started on the right foot with a new expandable garden hose. Trust us when we say hoses aren't what they used to be, with expandable hoses expanding up three times their normal size when in use, and shrinking back down when it's time to put them away. Plus, hoses these days are made from all sorts of durable, kink-resistant material. They're also lighter and easier to use than traditional rubber hoses — perfect for small hands helping you out with the gardening chores.
For your first expandable garden hose, we recommend the Delxo 2020 Expandable Garden Hose, with an improved, leak-proof design and a multi-function nozzle. There's also a brass switch valve for super-convenient water-stoppage without shutting off the tap. If that doesn't strike your fancy, we outline seven additional expandable hoses perfect for your gardening needs. For children, consider the best compact expandable garden hose GrowGreen. Available in lengths of 25 feet, the hose is small and light, twist-resistant, and easy to put away.
Looking for a complete list of top expandable garden hoses? We've got you covered.
Reviewers Like
Self-drain and shrink
Light and easy to use
Kink, twist, tangle-resistant
Reviewers Dislike
Sensitive to inclement weather
Sometimes burst or leak, usually user error
6. Perky-Pet Window Mount Hummingbird Feeder
The best gardening gifts for grandparents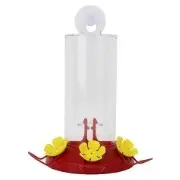 Brand: Perky-Pet | Material: Plastic | Style: Bottle | Price: 💰
You can't go wrong with a new hummingbird feeder for your gram or gramps who loves to garden. Hummingbirds are not only great pollinators — bird watching is a delightful pastime for both young and old alike. To get up-close-and-personal with your hummingbird friends, we recommend the Perky-Pet Window Mount Hummingbird Feeder. Easily cleaned, the red color of these feeders proves particularly effective when attracting the birds to the yard or garden. Since the feeder safely attaches to a window, granny can enjoy her birdwatching time from the comfort of her own home.
Think your grandparents would prefer a different hummingbird feeder? Check out our complete list of the best hummingbird feeders!
Reviewers Like
Hummingbirds are great pollinators
Birdwatching is an excellent pastime for all ages
Some hummingbird food supply threatened by climate change
Reviewers Dislike
Feeders require cleaning and some upkeep
Feeders too close to windows sometimes cause crashes
7. WORX WG751 Lawn Mower
The best gardening gifts for beginners
Manufacturer: WORX | Cutting Deck: 20″ | 3-in-1: Yes | Weight: 66.1 Pounds | Price: 💰💰💰
There's a lot to know when first getting into gardening, but one thing's for certain: wherever there's grass, that grass will need to be mowed sooner or later. Help the aspirant gardener in your life keep the grass neat and tidy without gasoline and get them a brand-new battery-powered lawn mower. In addition to being more ecologically sustainable than gas-powered mowers, the battery-powered-kind are light, easy-to-use, and — of course — most are just as powerful.
We like the WORX WG751 for its 20-inch steel cutting deck and 3-in-1 system for bagging, mulching, or side discharge. There's also a single-lever height adjustment that ranges from 1.5 to 3.5 inches
For more selection, check out our complete list of the best battery-powered lawn mowers.
Reviewers Like
Cheaper than the gas kind
Lightweight and easy to maneuver
Less maintenance and eco-friendly
Reviewers Dislike
Sometimes a little less powerful
Not the best for very large yards
8. WORX WR150 Landroid
The best gardening gifts for those who have it all
Brand: Worx | Cutting Height: 1.6 to 3.9 Inches | Cutting Width: 9 Inches | Max Cutting Surface: 0.5 Acres | Max Incline or Decline: 20° | Installation Kit Included: Yes | Price: 💰💰💰💰
What about gardeners on your list that have been at it for decades and have the gear they need? We have one gift idea that I bet you haven't thought of: a robot lawn mower. Yeah, you read that right, a robot lawn mower. Like a roomba for the yard, these mowers learn your yard quickly and can be programmed to mow when it's most convenient for you and your neighbors.
We suggest the Worx WR150 Landroid as the best robot lawn mower! Things we like about the WR150 include low-battery and rain sensors, as well as the ability to mow up to a 20-degree angle. It's quite powerful for small to mid-size yards.
If that doesn't do it for you, we've curated a number of the best robot lawn mowers for your browsing convenience.
Reviewers Like
Safe and quiet
No gas and they charge automatically
Checks lawn mowing off your to-do list
Reviewers Dislike
Expensive
They're a little slow
---
Further Reading